Melania Trump nudges Donald after he forgets to put his hand on his heart during national anthem
The First Lady had to remind Mr Trump during the signing of the national anthem ahead of the 2017 Easter egg roll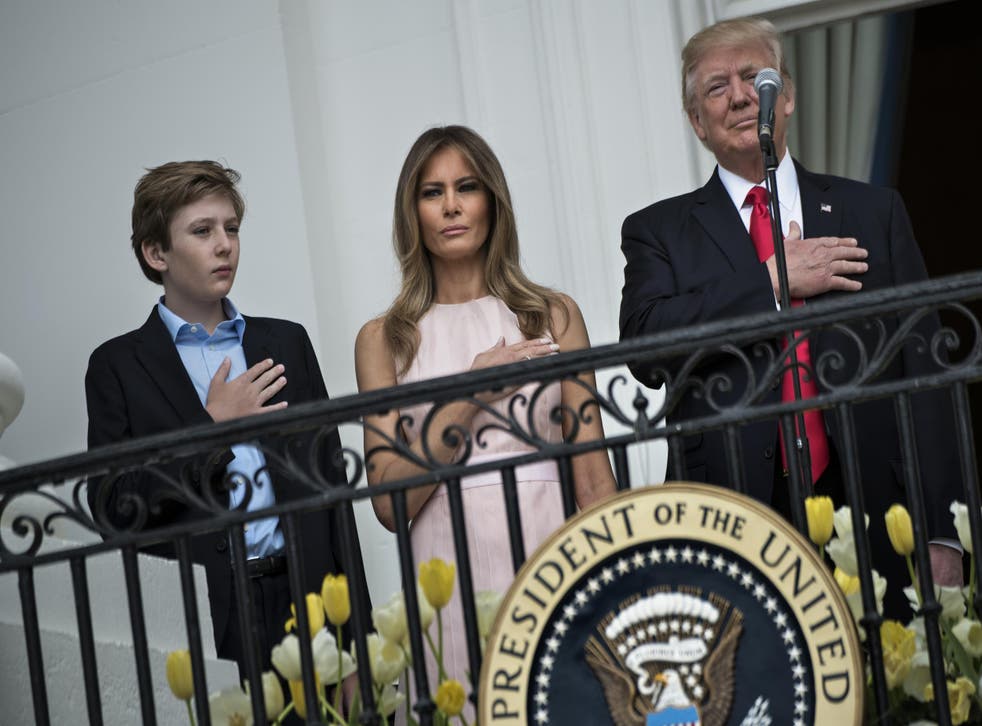 Donald Trump had to be prompted to put his hand on his heart during the national anthem.
First Lady Melania Trump, who is originally from Slovenia, had to nudge Mr Trump as a military band and singer launched into the anthem at the beginning of the White House Easter egg roll - an annual egg hunt for children.
They were standing with youngest son Baron on the White House balcony facing the south lawn before addressing several thousand families and children there to attend the festivities.
Melinda Bates, the director of the White House Visitors Office under President Bill Clinton, told CNN it is "the single most high-profile event that takes place at the White House each year, and the White House and the first lady are judged on how well they put it on."
The guest list includes military families, children from local schools and hospitals, and children of staff members.
Trump aide Kellyanne Conway and White House Press Secretary Sean Spicer, who once played the role of the Easter Bunny in costume in 2008 during the George W. Bush administration, were popular targets for a crowd seeking selfies.
Also in attendance was the National Rifle Association CEO Wayne LaPierre.
Mr Trump made his way through the gathered children, signing Make America Great Again hats.
With Ms Trump permanently residing in New York, the White House did not announce the event would even take place until March. Some former staff remarked on the last-minute and haphazard manner in which the event was thrown together.
However Stephanie Grisham, Ms Trump's communications director, told CNN that Ms Trump deliberately kept the event smaller and less celebrity-studded than in past years.
She wanted to focus on "military bands, and...the family itself," Ms Grisham said. "We're really focused on quality of the experience over quantity of attendees."
Register for free to continue reading
Registration is a free and easy way to support our truly independent journalism
By registering, you will also enjoy limited access to Premium articles, exclusive newsletters, commenting, and virtual events with our leading journalists
Already have an account? sign in
Register for free to continue reading
Registration is a free and easy way to support our truly independent journalism
By registering, you will also enjoy limited access to Premium articles, exclusive newsletters, commenting, and virtual events with our leading journalists
Already have an account? sign in
Join our new commenting forum
Join thought-provoking conversations, follow other Independent readers and see their replies