Melania Trump's 'unusual' decision not to attend G7 is out of character, experts say
Surprise announcement from first lady fuels conspiracy theories about her absence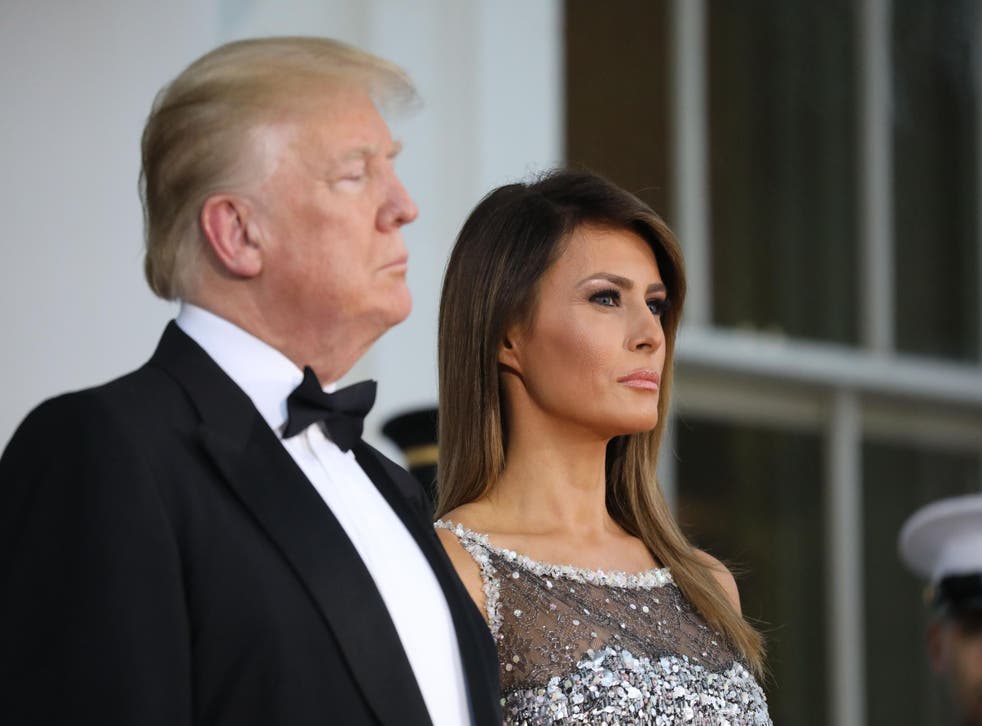 Melania Trump has announced she will not accompany her husband to the upcoming G7 or Singapore summits – a move experts say is out of character for a first lady, and for Ms Trump herself.
The first lady's spokesperson said on Monday that she would not attend the G7 summit in Quebec this week, or the Singapore summit with North Korea's Kim Jong-un the week after. The news came three weeks after Ms Trump was briefly hospitalised for a kidney procedure, and 26 days since she was last seen in public.
Jean Harris, a professor of political science and women's studies at Scranton University, said it was out of character for Ms Trump not to attend the G7 summit, which she attended last year in Sicily.
"Every first lady approaches the job differently, although there are certain expectations," Ms Harris explained "...With Melania, we have seen her typically travel with her husband internationally, and she's been more active in public when she travelled internationally."
Her decision not to attend the Singapore summit was less surprising, Ms Harris added, as there would likely be less time for socialising than at the G7.
Donald Trump's international Presidential trips

Show all 22
Ms Trump was hospitalised last month after undergoing surgery for what her office called a "benign kidney condition". The surgery in question generally requires a one-night hospital stay, but Ms Trump stayed at the Walter Reed National Military Medical Centre for five.
Ms Trump's long hospital stay and subsequent public absence have fuelled conspiracy theories about her whereabouts. Stacy Cordery, a history professor at Iowa State University, said such rumours would likely persist until the White House provided sufficient rationale for her absence.
"The fact that there does not appear to be any logical reason for why she's not going [to the summits] is likely to fuel our suspicions that the Trump marriage is distant and or dysfunctional," Mr Cordery said.
She added: "There's so little information coming from Ms Trump's media team that Americans – and really, people around the world – are forced to fill in the blanks."
The White House has provided few updates on Ms Trump's condition in recent weeks, aside from the first lady's own tweet in which she said she was "feeling great, & working hard on behalf of children & the American people!"
Excruciating moment Melania refuses to hold Donald Trump's hand before finally giving in
Mr Trump will travel to Quebec next week to meet with leaders from Canada, France, Germany, Italy, Japan, and the United Kingdom. He will then go to Singapore for a highly anticipated summit with North Korea on the country's nuclear weapons programme.
Both Ms Cordery and Ms Harris said first ladies often fill important roles at these events, and Ms Trump's presence would be missed. First ladies often help to soften a president's image on such trips, Ms Cordery said, and can talk up their husband's accomplishments without making him appear egotistical.
Additionally, many first ladies use these trips to advance their own, personal causes. Ms Trump recently launched an anti-bullying campaign called "Be Best," and could have used this opportunity to network with anti-bullying experts and advocates in other countries.
"[These summits] are an opportunity to build and strengthen relationships with the other spouses and with the leaders as well," said Anita McBride, an expert on American first ladies. "It's always great to have the US first lady and I am sure she will be missed."
Join our new commenting forum
Join thought-provoking conversations, follow other Independent readers and see their replies