Meng Wanzhou: Trump could intervene in case of Huawei executive to help secure China trade deal
'If I think it's good for the country ... I would certainly intervene if I thought it was necessary,' says president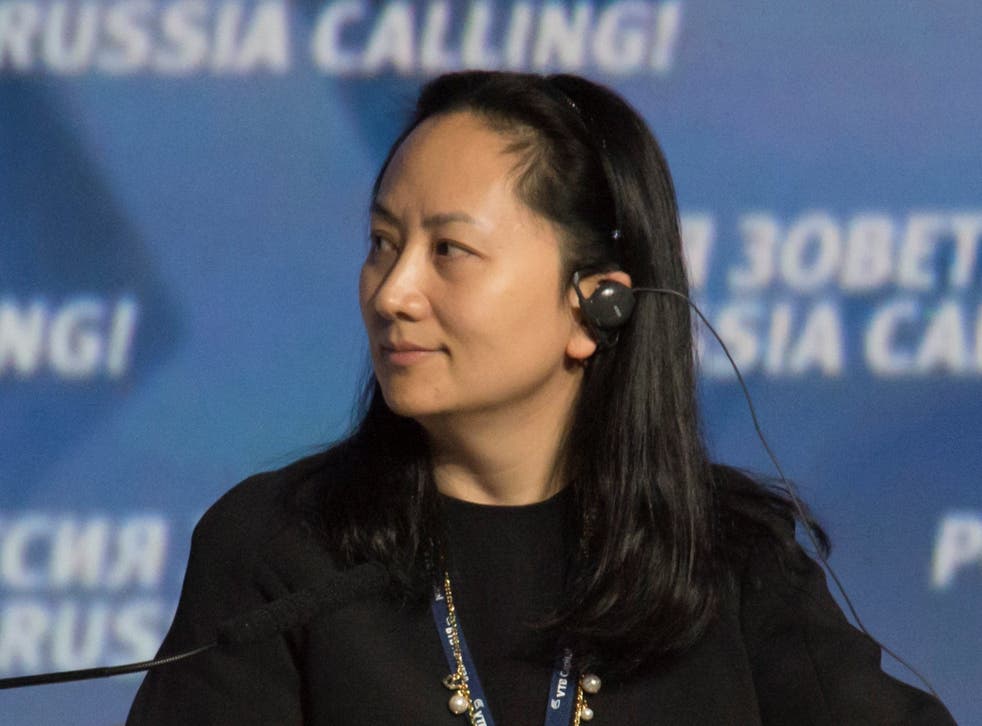 Donald Trump has vowed to intervene in the case of a Huawei executive facing fraud charges in the US if it would help to secure a trade deal with China.
The American president said he would step in "if I think it's good for the country", after Meng Wanzhou's arrest sparked fury in Beijing.
Ms Meng, the chief financial officer of the Chinese telecoms giant, was bailed by a Canadian court on Tuesday but could still be extradited to the US on fraud charges.
The 46-year-old, who is the daughter of Huawei's founder, was detained in Vancouver earlier this month at the request of US investigators probing alleged violations of American sanctions on Iran.
China last week summoned the US ambassador to Beijing to demand American authorities revoke an arrest warrant for Ms Meng. Beijing also warned Canada there would be "severe consequences" if she was not quickly released.
Mr Trump, who wants China to open up its markets to more American-made products, has not yet spoken to president Xi Jinping about the case.
But he said: "If I think it's good for the country, if I think it's good for what will be certainly the largest trade deal ever made – which is a very important thing – what's good for national security, I would certainly intervene if I thought it was necessary."
A former foreign policy adviser to Justin Trudeau, the Canadian prime minister, described Mr Trump's apparent willingness to use the case as a bargaining chip as "troubling".
"Canada is acting in good faith, according to the law, in response to a US extradition request," added Roland Paris.
Michael McFaul, a former US ambassador and senior officer in the National Security Council, said: "I so hope this is not true. We can't be arresting people to do trade deals."
A judge in British Columbia granted Ms Meng bail of $10m (£6m) after three days of hearings. She is also required to wear an ankle bracelet, surrender her passports, remain in Vancouver and remain at home between 11pm and 6am.
The decision was greeted with applause in a packed courtroom, where members of Vancouver's Chinese community had turned out to show support.
Who could be running against Trump in 2020?

Show all 23
She left the court late on Tuesday surrounded by security guards and was driven away in a black SUV without responding to questions from reporters.
The US Department of Justice has accused Ms Meng of misleading multinational banks about Iran-linked transactions, putting the banks at risk of violating US sanctions.
If a Canadian judge rules the case against her is strong enough, the country's justice minister must decide whether to extradite her to the US, where she faces charges of conspiracy to defraud multiple financial institutions. The charges each carry a maximum sentence of 30 years.
Ms Meng's arrest sparked a diplomatic furore between Canada, China and the US at a time when tensions were already high over a trade war and American claims of Chinese spying.
A former Canadian diplomat was detained by Chinese security services on Monday night during a visit to Beijing in apparent retaliation over the executive's arrest.
Support free-thinking journalism and attend Independent events
China's foreign ministry claimed to have no information on Hong Kong-based Michael Kovrig's arrest but said his current employer, the International Crisis Group, was not registered as a non-governmental organisation in the country.
"Once its staff become engaged in activities in China, it has already violated the law," ministry spokesman Lu Kang added, before repeating Beijing's demand for Ms Meng's release.
According to news agency Reuters, the US State Department is considering issuing a travel warning for its citizens in China amid fears of reprisals.
Canada's government may issue a similar warning, reported the country's broadcaster, CTV.
Join our new commenting forum
Join thought-provoking conversations, follow other Independent readers and see their replies