Desantis vs Gillum: Florida governor debate heats up over climate change and race
The Democrat is ahead in the polls with just weeks before election day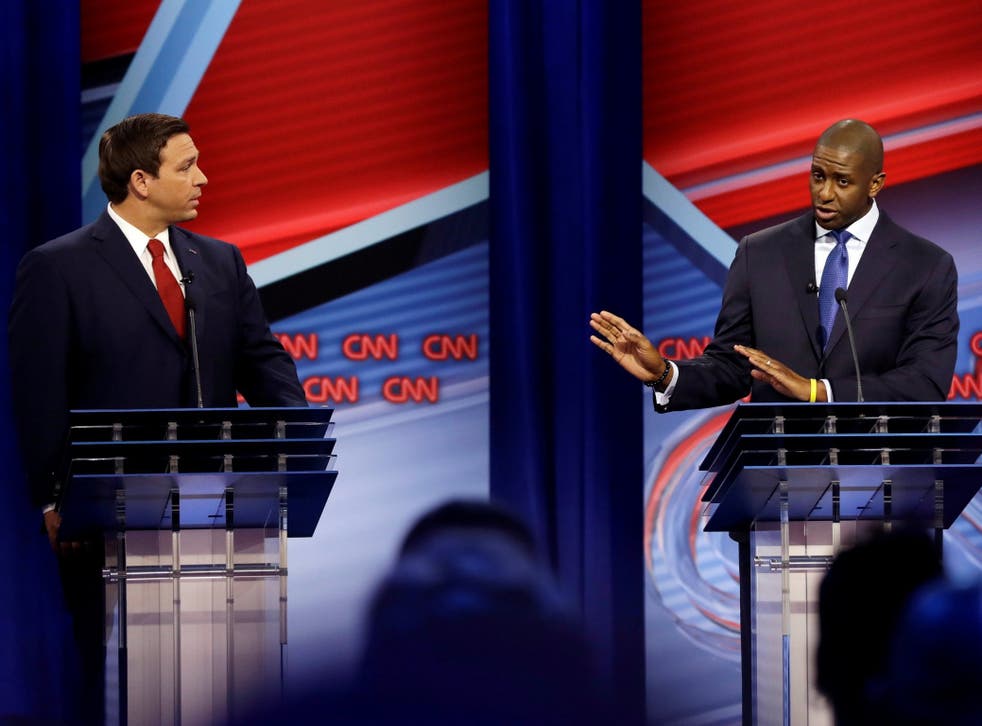 Florida gubernatorial candidates Andrew Gillum and Ron DeSantis have sparred in a heated debate that touched on issues ranging from the environment to race, as voters consider who would best serve them in the statehouse.
Just hours after a new poll showed that Mr DeSantis, a former congressman. trailed Mr Gillum, the mayor of Tallahassee, by double digits, the onetime US representative leapt at the chance to attack his opponent by calling him a "failed mayor" and saying he is "involved in corruption".
"Andrew is a failed mayor," Mr DeSantis, the Republican in the race, said before Mr Gillum even spoke a word on Sunday. "He's presided over a crime-ridden city. He's involved in corruption. He's not the guy to lead our state."
Mr Gillum, who appeared somewhat taken aback by how quickly his opponent attacked, responded with a deadpan: "Well, that was a mouthful."
The brawl between the two candidates touched on a range of issues including health care policy, climate change, and, of course, President Donald Trump. While the governorship has zero direct impact on congress and the president's ability to enact legislation, the race has come to be seen as a proxy for the larger national political debate.
With Mr Gillum calling for Mr Trump's impeachment while Mr DeSantis remains a fierce advocate on the president's behalf, the race has come to be seen as a referendum on the work being done in the White House.
World news in pictures

Show all 50
The hour-long debate was kicked off by CNN moderator Jake Tapper, who asked the candidates about climate change — a question that came just after yet another hurricane battered the state and levelled homes.
"I don't want to be an alarmist. I want to look at this and do what makes sense for Florida," said Mr DeSantis, who denied claims that he had questioned the science behind climate change.
Mr Gillum shot back, calling his opponent an "election year environmentalist".
"What Florida voters need to know is that when they elect me governor, they are going to have a governor who believes in science," Mr Gillum said. "Which we haven't had for quite some time in this state."
The two also sparred over race, with Mr Gillum — a black man — claiming that his opponent had sought to cast the entire election around race, after Mr DeSantis went on Fox News and warned Floridians against "monkey this up by trying to embrace a socialist agenda". Mr DeSantis sought to minimise those concerns, saying "Floridians can know that I'll be a governor for all Floridians".
Support free-thinking journalism and attend Independent events
Mr Gillum responded: "He has only continued in the course of his campaign to draw all the attention he can to the colour of my skin. The truth is, I've been black all of my life. So far as I know, I will die black."
Mr Gillum would be the first African American governor of Florida.
Register for free to continue reading
Registration is a free and easy way to support our truly independent journalism
By registering, you will also enjoy limited access to Premium articles, exclusive newsletters, commenting, and virtual events with our leading journalists
Already have an account? sign in
Register for free to continue reading
Registration is a free and easy way to support our truly independent journalism
By registering, you will also enjoy limited access to Premium articles, exclusive newsletters, commenting, and virtual events with our leading journalists
Already have an account? sign in
Join our new commenting forum
Join thought-provoking conversations, follow other Independent readers and see their replies