Judge allows North Dakota Republicans to stop some Native Americans from voting
Native American support helped Democrat senator win six years ago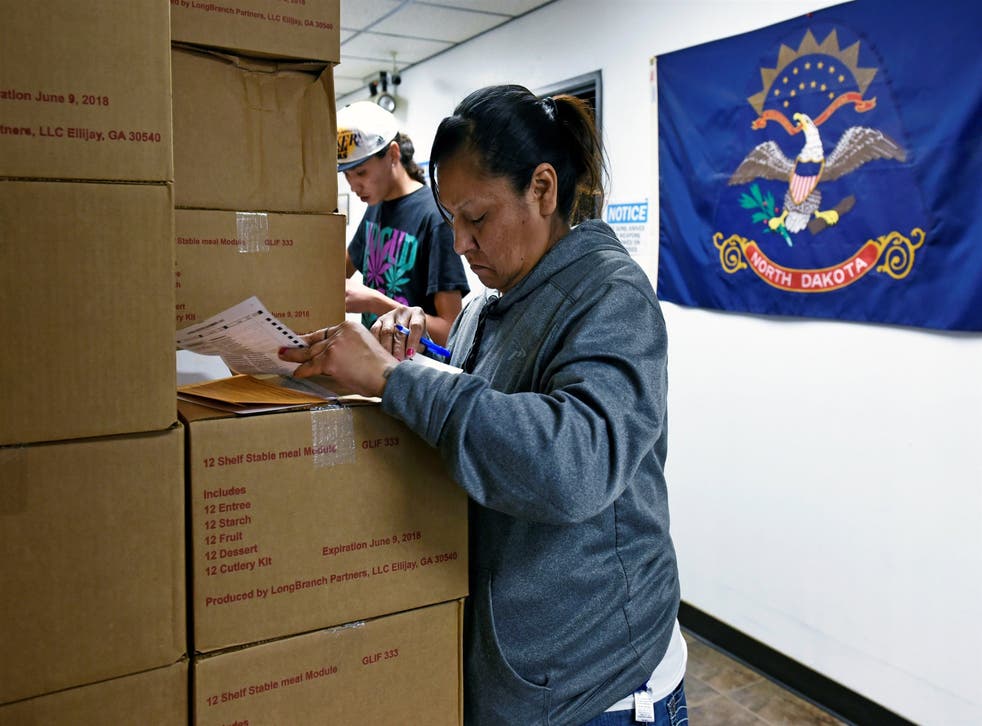 A judge in North Dakota has refused a request to review a controversial voter registration law- passed by Republicans – that critics say makes it harder for Native Americans to cast their ballot.
While expressing concerns about the law, federal judge Daniel Hovland said it was inappropriate to order a change so close to the midterm elections, as it could create confusion.
The controversial law requires North Dakota residents to show identification with a current street address. Many residents of Native American reservations, who tend to vote for Democrats according to NPR, do not have street addresses.
Rather, they have Post Office box numbers, which do not qualify under the rules. In October, the Supreme Court declined to overturn the law.
Critics have said the street address requirement is an attempt at disenfranchisement that was enacted by the state's Republican-controlled legislature in the wake of Democratic senator Heidi Heitkamp's victory by a margin of less than 3,000 votes in 2012.
According to studies commissioned by Native American rights groups, roughly 35 percent of that population does not have an acceptable ID with a residential address.
US midterm elections: the voters

Show all 10
Mr Hovland wrote in his judgment on Thursday the allegations of voter suppression gave him "great cause for concern" and that "a detailed response from the Secretary of State" was warranted.
"The litany of problems identified in this new lawsuit were clearly predictable and certain to occur as the court noted in its previous orders," the judge said.
The controversy is just one of several around the country, where Republicans have been accused of trying to limit of restrict access to the ballot for people of colour.
US Midterms 2018: The five big questions
In Georgia, where Stacy Abrams is trying to become the first American American woman elected governor, her opponent, Georgia secretary of state Brian Kemp, has ignored for him to stand aside amid allegations that voter ID laws he oversees have lets of thousands of people – most of them African Americans – disenfranchised.
According to the Associated Press, Mr Hovland said while he felt the voting rules created clear problems, he said to change them now could cause problems.
"The federal courts are unanimous in their judgment that it is highly important to preserve the status quo when elections are fast approaching," he wrote.
On Friday, the state's tribal liaison official downplayed any potential difficulty for Native Americans on election day.
Indian Affairs Commission Director Scott Davis, a member of the Standing Rock Sioux, said all tribes in recent weeks have been issuing free IDs with residential street addresses to their members. He said all tribes also will provide free transportation to polling places on Tuesday.
"Sometimes change is tough," Mr Davis told the AP. "But I really do believe we're in a really good place now."
Join our new commenting forum
Join thought-provoking conversations, follow other Independent readers and see their replies