Democrat accuses Republican opponent of creating 'miasma of fear' to scare people out of voting for her
Stacey Abrams is batting to become first African American woman governor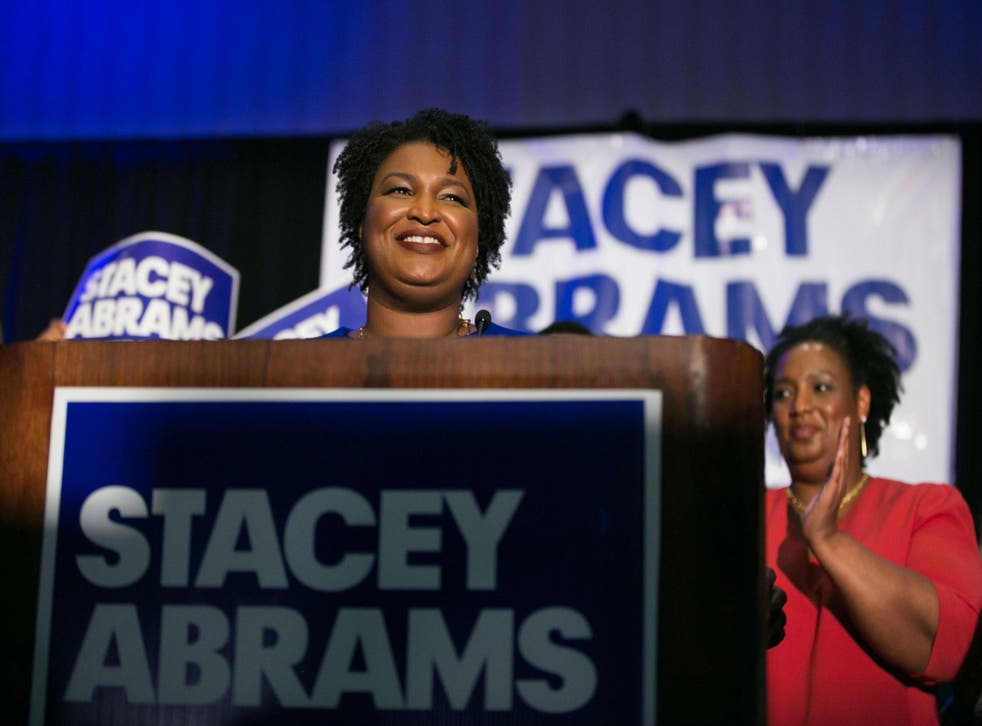 The Democrat running to be the governor of Georgia has accused her Republican counterpart of creating a "miasma of fear" to scare people out of voting for her.
Stacey Abrams, who would be the first African American woman elected to a governorship if she defeats Brian Kemp next month, accused her opponent of creating a voter identification law – which has put tens of thousands of voter registration applications on hold – to try and scare people.
"This is simply a redux of a failed system that is designed to both scare people out of voting and make it harder for those who are willing to push through, make it harder for them to vote," Ms Abrams said on CNN.
"Voting should not be a question of trust on the part of voters, whether they can trust the system. And, right now, he is eroding the public trust in the system because 53,000 people have been told, you may be able to vote, you may not, it's up to you to prove it."
She added: "The miasma of fear that is created through voter suppression is as much about terrifying people about trying to vote as it is about actually blocking their ability to do so."
The 44-year-old, who served as minority leader of the Georgia House of Representatives from 2011 to 2017, had been asked about the tens of thousands of applications that were pending because they did not meet the state's "exact match" requirement. That rule places an application as pending if the personal information on the form does not match the information on the state's Department of Driver Services or the Social Security Administration.
Support free-thinking journalism and attend Independent events
Ms Abrams is among those who have accused her opponent, Georgia Secretary of State Brian Kemp, who leads the office that oversees Georgia elections, of trying to suppress minority votes.
Asked if she thought the move was intended to hurt black turnout, she said: "We have known since 2016 that flawed exact match system has a disproportionate effect on people of colour and women." She said Democrats had sued Mr Kemp and a federal court ordered him to restore 33,000 illegally cancelled registrations. She said Republicans had then voted again to introduce a similar measure.
She said: "When you know something is going to have a disproportionate effect on people of colour and women, and you still do it, that is problematic."
Mr Kemp has always denied the allegations. This summer he said: "Despite any claim to the contrary, it has never been easier to register to vote in Georgia and actively engage in the electoral process. The numbers do not lie."
The comments of Ms Abrams come amid growing accusations that, in the guise of "anti-voter fraud" measures, Republicans across the US are working to prevent large number of people of colour from voting.
Last week, it was reported Native American groups in North Dakota were scrambling to try and help potential voters acquire new addresses, in the few weeks remaining before November 6, after the Supreme Court declined to overturn the state's controversial voter ID law, which requires residents to show identification with a current street address.
World news in pictures

Show all 50
The rules state that a Post Office (PO) box does not qualify. However, many Native American reservations do not use physical street addresses and instead use PO boxes.
Last month, Carol Anderson, a professor at Emory University, published an investigation into America's ongoing voter suppression – something that had worsened since a 2013 Supreme Court ruling stripped away parts of the historic 1965 Voting Rights Act (VRA).
She said in One Person, No Vote: How Voter Suppression is Destroying our Democracy, countless thousands of African Americans and other minorities, were prevented from voting in the 2016 general election, the first held in 50 years without the protections of the VRA and which saw Donald Trump win the White House.
"Minority voters did not just refuse to show up; Republican legislatures and governors systematically blocked African Americans, Hispanics and Asian Americans from the polls," she writes.
"Pushed by both the impending demographic collapse of the Republican Party, whose overwhelmingly white constituency is common an ever smaller share of the electorate, and the GOP's extremist inability to craft policies that speak to an increasingly diverse nation, the Republicans decided to disenfranchise rather than reform."
Join our new commenting forum
Join thought-provoking conversations, follow other Independent readers and see their replies