Michael Flynn: Will he be sentenced and what would it mean for Trump?
Flynn has been cooperating with the Mueller probe by providing information for at least three investigations — a judge just pushed his sentencing back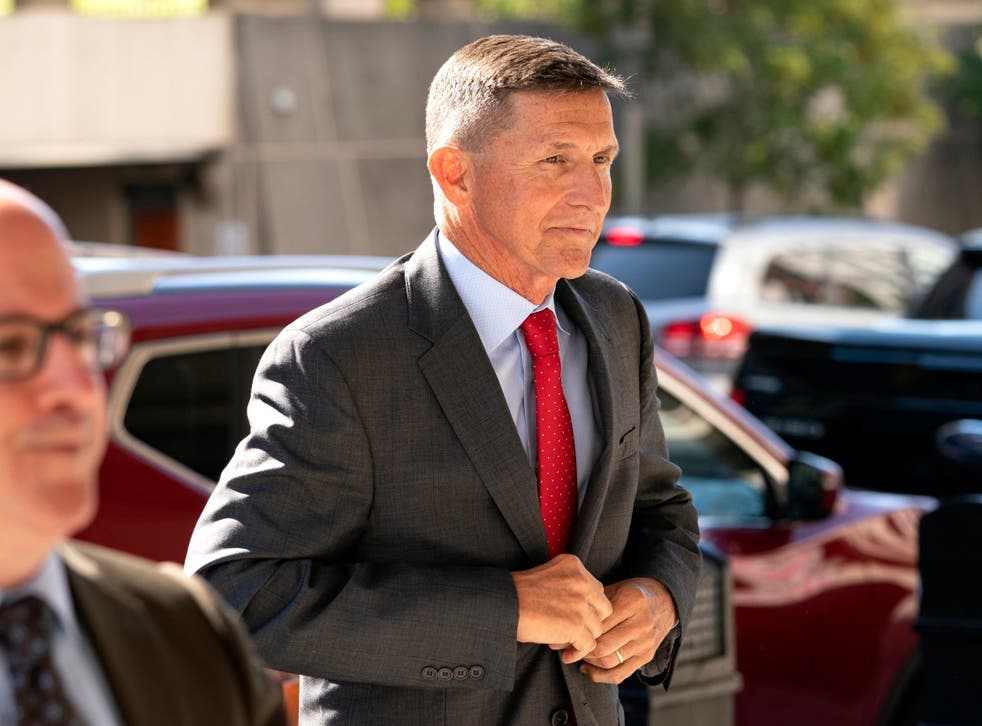 The judge overseeing the case of former national security adviser Michael Flynn has pushed back the date for the general's sentencing after a roller coaster ride of a hearing in which both the defence and prosecution were grilled about the Flynn's crimes
The hearing is part of the investigation into possible collusion between Russia and the Trump campaign and Moscow's election meddling being run by Special counsel Robert Mueller. Investigators filed a two-part sentencing memo for Flynn earlier this month with a recommendation for a light, or no, jail sentence
The memo about Donald Trump's former national security advisor,was heavily redacted but provided valuable insight into what may lay ahead. The events in the Washington federal courthouse on Tuesday only add to the intrigue.
Here is what you need to know about the sentencing memo, Fynn's hearing, and the implication it has for Mr Trump.
What happened during Flynn's hearing and what is next?
The hearing was, by all accounts, unusual.
The proceedings began with US District Judge Emmet Sullivan asking Flynn about his crimes, and the process by which he admitted to the special counsel that he had committed the acts. He appeared so lenient during the process that he at times suggested that Flynn could confer with his legal team before answering certain questions — Flynn declined — as he asked him more than a dozen questions about the interviews he gave to federal investigators and his ultimate guilty plea for lying to the FBI.
The judge also asked Flynn to repeatedly confirm that he had intended to plead guilty, after it had been suggested that he had been somehow tricked into implicating himself. Flynn and his lawyers repeatedly confirmed the former general's culpability.
It was then disclosed that the "vast majority" of Flynn's cooperation with investigators had concluded, but that there was a potentially more that he could help with. Federal prosecutors indicated Flynn had not done anything that could be considered "treason", and the judge appeared angered by Flynn's crimes — saying at one point that he would not hide his disdain for his decision to mislead the United States government about foreign ties and employment.
Ultimately, the judge asked Flynn if he would like to delay his sentencing — which Flynn affirmed, even though he had previously asked for a speedy trial. Judging from the proceedings Tuesday in court, that could mean Flynn will provide further details to Mr Mueller's team.
What did the Mueller sentencing memo say?
The sentencing memo from earlier in the month asked for a light sentence - with no prison time - but did not exactly go light on Flynn himself.
Flynn was an early casualty of the Russia scandal, and was forced to resign from his post as White House national security advisor just weeks into the Trump administration in 2017. He was forced to do so after it was discovered that he had lied to the FBI about conversations he had with then-Russian Ambassador Sergey Kislyak about Obama administration sanctions on Russia for meddling in the 2016 presidential election.
The Mueller memo lays out those crimes, and deems them "serious". But, the memo says that Flynn's subsequent "substantial assistance to the government" means he should receive "a sentence at the low end of the guideline range — including a sentence that does not impose a term of incarceration — is appropriate and warranted".
Is it common for someone to receive this light of a sentence recommendation?
When it comes to the Russia investigation, the answer is no.
Plenty of other individuals who were once in Trump's inner orbit — including former campaign chairman Paul Manafort, Mr Trump's former personal lawyer and fixer Michael Cohen, and former foreign policy advisor George Papadopoulos — face, or have been handed, tougher sentences for their crimes.
The difference for Flynn — who is almost certainly more of a valuable target than Papadopoulos — is that "substantial" cooperation. Flynn, the heavily redacted sentencing memo says, provided "particularly valuable" information to the Mueller investigation.
World news in pictures

Show all 50
But, let's read between the lines a bit.
The memo is heavily redacted, so there is quite a bit we do not know from it — but some of what is left unsaid has important implications for the probe and what may come.
We know from the memo that Flynn testimony is "particularly valuable", but that does not mean that the value was in any way narrow.
Flynn met with investigators 19 times during his cooperation, and ultimately gave helpful information on multiple investigations of interest — and some of those are not yet concluded.
How do we know that? Well, Mr Mueller spells it out in the memo itself: "some of that benefit [from Flynn's cooperation] may not be fully realised at this time because the investigations in which he has provided assistance are ongoing".
Which investigations has Flynn helped Mueller with?
There appear to be three investigations, per the memo, that Flynn helped out with.
One concerns "interactions between the [Trump] transition team and Russian campaign officials".
A second is an "investigation concerning any links or coordination between the Russian government and individuals associated with the campaign of President Donald J. Trump".
A third is mentioned but, almost entirely redacted by 22 lines of blacked out text.
Support free-thinking journalism and attend Independent events
What does this mean for the president?
The delayed sentencing follows shortly after two major developments in the Mueller investigation.
The special counsel has alleged that Manafort had violated his plea agreement by misleading investigators during his cooperation. Meanwhile, Mr Trump's former personal lawyer, Cohen, pleaded guilty to lying to Congress about negotiations between Trump associates and Russian officials regarding a real estate development in Moscow. He had told Congress those talks stopped before the 2016 Republican primaries, but he said that he had updated Mr Trump after those contests had started.
Cohen was sentenced to three years and two months in prison last week for financial crimes, as well lying to Congress.
The trickle of allegations has left many believing that Mr Mueller's probe may be circling in on Mr Trump and his family — and that the probe may show coordination between the Trump campaign and Russia during the 2016 election.
But, for now, we will have to wait and see if that is the case. The president, for his part, has been pretty clear on his view of the notion that he and his closest associates were involved in any effort to coordinate with Russia in 2016: He says it is fake news, and that the Mueller probe is all just a "witch hunt".
Join our new commenting forum
Join thought-provoking conversations, follow other Independent readers and see their replies