Nigel Farage endorses Republican candidate who suggested 9/11 attacks were 'punishment' for lack of godliness
Mr Moore once suggested homosexuality should be illegal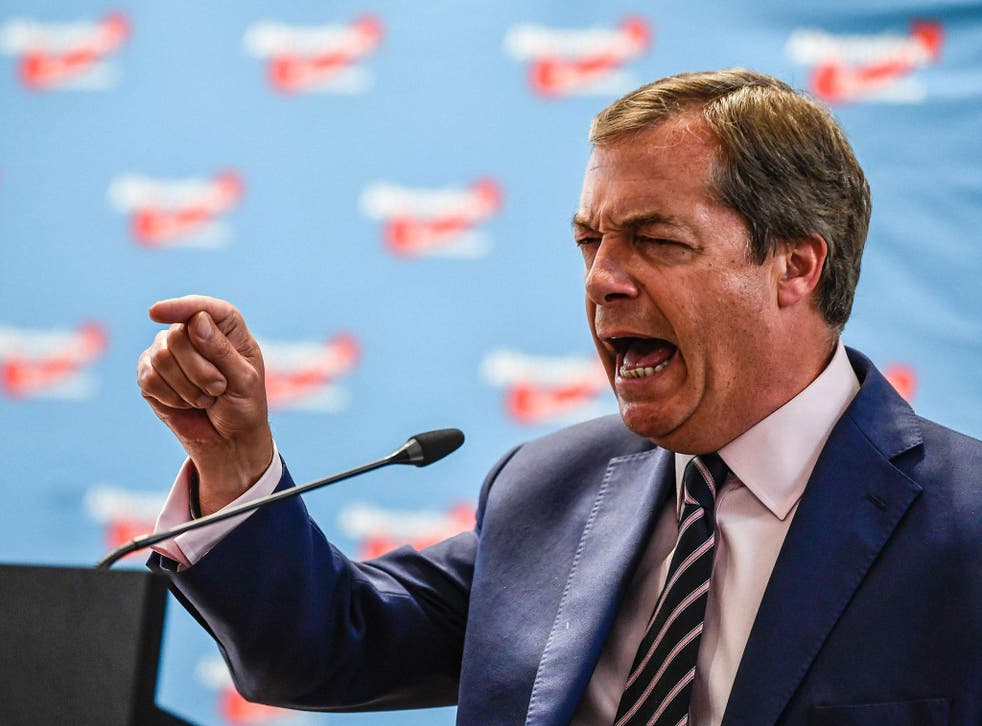 Former Ukip leader Nigel Farage – a huge admirer of Donald Trump – is to campaign alongside Steve Bannon for the "insurgent" Alabama Senate candidate the President has turned his back on.
As the race between Republicans Roy Moore and Luther Strange has become increasingly dirty and decidedly weird – Mr Strange's adverts brag that he is endorsed by Mr Trump and the National Rifle Association, while Mr Moore's say he has the support of Sarah Palin and Chuck Norris – Mr Farage has thrown his hat into the ring of the controversial former judge.
Mr Farage, who was the first British politician to meet Mr Trump after his surprise election victory, will appear with Mr Moore, Mr Bannon and Phil Robertson, the star of a reality show called Duck Dynasty. The show tells the fortunes of a family of duck hunters from Louisiana.
"I'm honoured to have the endorsement of Brexit leader @Nigel_Farage, who'll join us in Fairhope on Monday," Mr Moore said on Twitter.
The contest in Alabama to fill the Senate seat left empty when Jeff Sessions joined Mr Trump's cabinet as Attorney General, will – all but for a miracle – be decided on Tuesday. While the actual full vote for the seat is not until December, it is widely believed no Democrat stands a chance, and as such the Republican primary between Mr Moore and Mr Strange will decided the outcome.
Alabama is strongly conservative. The last Democratic president to win the state was Jimmy Carter in 1976. Mr Trump beat Hillary Clinton 62-34 in the 2016 contest here.
Steve Bannon says the firing of James Comey was the biggest mistake in modern political history
The most recent poll, by Big League-Gravis, gives Mr Moore a 48-40 lead. Yet Mr Trump has taken the somewhat risky decision to throw his support behind Mr Strange, a state prosecutor who was appointed to fill the seat on a temporary basis by the former Governor he was investigating for corruption. (The Governor stood down in April amid an ethics scandal.)
Mr Strange has also received the support and lots of money from Republican Senate Majority Leader Mitch McConnell, who has directed up to $9m (£6.7m) to Mr Strange's campaign.
Yet that has allowed Mr Moore's supporters to paint him as a tool of the Washington elite and to portray their own candidate – a man known around the world for installing a 5,000lb granite statue containing the Ten Commandments in the offices of the Alabama Supreme Court and who recently said the 9/11 attacks may have been a punishment from God, as the true insurgent – as more like Mr Trump then even the President himself.
After Mr Bannon was fired as Mr Trump's strategic adviser, he claimed that those around him – his family members and Chief of Staff John Kelly – should not try and stop the President from "being himself". Yet he also vowed to support scores of nationalist Republican candidates in the 2018 midterms, using the influence of his powerful Breitbart News and millions of dollars provided by Republican mega-donor Robert Mercer.
Mr Bannon has said that Mr Moore is his first experiment. If he wins, say experts, it could have a great impact on who runs in 2018.
Donald Trump's international Presidential trips

Show all 22
Meanwhile, former vice-presidential candidate Sarah Palin suggested Mr Trump's instincts had been diluted by his time in Washington. "The swamp is trying to steal the victory that we worked so long and hard for – to steal the victory that a lot of us put our reputations on the line for. We voted to put America first, not the political elite that had ignored us for decades," she said at a rally last week.
Mr Trump has said he would campaign for Mr Moore in the general election if he wins.
"If Luther doesn't win, they're not going to say we picked up 25 points in a very short period of time," Mr Trump told a crowd in the northern Alabama city of Huntsville last week. "They're going say, 'Donald Trump, the President of the United States, was unable to pull his candidate across the line'."
Mr Strange is to appear at a rally in Birmingham with Vice President Mike Pence. At the same time, Mr Moore will be appearing with Mr Bannon, Mr Farage and Mr Robertson, and will speak live with Fox News anchor Sean Hannity.
Register for free to continue reading
Registration is a free and easy way to support our truly independent journalism
By registering, you will also enjoy limited access to Premium articles, exclusive newsletters, commenting, and virtual events with our leading journalists
Already have an account? sign in
Register for free to continue reading
Registration is a free and easy way to support our truly independent journalism
By registering, you will also enjoy limited access to Premium articles, exclusive newsletters, commenting, and virtual events with our leading journalists
Already have an account? sign in
Join our new commenting forum
Join thought-provoking conversations, follow other Independent readers and see their replies