Nigel Farage questions Roy Moore's sexual assault allegations
Exclusive: 'I think a lot of reasonable-minded people will ask why now'
Andrew Buncombe
New York
Monday 13 November 2017 23:14 Comments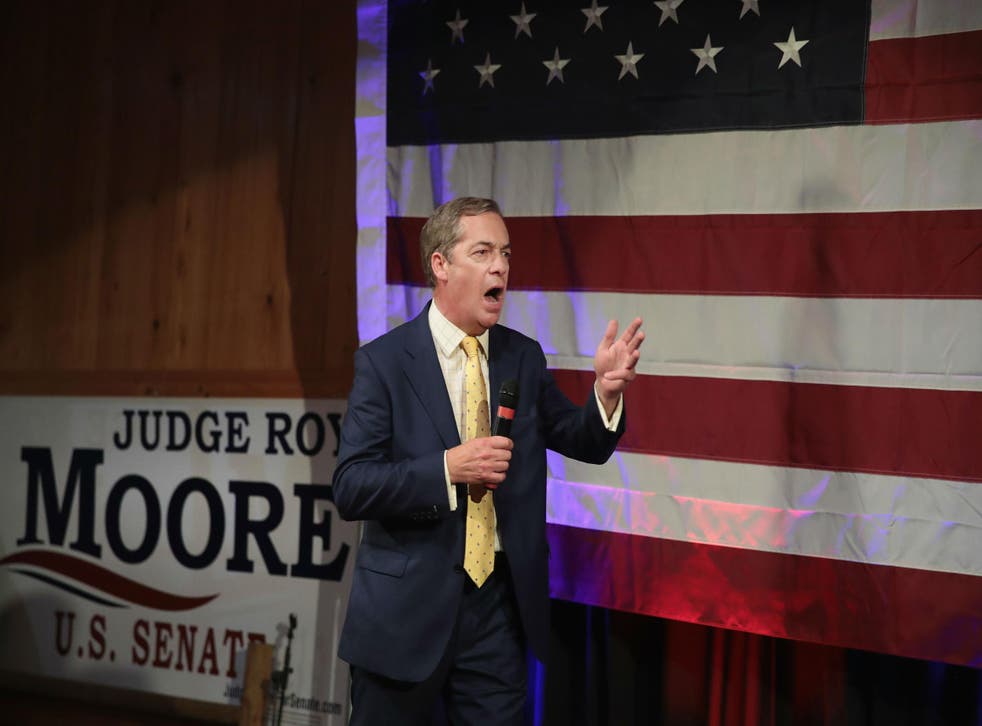 Right wing British politician Nigel Farage has raised questions over the allegations of sexual assault levelled at Republican Senate candidate Roy Moore.
Mr Farage, one of a series of high profile figures who campaigned for the anti-establishment judge, said if the accusations of sexual assault and inappropriate conduct made by five women were true, then Mr Moore - who has repeatedly denied the allegations - should stand down.
Yet, he said he struggled to understand why the allegations against the 70-year-old were only emerging now, given that he had spent decades in public life in Alabama.
"I have to say how, for someone who has been in public life, [these issues] have not been raised before," Mr Farage told The Independent.
"He has been in the public life a long time and he has been outspoken in his views and in his positions."
Asked if he agreed with Mr Moore, who claimed the allegations against him had been cooked up by the Democrats and the Washington Post, he said he was not in a position to say.
Speaking from the French city of Strasbourg, seat of the European Parliament, he added: "But I think a lot of reasonable-minded people will ask "why now"."
Roy Moore victorious over Trump-backed candidate in Alabama
Mr Farage, 53, who represents the UK Independence Party in the European Parliament and who is an ally of Donald Trump, is among a number of well-known figures who have lent their support to Mr Moore's attempt to win the US senate seat for Alabama, left vacant by Jeff Sessions when he joined the Trump administration.
At a rally outside of the city of Mobile in September, Mr Farage spoke in a farm building about how electing Mr Moore would send a message to the political establishment and the liberal media.
"I have absolutely no hesitation in putting my support and my backing behind a man like judge Roy Moore, who has shown in his career that he will always put principle before his own career advancement," he said.
"He will rejuvenate Trump, Brexit and all those things that happened in 2016."
Mr Moore also received the support of Mr Trump's former strategist Steve Bannon, Sarah Palin and Chuck Norris. In contrast, Mr Trump supported establishment candidate Luther Strange.
Mr Moore, who comfortably defeated Mr Strange, now faces accusations from five women. Four of the women spoke to the Washington Post, one of them telling the newspaper that Mr Moore had sexually assaulted her when she was 14 and he was aged in his 30s.
World news in pictures

Show all 50
On Monday, as Senate Majority leader Mitch McConnell said it was time for Mr Moore to stand down before the run-off in December against Democrat Doug Jones, a fifth woman went public with fresh allegations.
Appearing at a press conference in New York, Beverly Nelson, 56, said Mr Moore had assaulted her when she was 16 and he had offered her a ride home one night.
"I trusted Mr. Moore. He was the district attorney. I thought that he was simply doing something nice by offering to drive me home," said Ms Nelson. "I did not want to wait outside in the cold so I agreed."
She said once she was in the car, Mr Moore began groping her and forcing her head down, despite her protests. When he finally opened the car door, she said he told her: "If you tell anyone about this, no one will ever believe you."
Mr Moore called Ms Nelson's lawyer, Gloria Allred, a "sensationalist leading a witch hunt".
"We've said this before and we'll say it again: Judge Moore is an innocent man and has never had any sexual misconduct with anyone," his campaign said in a statement. "This is a witch hunt against a man who has had an impeccable career for over 30 years and has always been known as a man of high character."
Register for free to continue reading
Registration is a free and easy way to support our truly independent journalism
By registering, you will also enjoy limited access to Premium articles, exclusive newsletters, commenting, and virtual events with our leading journalists
Already have an account? sign in
Join our new commenting forum
Join thought-provoking conversations, follow other Independent readers and see their replies