US ambassador Nikki Haley accuses Palestinian leader Mahmoud Abbas of 'outrageous and discredited conspiracy theories'
Ms Haley's words underscore the heightened tensions between the US and Palestinians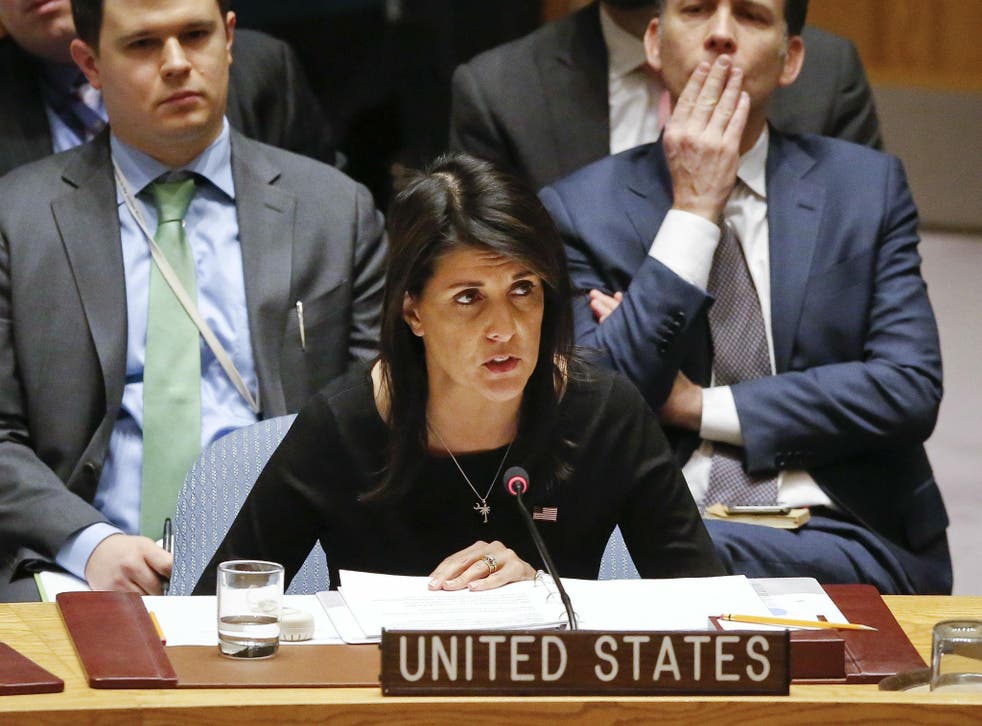 The US's ambassador to the United Nations has harshly reprimanded Palestinian President Mahmoud Abbas, claiming he "indulges in outrageous and discredited conspiracy" that show he lacks the "courage and the will" to strive for a lasting peace deal with Israel.
Speaking at a UN Security Council meeting, Nikki Haley also suggested Mr Abbas had insulted President Donald Trump in a speech before the Palestinian Liberation Organization (PLO) Central Council earlier in January.
"In his speech, President Abbas declared the landmark Oslo Peace Accords dead," Ms Haley said, referring to the set of 1993 agreements between Israel and the PLO that marked the start of a peace process aimed at achieving a peace treaty.
Ms Haley continued: "He rejected any American role in peace talks. He insulted the American president. He called for suspending recognition of Israel. He invoked an ugly and fictional past, reaching back to the 17th Century, to paint Israel as a colonialist project engineered by European powers."
"A speech that indulges in outrageous and discredited conspiracy theories is not the speech of a person with the courage and the will to seek peace," she added.
Ms Haley's words underscore the heightened tensions between the US and Palestinians. Their relationship took a turn for the worse when Mr Trump last month formally recognised Jerusalem as the capital of Israel and said the US embassy would be moved to the holy city.
Protests erupt after Trump recognises Jerusalem as Israel's capital

Show all 22
The status of Jerusalem has long been a source of controversy in the Middle East.
Israelis consider the city to be their eternal capital, while Palestinians have long wished to establish east Jerusalem as the capital of a future Palestinian state.
Mr Abbas has repeatedly railed against Mr Trump's decision regarding the city, saying that it disqualifies the US from being able to broker peace talks between the Israelis and Palestinians.
On Thursday at Davos, Mr Trump questioned whether peace negotiations with Israel would ever resume, blaming the Palestinians.
Echoing remarks by Ms Haley, the President said Palestinians had "disrespected" the US in the wake of his decision on Jerusalem.
The President also threatened to cut even more aid to the Palestinians if they do not come to the negotiating table. The US already announced earlier this month that it would withhold $65m in aid to the UN agency that serves Palestinian refugees, meaning aid to the organisation would be cut by almost half.
Register for free to continue reading
Registration is a free and easy way to support our truly independent journalism
By registering, you will also enjoy limited access to Premium articles, exclusive newsletters, commenting, and virtual events with our leading journalists
Already have an account? sign in
Register for free to continue reading
Registration is a free and easy way to support our truly independent journalism
By registering, you will also enjoy limited access to Premium articles, exclusive newsletters, commenting, and virtual events with our leading journalists
Already have an account? sign in
Join our new commenting forum
Join thought-provoking conversations, follow other Independent readers and see their replies