Women who accused Donald Trump of sexual assault 'should be heard', says most senior US diplomat
A wave of sexual misconduct allegations has swept through American politics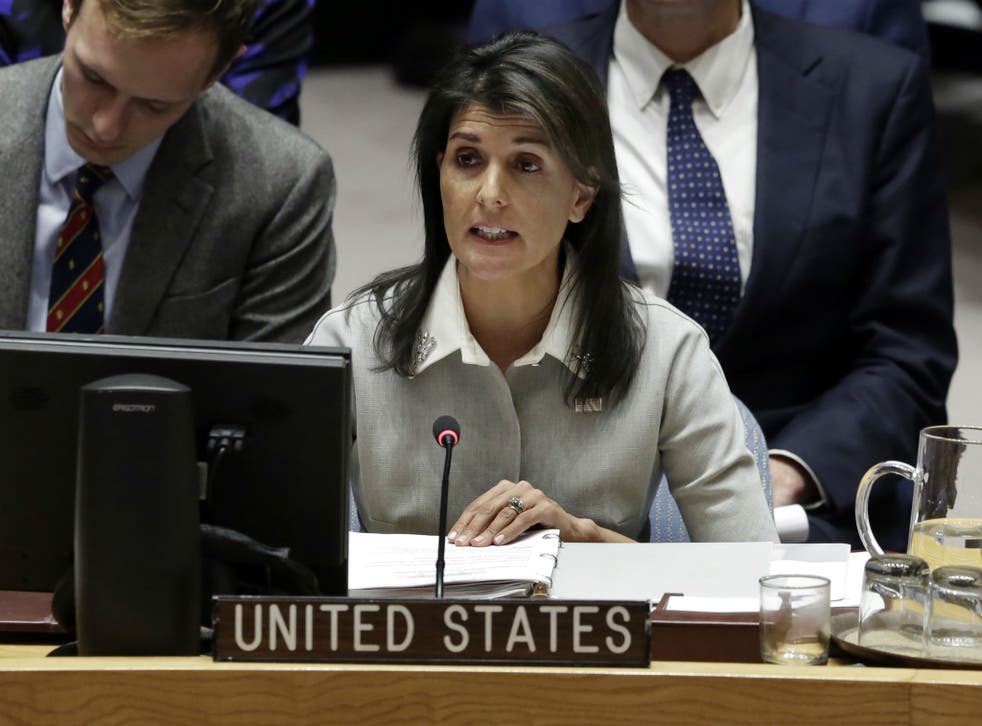 Women who have accused Donald Trump of sexual assault deserve to be heard, a top administration appointee has said.
A national reckoning with sexual impropriety has so far seen multiple members of Congress step aside after they were accused of inappropriate behaviour.
America's ambassador to the United Nations, Nikki Haley, said she was "incredibly proud" of the women who have come forward so far. Asked about the allegations made against Mr Trump, she said: "Women who accuse anyone should be heard."
"They should be heard and they should be dealt with. And I think we heard from them prior to the election," Ms Haley said in an appearance on current affairs TV programme Face the Nation. "And I think any woman who has felt violated or felt mistreated in any way, they have every right to speak up."
Before Mr Trump won the 2016 presidential election, multiple women accused him of unwanted kissing or groping. A now infamous tape also emerged in which he bragged about sexual assault. And he faced another accusation this week as former Fox News anchor Juliet Huddy said Mr Trump tried to kiss her about a decade ago.
The White House did not respond to a request for comment about the latest allegation, but the President has rejected the allegations against him as false and branded the women liars. Press Secretary Sarah Huckabee Sanders has confirmed that to be the White House's official position.
Every woman to make sexual assault claims against Donald Trump

Show all 16
Asked whether the election rendered the allegations "a settled issue", Ms Haley said: "That's for the people to decide."
"I know that he was elected," Ms Haley said. "But, you know, women should always feel comfortable coming forward. And we should all be willing to listen to them."
In Congress, Minnesota Democrat Al Franken and long-serving Michigan Democrat John Conyers both resigned under pressure from party leadership after multiple women accused them of unwanted advances. Mr Conyers denied any wrongdoing, and Mr Franken said some of the accusations against him were false or that he remembered the alleged incidents differently.
While sexual misconduct allegations have toppled numerous figures in politics, media and entertainment, Mr Trump has so far been unscathed – a point Mr Franken made in a speech marking his resignation.
"I of all people am aware that there is some irony in the fact that I am leaving while a man who has bragged on tape about his history of sexual assault sits in the Oval Office," Mr Franken said.
Al Franken resigns: Democratic senator stands down over sexual assault claims
On the campaign trail, Alabama Senate candidate Roy Moore is forging ahead despite accusations of making unwanted advances toward teenagers when he was in his thirties. Mr Moore and his campaign have vociferously rejected those allegations as politically motivated falsehoods, saying: "I have never engaged in sexual misconduct".
While Senate Republicans have distanced themselves from Mr Moore, the President has backed the embattled Republican and urged voters to choose him over Democrat Doug Jones.
Register for free to continue reading
Registration is a free and easy way to support our truly independent journalism
By registering, you will also enjoy limited access to Premium articles, exclusive newsletters, commenting, and virtual events with our leading journalists
Already have an account? sign in
Register for free to continue reading
Registration is a free and easy way to support our truly independent journalism
By registering, you will also enjoy limited access to Premium articles, exclusive newsletters, commenting, and virtual events with our leading journalists
Already have an account? sign in
Join our new commenting forum
Join thought-provoking conversations, follow other Independent readers and see their replies