US bombers fly near North Korea in show of force after Donald Trump 'rocket man' comments
Comes as Pyongyang's foreign minister says US President is trying to convert the UN into a 'gangsters' nest' where 'bloodshed is order of the day'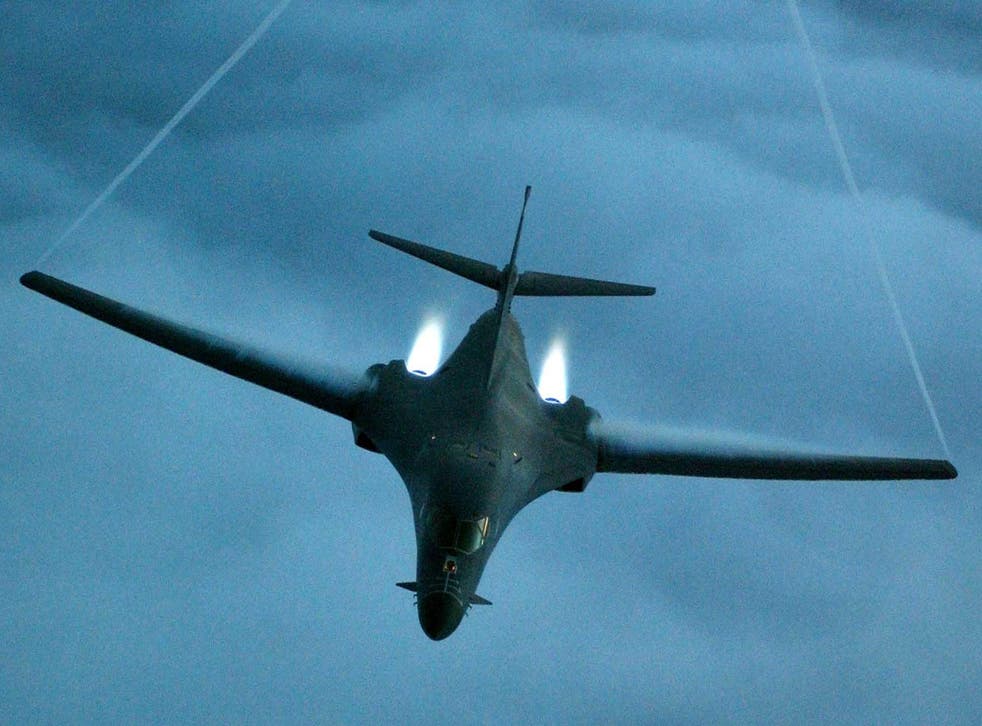 The US military has flown bombers close to North Korea to show Pyongyang that Donald Trump "has many military options to defeat any threat."
The show of force follows a contentious week in which Mr Trump and North Korean leader Kim Jong-un exchanged personal barbs over North Korea's nuclear ambitions. The comments marked an escalation in rhetorical warfare that has already seen Mr Trump promise "fire and fury" if North Korea does not curb its pursuit of nuclear weapons that could hit America.
Earlier on Saturday an earthquake was detected near the site where North Korea has conducted numerous nuclear tests, sparking fears of a new detonation. But later analysis suggested the tremor was natural in origin.
Mr Trump used his first address to the UN to say that "Rocket man is on a suicide mission," using a nickname he coined for Mr Kim. In response, Mr Kim issued an unprecedented personal statement, and referred to the President as a "dotard" — a word used to describe old and senile individuals.
"Now that Trump has denied the existence of and insulted me and my country in front of the eyes of the world and made the most ferocious declaration of a war in history that he would destroy [North Korea], we will consider with seriousness exercising of a corresponding, highest level of hardline countermeasure in history," Mr Kim said in that statement.
His foreign minister has now said that Mr Trump is trying to convert the UN into a "gangsters nest" where "bloodshed is order of the day".
North Korean officials have said that Mr Kim is considering green lighting a nuclear test in the Pacific Ocean in response to Mr Trump's comments, just weeks after the country's sixth and most powerful nuclear test to date. Just days later, seismologists detected a 3.5 magnitude earthquake near North Korea's known nuclear testing site — however it wasn't immediately clear if that quake was a man-made occurrence from an explosion, or naturally occurring.
Kim Jong-un inspects weapon North Korea says is powerful hydrogen bomb

Show all 6
"This event occurred in the area of the previous North Korean Nuclear tests," the United States Geological Survey said on its web site. "We cannot conclusively confirm at this time the nature of the event."
Pentagon spokeswoman Dana White said that the flights underscore "the seriousness with which we take North Korea's reckless behaviour." The flights were the closest that any US plane has flown to the demilitarised zone in the 21st century.
Join our new commenting forum
Join thought-provoking conversations, follow other Independent readers and see their replies