'Inevitable' that North Korean missiles will hit US mainland after Donald Trump's insults, says Pyongyang foreign minister at UN
Clark Mindock
New York
Saturday 23 September 2017 20:56 Comments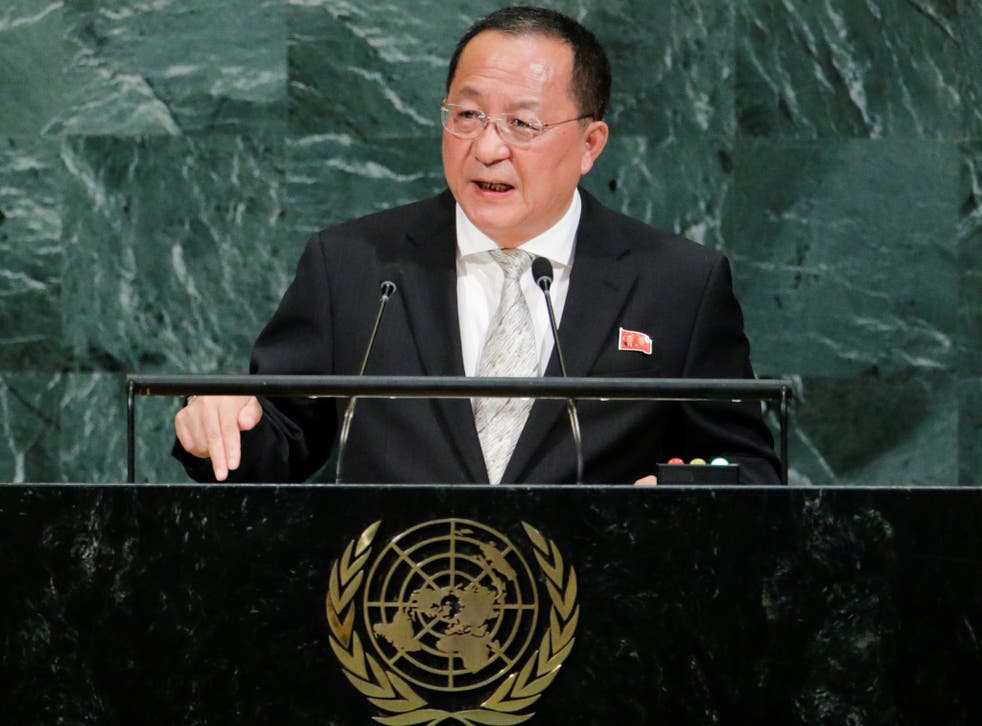 North Korea's foreign minister says it is inevitable that missiles from his country will hit the United States after the American military flew bombers further north of the demilitarised zone than any American military plane in the 21st century, and after a week in which Donald Trump and Kim Jong-un exchanged personal insults.
Mr Trump's insults make "our rocket's visit to the entire US mainland inevitable all the more," North Korean Foreign Minister Ri Yong Ho said during a visit to New York for the United Nations General Assembly.
Mr Ri said that recent economic sanctions placed on his country by the UN, and the United States, will do very little to deter his country's plans to develop a nuclear force capable of hitting the US mainland.
"Through such a prolonged and arduous struggle, now we are finally only a few steps away from the final gate of completion of the state nuclear force," Mr Ri said. "It is only a forlorn hope to consider any chance that [North Korea] would be shaken an inch or change its stance due to the harsher sanctions by the hostile forces."
The President insulted Mr Kim personally during his first speech to the United Nations General Assembly this week, calling him "rocket man" and saying that he was on a "suicide mission" if he keeps developing his nuclear weapons programme. In response, Mr Kim released an unprecedented personal rebuke, calling Mr Trump a "dotard", and a "frightened dog".
Following those insults, North Korean officials indicated that Mr Kim was considering testing a nuclear weapon in the Pacific Ocean, sending Japan – which is between North Korea and those open seas – into a frenzy, with officials warning people to be prepared for a potential missile launch over their island.
Kim Jong-un inspects weapon North Korea says is powerful hydrogen bomb

Show all 6
"It could be the most powerful detonation of an H-bomb in the Pacific," Mr Ri said then. "We have no idea about what actions could be taken as it will be ordered by leader Kim Jong-un."
Following the threat of a nuclear test, the United States military announced that it had flown American bomber planes further north than they've flown those aircraft during the 21st century as a show of force to let North Korea know that the US has a range of options to deal with the country, including military options.
Pentagon spokeswoman Dana White said that the flights underscore "the seriousness with which we take North Korea's reckless behaviour".
Those strong words on both sides have left some concerned that the escalating rhetoric has lead to something even more bothersome.
"I think this will lead to something in the coming days," Gi-wook Shin, the director of the Walter H Shorenstein Asia-Pacific Research Centre at Stanford University, told The Independent after the initial statements, saying that they now put pressure on Mr Kim to put his money where his mouth is. "That's why I'm concerned, that it might be more than an escalation of rhetoric. There may be escalation of expectations."
Days after Mr Kim's statement, seismographs picked up on a 3.5 magnitude earthquake in North Korea near the country's nuclear testing grounds, leading to some concern that the country had already tested a nuclear device. It wasn't, however, immediately clear if that was the case or not. If they did, it would be the seventh test, following the sixth and most powerful earlier this month.
"This event occurred in the area of the previous North Korean nuclear tests," the US Geological Survey said on its web site of the earthquake. "We cannot conclusively confirm at this time the nature of the event."
Tension between Mr Trump and Mr Kim have been increasingly strained since the President took office earlier this year. That relationship has been especially tense as a result of the numerous intercontinental ballistic missile tests that North Korea has performed, including some that experts said could plausibly hit the United States homeland. Following those tests, intelligence also unearthed indicating that North Korea had developed the technology necessary to create a nuclear warhead that could be attached to a missile, making an attack on the US all the more possible.
Register for free to continue reading
Registration is a free and easy way to support our truly independent journalism
By registering, you will also enjoy limited access to Premium articles, exclusive newsletters, commenting, and virtual events with our leading journalists
Already have an account? sign in
Join our new commenting forum
Join thought-provoking conversations, follow other Independent readers and see their replies