US Speaker Paul Ryan calls for a 'cleanse' of the FBI
The spoke a day after a senior official resigned following criticism from the President
Andrew Buncombe
New York
Tuesday 30 January 2018 21:59 Comments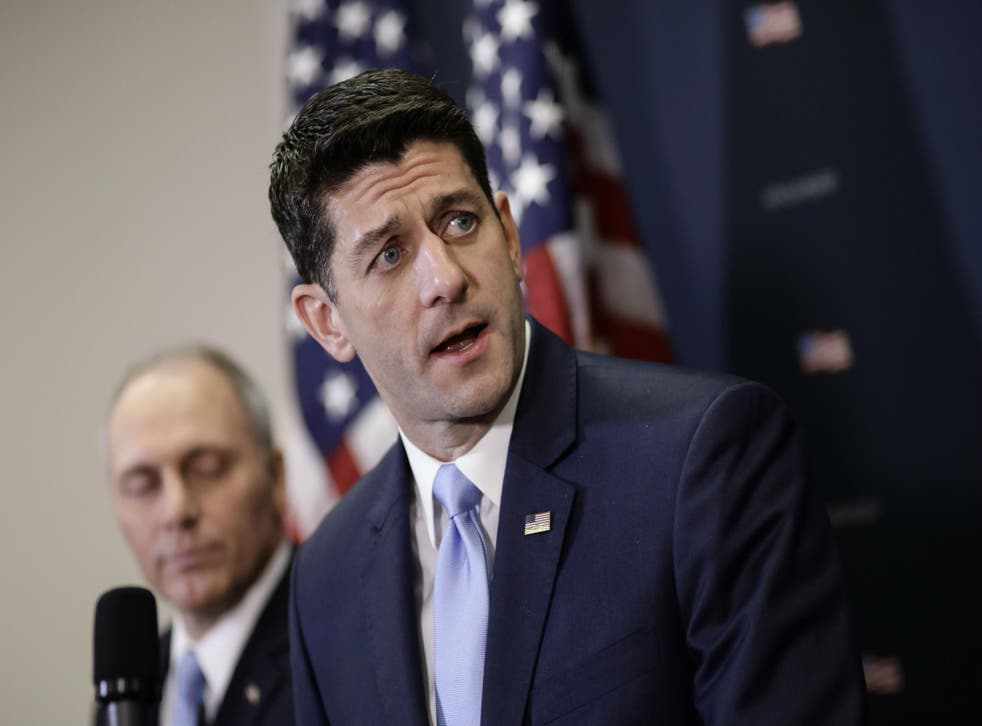 House Speaker Paul Ryan has reportedly called for a "cleansing" of the FBI – a day after its deputy director resigned after being criticised by Donald Trump.
Mr Ryan told Republicans he also supported the public release of a memo drawn up by members of the House Intelligence Committee that Democrats have claimed is an attempt to undermine Robert Mueller's Trump-Russia probe.
"Let it all out, get it all out there. Cleanse the organisation," Mr Ryan said, according to Fox News. "Let it all out, get it all out there. Cleanse the organisation."
He spoke a day after Andrew McCabe suddenly stepped down as the bureau's deputy director following months of criticism from both Republicans and President Trump.
Reports said he had told friends he felt under pressure to leave.
Republicans had for several months questioned Mr McCabe's ties to the Democratic Party, pointing out his wife ran as a Democrat for a Virginia Senate seat in 2015 and got financial help from a group tied to Clinton family ally Terry McAuliffe.
Mr Trump himself tweeted in December: "How can FBI Deputy Director Andrew McCabe, the man in charge, along with leakin' James Comey, of the Phony Hillary Clinton investigation (including her 33,000 illegally deleted emails) be given $700,000 for wife's campaign by Clinton Puppets during investigation?"
What to expect from Donald Trump's first State of the Union address
Mr Ryan reportedly made his comments at a breakfast meeting with television anchors and reporters ahead of Mr Trump's State of the Union address. Much of the event was said to have been off the record.
On Monday evening, Republicans voted along party lines to release a memo created by staff members of the intelligence committee. Democrats on the committee have said the memo cherry picks information in what they claim is an attempt to undermine the FBI and Mr Mueller's investigation into possible collusion between the Trump campaign and Russia's alleged attempt to interfere with the 2016 US election.
World news in pictures

Show all 50
California congressman Adam Schiff, the top Democrat on the committee, called it a "very sad day, I think, in the history of this committee".
Asked about House Intelligence Democrats complaining about their Republican counterparts, Mr Ryan claimed Democrats had "sprung their memo" last night, a reference to the Democrats' version which has not been released at this stage.
The Republican-authored memo has not yet been released either, but is expected to be made public after the White House has had the chance to review it.
Last week, a top Justice Department official urged House Intelligence Chairman Devin Nunes not to release the memo, saying it would be "extraordinarily reckless" and could harm national security and ongoing investigations.
On Sunday, FBI Director Christopher Wray went to the Capitol to view the four-page memo.
Republicans have said memo addresses whether the FBI relied at least in part on the unverified anti-Trump dossier – paid for partially by Democrats and the Clinton campaign during the 2016 presidential election – to apply for a surveillance warrant, purportedly focused on then-Trump adviser Carter Page. This would have been under the leadership of James Comey.
Register for free to continue reading
Registration is a free and easy way to support our truly independent journalism
By registering, you will also enjoy limited access to Premium articles, exclusive newsletters, commenting, and virtual events with our leading journalists
Already have an account? sign in
Join our new commenting forum
Join thought-provoking conversations, follow other Independent readers and see their replies