Pennsylvania election: Democrat Conor Lamb claims victory over Trump-backed Rick Saccone but race is too close to call
Result may hinge on yet-uncounted absentee ballots or a possible recount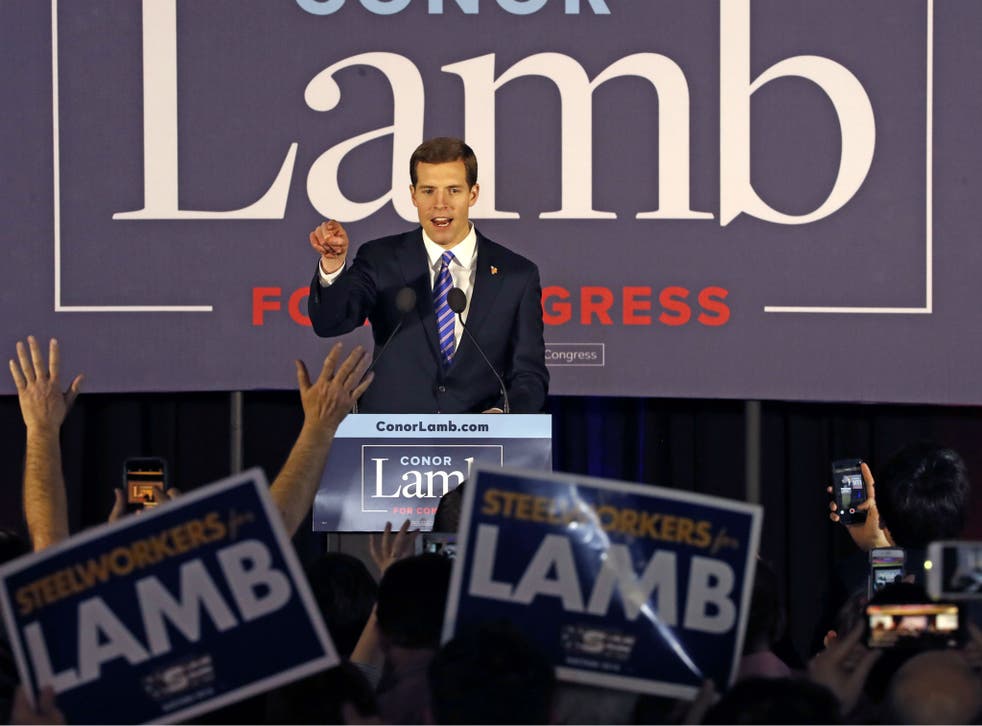 Democrat Conor Lamb has claimed victory over Donald Trump-backed Republican Rick Saccone in a highly anticipated special election in Pennsylvania, though officials say the result is too close to call.
Mr Lamb and Republican state Representative Mr Saccone are battling for the US House seat in Pennsylvania's 18th district – a race many billed as an indicator of the Republican Party's ability to hold its majority in Congress in midterm elections this November.
While Mr Lamb has tried to play down the idea of the race being a referendum on President Donald Trump, there is no doubt that a Republican loss in a district the president won by 20 points in 2016 would be a blow to the White House.
"It took a little longer than we thought but we did it. You did it," Mr Lamb told cheering supporters. However, before his rival claimed victory Mr Saccone told his supporters: "It's not over yet... We're going to fight all the way to the end."
Mr Lamb and Mr Saccone were virtually neck-in-neck with more than 99 per cent of the votes counted on Tuesday night, and final votes likely to be tallied in the morning.
Mr Lamb started the night with a strong lead over his opponent, which narrowed significantly over the course of the evening. He pulled strength from the liberal Allegheny county, where he lead Mr Saccone by more than 10,000 votes. But with almost all precincts reporting – and some absentee ballots still unread – the Democrat lead was around 800 votes out of more than 220,000.
Democratic sources said absentee ballots were expected to show Mr Lamb winning the election by more than 400 votes, but Mr Saccone did not concede.
Two counties – Greene and Washington – said they likely would not count their absentee ballots until Wednesday. While there is no mandatory requirement for a recount, the result will likely be easily within the range where wither campaign could request, and pay for, one to be conducted.
Donald Trump's first year: in pictures

Show all 29
Mr Saccone and Mr Lamb are competing for the seat vacated by Republican Representative Tim Murphy, who resigned amid a personal scandal in October. The district itself will not last past the midterms in 2018 – the current Pennsylvania map was recently struck down by a court for being biased towards Republicans. But the race remains a powerful symbol for what could happen in the midterms.
Signalling the importance of the race, Mr Saccone rallied the full force of the White House to his side in the weeks before the election, making appearances with everyone from Vice President Mike Pence to Mr Trump's son, Don Jr.
Mr Trump himself praised the candidate in a last-minute rally in Pennsylvania this weekend, calling him "a very fine human being". Mr Saccone said in an election-day interview that he hoped to be the president's "wingman" in Washington.
'Keep America Great': Donald Trump announces new campaign slogan
But it was unclear on Tuesday night whether tying himself to the president's coattails would help the representative beat Mr Lamb, a Marine veteran and former prosecutor who ran an outsider campaign as a moderate Democrat.
Perhaps in an attempt to appeal to the Trump voters in Pennsylvania's 18th, Mr Lamb has repeatedly claimed the election was not about the president, but about local issues. He also steered clear of traditional Democratic issues like gun control, and expressed support for Mr Trump's tariff plan.
The candidate surged in the polls last month, after an impressive round of fundraising in which he raked in $3.3m compared to Mr Saccone's $703,000. Outside Republican groups rushed to make up the difference, flooding the district with $10m in funding. It remained to be seen whether their efforts paid off.
Register for free to continue reading
Registration is a free and easy way to support our truly independent journalism
By registering, you will also enjoy limited access to Premium articles, exclusive newsletters, commenting, and virtual events with our leading journalists
Already have an account? sign in
Register for free to continue reading
Registration is a free and easy way to support our truly independent journalism
By registering, you will also enjoy limited access to Premium articles, exclusive newsletters, commenting, and virtual events with our leading journalists
Already have an account? sign in
Join our new commenting forum
Join thought-provoking conversations, follow other Independent readers and see their replies