Philippines President Duterte launches foul-mouthed tirade at Chelsea Clinton and mentions Monica Lewinsky
Ms Clinton had criticised the President for saying he would take responsibility for any crimes his soldiers commit, even if they 'raped women'
Alexandra Wilts
Washinton DC
Wednesday 31 May 2017 22:15 Comments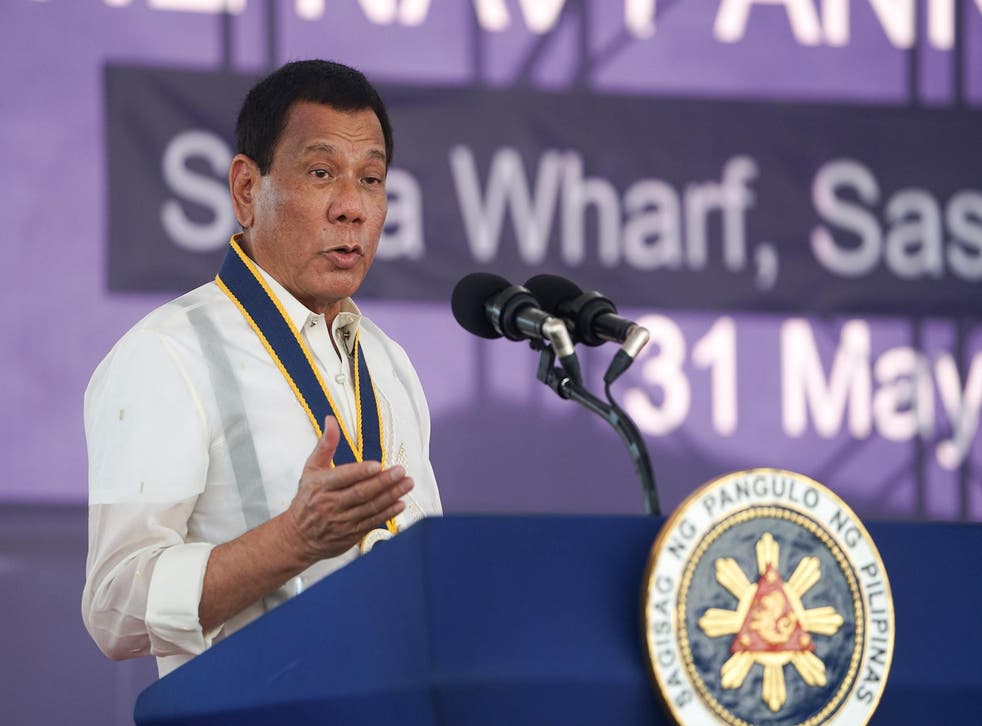 Philippines President Rodrigo Duterte has insulted Chelsea Clinton for criticising remarks he made about his soldiers potentially assaulting women.
Mr Duterte had returned to his home city of Davao on Wednesday to celebrate the 119th anniversary of the Philippine Navy. He used the occasion to berate Ms Clinton, who had joined a chorus of condemnation of the President for saying that he would take responsibility for any crimes his soldiers commit while imposing martial law in the southern Philippines, even if they "raped three women".
"When your father, the president of the United States, was screwing Lewinsky and the girls there in the White House, how did you feel? Did you slam your father?" Mr Duterte asked in Davao, in a reference to Monica Lewinsky, the White House intern with whom former President Bill Clinton had a sexual entanglement.
The former first daughter had previously commented on Twitter that Mr Duterte's comments about assault were "Not funny", before going on to declare that "Duterte is a murderous thug with no regard for human rights" and that "rape is never a joke".
In an expletive-laden speech at the navy event on Wednesday, Mr Duterte said: "They hear 'rape'. Like, like Chelsea, she slammed me. I was not joking, I was being sarcastic. Listen to the speech. I do not laugh at my own jokes."
Mr Duterte, who has led a brutal war on drugs that has resulted in the deaths of thousands of drug users by police and vigilantes, declared martial law across the entire southern region of Mindanao last week.
Mr Duterte's troops are currently battling Isis-affiliated fighters in the southern city of Marawi. The President has warned that local militant groups are uniting behind the terrorist organisation and becoming a major security threat.
Shortly after declaring martial law, Mr Duterte told his troops in a speech: "For this martial law and the consequences of martial law and the ramifications of martial law, I and I alone would be responsible."
"Just do your work. I will handle the rest," he added. "I will be imprisoned for you. If you rape three (women), I will say that I did it."
Mr Duterte is known for making outrageous statements to bring attention to himself, analysts say. Along with Ms Clinton, he has also attacked former US President Barack Obama, journalists and human rights campaigners.
Register for free to continue reading
Registration is a free and easy way to support our truly independent journalism
By registering, you will also enjoy limited access to Premium articles, exclusive newsletters, commenting, and virtual events with our leading journalists
Already have an account? sign in
Join our new commenting forum
Join thought-provoking conversations, follow other Independent readers and see their replies