Pope Francis takes swipe at Donald Trump and calls for a two-state solution to end Israeli-Palestinian conflict
'The winds of war are blowing in our world', the Pope said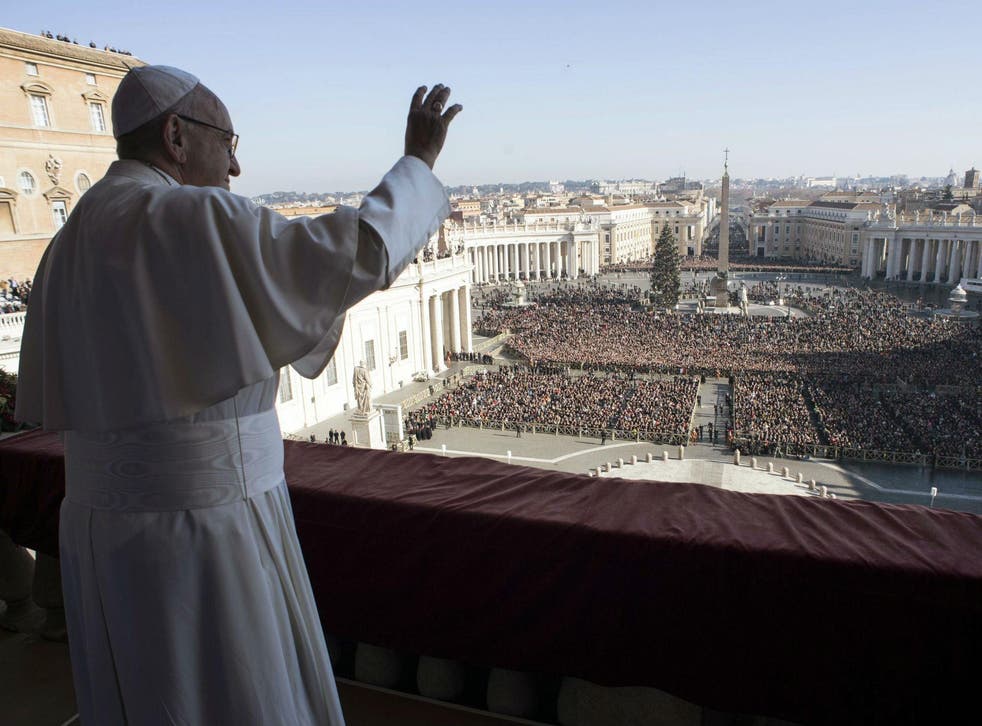 Pope Francis has taken another swipe at President Donald Trump, appearing to rebuke the US leader's decision to recognise Jerusalem as the capital of Israel.
In his traditional Christmas message, the Pope called for a two-state solution to end the Israeli-Palestinian conflict – an issue that became further ensnared in contention earlier this month after Mr Trump changed the diplomatic status of Jerusalem and said the American embassy in Israel would be moved to the holy city.
Following the President's declaration, protests flared across the Middle East and Palestinian President Mahmoud Abbas said the US was no longer qualified to sponsor the peace process between Israel and the Palestinians.
"Let us pray that the will to resume dialogue may prevail between the parties and that a negotiated solution can finally be reached, one that would allow the peaceful coexistence of two states within mutually agreed and internationally recognized borders," the Pope said during his "Urbi et Orbi" address – Latin for "to the city and to the world".
"We see Jesus in the children of the Middle East who continue to suffer because of growing tensions between Israelis and Palestinians," he told the audience of thousands from the balcony of St Peter's Basilica.
Protests erupt after Trump recognises Jerusalem as Israel's capital

Show all 22
Last week, 128 countries, including several US allies, backed a United Nations resolution rejecting Mr Trump's decision.
On Monday, the Pope also mentioned other issues in which the US leader plays a key role in policymaking.
The Holy See, who has expressed concern about the harsh exchange of words between Mr Trump and North Korea's leader, Kim Jong-un, prayed "that confrontation may be overcome on the Korean Peninsula, and that mutual trust may increase in the interest of the world as a whole.
"The winds of war are blowing in our world and an outdated model of development continues to produce human, societal and environmental decline," the Pope said.
Earlier in December, he also expressed criticism of the Trump administration's move to designate Jerusalem as the capital of Israel. He urged caution about inflaming religious tensions in the holy city that is sacred to Jews, Christians and Muslims.
"I cannot remain silent about my deep concern for the situation that has developed in recent days," the Pope said. "And at the same time, I wish to make a heartfelt appeal to ensure that everyone is committed to respecting the status quo of the city, in accordance with the relevant resolutions of the United Nations."
Register for free to continue reading
Registration is a free and easy way to support our truly independent journalism
By registering, you will also enjoy limited access to Premium articles, exclusive newsletters, commenting, and virtual events with our leading journalists
Already have an account? sign in
Register for free to continue reading
Registration is a free and easy way to support our truly independent journalism
By registering, you will also enjoy limited access to Premium articles, exclusive newsletters, commenting, and virtual events with our leading journalists
Already have an account? sign in
Join our new commenting forum
Join thought-provoking conversations, follow other Independent readers and see their replies