FBI sitting on 'explosive' information regarding Donald Trump and Russia, top Democrat insists
Harry Reid also warns Director Comey that he may have 'broken the law'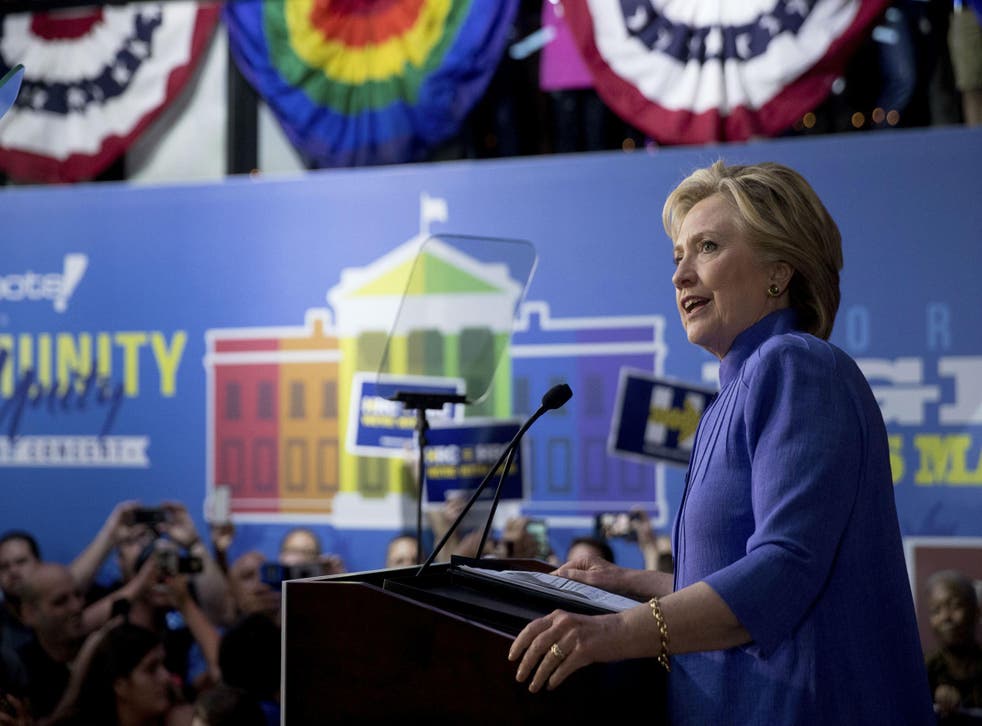 A top Democrat in Washington says the FBI has shone a spotlight on a new trove of emails potentially associated with Hillary Clinton's use of a private email server while sitting on "explosive information" allegedly tying Donald Trump to the Russian government.
Senator Harry Reid, the Democrat leader of the US Senate, accused the FBI of double standards in a letter sent late on Sunday to James Comey, the agency's director, who jolted the presidential race on Friday by revealing the existence of a new cache of emails.
Mr Reid's intervention, which may sow yet more intrigue in an already tumultuous last stretch towards election day on 8 November, came as investigators revealed that they had received a warrant to begin the work of searching through emails found on devices co-owned by Huma Abedin, a top Clinton aide, and her estranged husband, former Congressman Anthony Weiner.
Sources told the Associated Press that hundreds of thousands of emails had been found as part of a quite separate investigation into alleged social media communications of a sexual nature between Mr Weiner and an under-age girl. The new warrant only allows investigators to look through emails that have some link to Ms Abedin and therefore her boss, Ms Clinton.
Trump 'accused of treason' after urging Russia to hack Hillary Clinton's email
Mr Comey has come under widespread pressure to explain why he made the announcement about the new emails just on Friday, only 11 days before Americans choose their next president, an action that some experts have called a violation of established standards, at the least, requiring government officials to avoid taking steps that might impact an election.
"Through your partisan actions, you may have broken the law," Senator Reid informed Mr Comey in his letter, before going on to drop his own assertion that there are secrets about the Republican nominee and Moscow that the voting public doesn't know about - and should.
"In my communications with you and other top officials in the national security community, it has become clear that you possess explosive information about close ties and coordination between Donald Trump, his top advisers and the Russian government," Mr. Reid wrote. "The public has a right to know this information."
Democrats have long suggested that Mr Trump and President Vladimir Putin of Russia are two halves of a mutual admiration society. In the last debate, Ms Clinton directly accused her Republican rival of being Mr Putin's "puppet", an allegation he aggressively refuted. Meanwhile US intelligence agencies have concluded that Russian hackers were behind recent intrusions into the email history of the Democratic National Committte raising the notion that Russia has been directly meddling in the US election.
The Justice Department is making clear that it and the FBI intends pouring resources into reviewing the new emails so that demands from both campaigns for more clarity about what may be in them can be met. It may be that any emails of potential interest from the Weiner trove turn out to be emails already read by investigators in the course of the the earlier FBI probe of Ms Clinton's server that was wound up in July.
Trumped! The best cartoons on 'The Donald'

Show all 28
If that turns out to be the case, it is possible investigators could even step forward this week to declare that essentially the entire new flap has been a false alarm and everyone should ignore it. If, by contrast, large numbers of new - and pertinent - emails are indeed found, the investigation could be formerly resurrected and the findings might not be known until well after election day.
Investigators are expected to be looking for any indication that any of the emails were sent or received from Ms Clinton's server and, additionally, whether any of them contained any classified information.
They may also be interested in any suggestion from the email exchanges that Ms Abedin made any attempts to impede the original investigation into Ms Clinton private server arrangements.
On the campaign trail in Florida on Sunday, Ms Clinton refused directly to address the new server brouhaha. She made it clear to supporters, however, that she is determined not to be distracted by it, hard a task as that is likely to be.
"I'm not stopping now, we're just getting warmed up," she declared during a packed rally with gay and lesbian supporters in Wilton Manors, near Fort Lauderdale. "We're not going to be distracted, no matter what our opponents throw at us."
Join our new commenting forum
Join thought-provoking conversations, follow other Independent readers and see their replies