Republican-controlled Congress will start to wipe out Barack Obama's legacy on very first day
Mr Obama and other Democrats are scrambling to save his signature legislation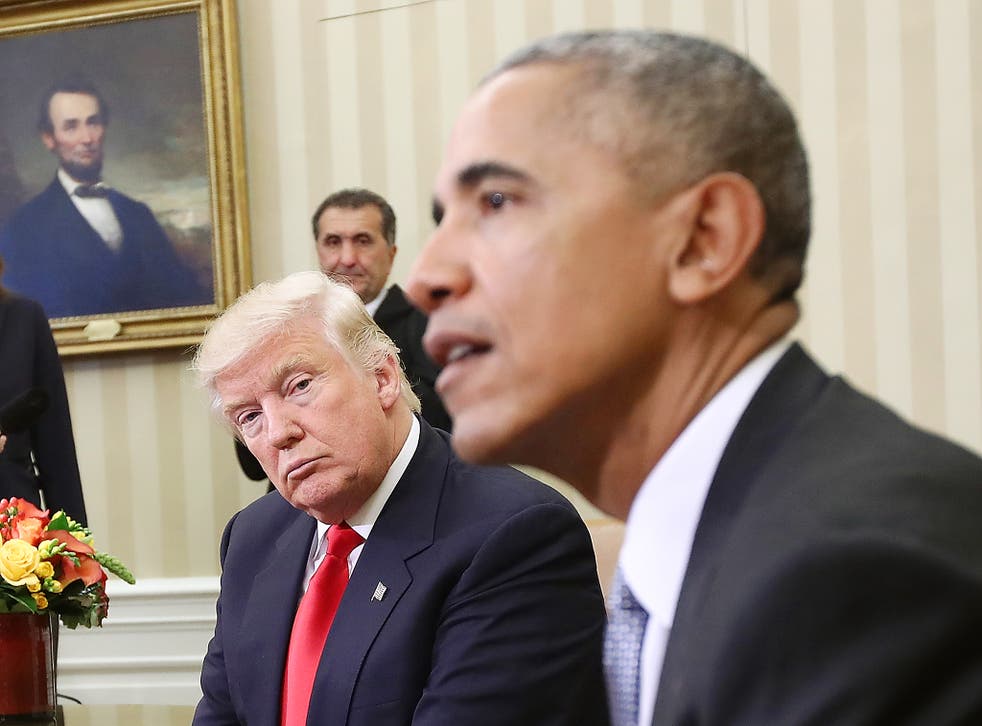 Energised Republicans are set to begin dismantling eight years of achievements by Barack Obama as they take complete control of Washington and bring out the wrecking balls.
The 115th Congress will sit for the first time on Tuesday, and even before President-elect Donald Trump assumes office, Republicans on Capitol Hill are anxious to start work. Their priorities include repealing the Affordable Care Act, better known as Obamacare, a tax overhaul, the repeal of environmental regulations, a large transportation bill to create jobs, and the confirmation of a new Supreme Court justice.
"Buckle up," Vice President-elect Mike Pence told his former colleagues in the House last year, after meeting with them to discuss legislative plans.
"I'm very confident that as we move towards inauguration, bring together a great team, work in concert with leaders in the House and Senate, and we're going to move an agenda that's going to rebuild our military, revive our economy, and — in a word — make America great again."
Indeed, with the Republicans controlling both the executive and legislative branches of government, work is likely to begin shortly after the Congress's 59 new members — seven senators and fifty-two House members — are sworn in.
CNN said that the Republicans will want to begin dismantling Obamacare, which they have identified as a priority since it was passed into law in 2010.
They also plan a major tax overhaul and the the reversal of a number of Obama-era environmental regulations.
"It's a big job to actually have responsibility and produce results," Senator Mitch McConnell of Kentucky, the majority leader, told The New York Times. "And we intend to do it."
"I hear probably more about the strangulation of regulations on business and their growth and their development than probably anything else," the House speaker, Paul Ryan, said recently, "I think if we can provide regulatory relief right away, that can breathe a sigh of relief into the economy."
Trump's advisor suggests Obama's sanctions against Russia are to 'box in' the incoming President
At the same time, such legislative efforts will have to share time with Senate confirmation hearings for Mr Trump's cabinet picks in the days and months that follow the President-elect's swearing-in.
It should be easier for Republicans to move nominations after the Democrats changed the Senate's filibuster rules in 2013. Still, Democrats have pledged to fight many of the nominations, highlighting what they call the hypocrisy of Mr Trump's populist message.
In truth, the Democrats, weakened in all areas of government since last November's election, have little ammunition with which to fire back.
But Senate Minority Leader Chuck Schumer and House Minority Leader Nancy Pelosi will likely try and stop changes to welfare programmes such as Medicare and Medicaid.
Mr Obama is himself scheduled to visit congressional Democrats on Wednesday to discuss ways to try and save his signature legislation.
There is much that remains unclear. And there are a number of issues on which Republicans on Capitol Hill are at odds with Mr Trump. They do not agree on his wish to scrap trade deals such as Nafta, and they also do not see eye to eye with him over controversies such as the alleged Russian cyber-meddling in the election.
While Mr Trump has said he thinks the country needs to move on to "more important" issues, Republican senators Lindsey Graham and John McCain have called for hearings on the issue and proposed sanctions beyond those announced by Mr Obama last week.
Join our new commenting forum
Join thought-provoking conversations, follow other Independent readers and see their replies