Republican Senate candidate's parents donate maximum amount to his Democrat opponent
They 'have a different worldview than I do', says Kevin Nicholson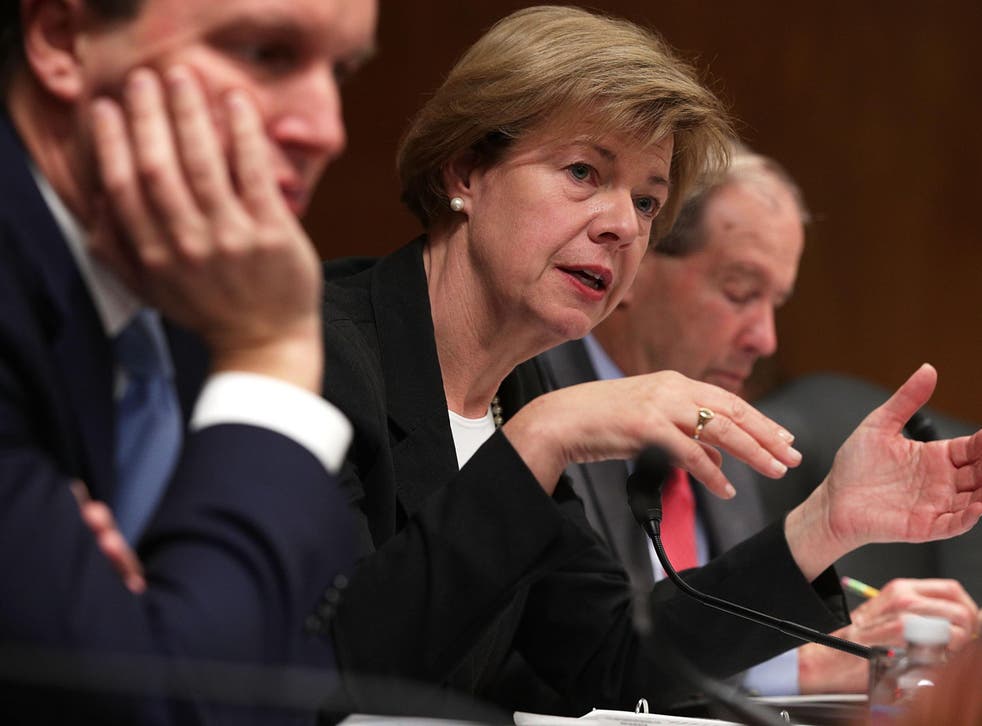 The parents of a Republican Senate candidate in Wisconsin have donated to the Democrat he hopes to unseat in November.
Federal records show that Michael and Donna Nicholson, parents of candidate Kevin Nicholson, both gave the maximum $2,700 donation in December to Democratic Senator Tammy Baldwin.
The amount is the largest allowed under FEC rules during the primary election, but they can give the same amount again during the general election. CNN was the first to report the donation, which was made in December 2017.
Mr Nicholson announced last July he would seek the Republican nomination for US Senate in Wisconsin.
His mother, Donna, has a history of donating to liberal candidates, but it is the first time both his parents have donated the maximum amount.
"My parents have a different worldview than I do," Mr Nicholson, a former Democrat, told CNN.
"It is not surprising that they would support a candidate like Tammy Baldwin who shares their perspective."
Mr Nicholson became president of the College Democrats of America in 1999 while at the University of Minnesota. The role involved a position in the Democratic National Committee in Washington and a speaking opportunity at the party's 2000 convention.
But Mr Nicholson has said he became disillusioned with the Democratic Party after serving in Afghanistan and Iraq.
"We were stabilising that country. We made incredible amounts of progress. And what I was hearing back home was a complete and absolute lie, as politicians were running around calling it a failure," he told Politico.
World news in pictures

Show all 50
When he returned to the US in November 2007, Mr Nicholson supported Republican Senator John McCain's ultimately unsuccessful bid for President. Mr McCain lost to Barack Obama in 2008.
Mr Nicholson would have to win the Republican Senate primary in Wisconsin before being able to face off against Ms Baldwin, who is still expected to win the state's Democratic primary.
President Donald Trump won Wisconsin in 2016.
But in January, the state's Republican Governor Scott Walker issued a warning to Republicans following a Democratic victory in a Republican-leaning district.
In a special election on Tuesday, Democrat Patty Schachtner won the state's 10th Senate District, which had voted heavily for Donald Trump in the 2016 presidential election.
Mr Walker called Ms Schachtner's win "a wake up call for Republicans" in the state.
Join our new commenting forum
Join thought-provoking conversations, follow other Independent readers and see their replies