Donald Trump responds to reports he's set to fire Rex Tillerson: 'He's here. Rex is here'
Mr Trump is said to have soured on Mr Tillerson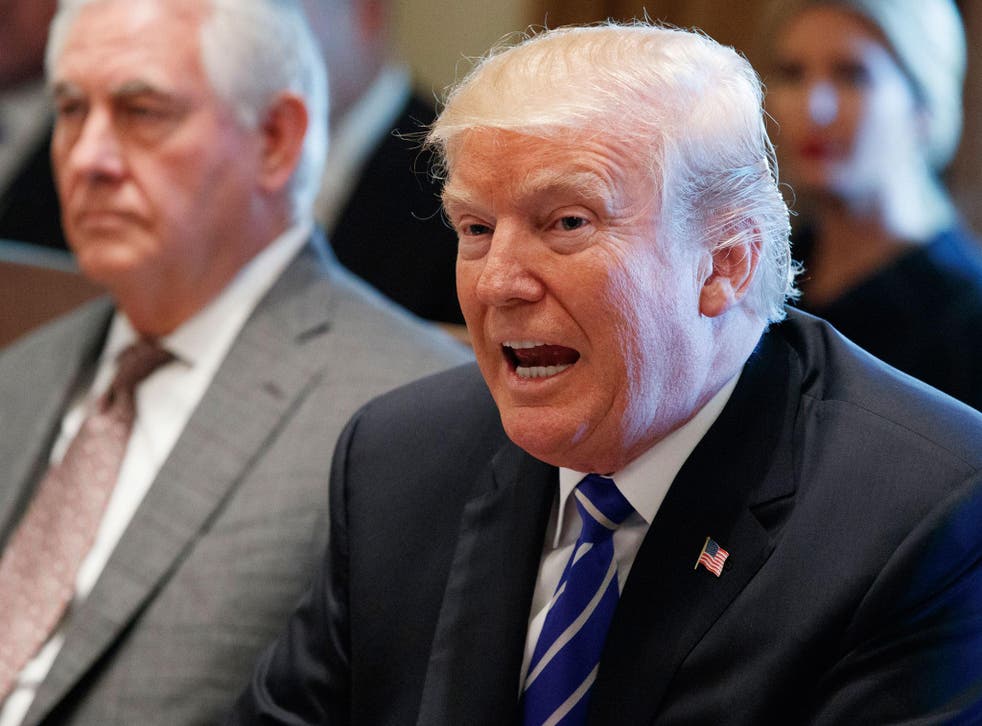 President Donald Trump has failed to unequivocally back Secretary of State Rex Tillerson, after reports saying the White House is looking to remove the official from his post.
Asked by reporters if he still wanted Mr Tillerson in the job, the President merely said: "He's here. Rex is here".
Multiple reports suggest that Mr Trump had probably asked Chief of Staff, John Kelly, with handling a transition that would see Mr Tillerson replaced with CIA Director Mike Pompeo within weeks.
Mr Tillerson made what the State Department called two ordinary trips to the White House on Thursday.
However, while a number of Trump administration officials lined up on Thursday afternoon to play down the idea, both White House Press Secretary Sarah Huckabbe Sanders and State Department spokeswoman Heather Nauert said that Mr Tillerson served at the whim of the President.
Having issued a statement that said Mr Tillerson continues to lead the State Department and "there are no personnel announcements at this time," Ms Sanders used a press briefing to make clear that Mr Trump's backing was key to that continuing.
"When the President loses confidence in someone, they will no longer serve here," she said.
Ms Nauert said that Mr Kelly had called the department to say that reports about Mr Tillerson being replaced were not true. But Ms Nauert did add the proviso that Mr Tillerson "serves at the pleasure of the President."
She also acknowledged that Mr Tillerson and Mr Trump had "areas of disagreement when it comes to policy", but that the President respected Mr Tillerson and valued his opinions. Ms Nauert insisted they had a "cordial relationship", but added: "Where that relationship is today, I can't speak to that."
Defense Secretary Jim Mattis was stronger in saying there was "nothing in" the reports.
"I make nothing of it," he said when asked about the potential for change. "There's nothing to it."
Donald Trump's least presidential moments so far...

Show all 30
The more cautious rhetoric coming from the White House and the State Department may stem from the fact that Mr Trump has, on several occasions, announced personnel changes with no forewarning.
As part of any planned change, it is believed that Mr Pompeo's position at the CIA would be filled by Republican Senator Tom Cotton, who has become a White House ally on national security matters.
An expulsion of Mr Tillerson would be another dramatic shakeup to the Trump administration that has already seen multiple changes to its communications staff and the dismissal or resignation of several top officials.
In his first 10 months as President, Mr Trump has already pushed out his National Security Adviser, communications director and health secretary following controversies. He also dramatically fired the FBI Director, James Comey, in May.
Reports have been swirling for months that Mr Tillerson would be the next to go.
Earlier this year, it was said that Vice President Mike Pence had to persuade the top diplomat to stay with the administration after Mr Tillerson was reportedly unhappy with comments Mr Trump made in a speech to the Boy Scouts of America. But last month, the State Department organised an impromptu press briefing in which the Secretary of State denied reports that he wanted to resign.
Mr Tillerson said he would stay in the Trump administration as "long as he is useful". Meanwhile, critics have condemned the way he has led the State Department, where several top posts continue to remain vacant.
Mr Trump and Mr Tillerson are also reported to have been at odds over a slew of major issues, including the Iran nuclear deal and the confrontation between the US and North Korea over the latter's expanding nuclear weapons programme. The President has said Mr Tillerson is "wasting his time" by trying to solve the crisis with Pyongyang through diplomacy.
There are also differences over how to deal with a regional crisis in Qatar, while Mr Tillerson's slow speed in filling diplomatic openings at the State Department is also potentially a factor.
The top diplomat is said to have called Mr Trump a "moron" – a report that Mr Tillerson sought to play down. A department spokesperson later said that the "the Secretary does not use that type of language".
Republican Senator Bob Corker, the chairman of the Senate Foreign Relations Committee, said he spoke to Mr Tillerson on Thursday and that the Secretary of State is not planning on being ousted.
"He's conducting business, as is the norm, and is unaware of anything changing," Mr Corker told reporters.
Mr Corker has his own sour relationship with Mr Trump. In October, the Tennessee senator who is not seeking re-election in 2018, admonished Mr Trump for trying to "castrate" his Secretary of State on diplomatic efforts.
Join our new commenting forum
Join thought-provoking conversations, follow other Independent readers and see their replies