'Immoral' to say developing countries should avoid fossil fuels, Rick Perry claims
'We don't have to choose between growing the economy and caring for the environment', Mr Perry says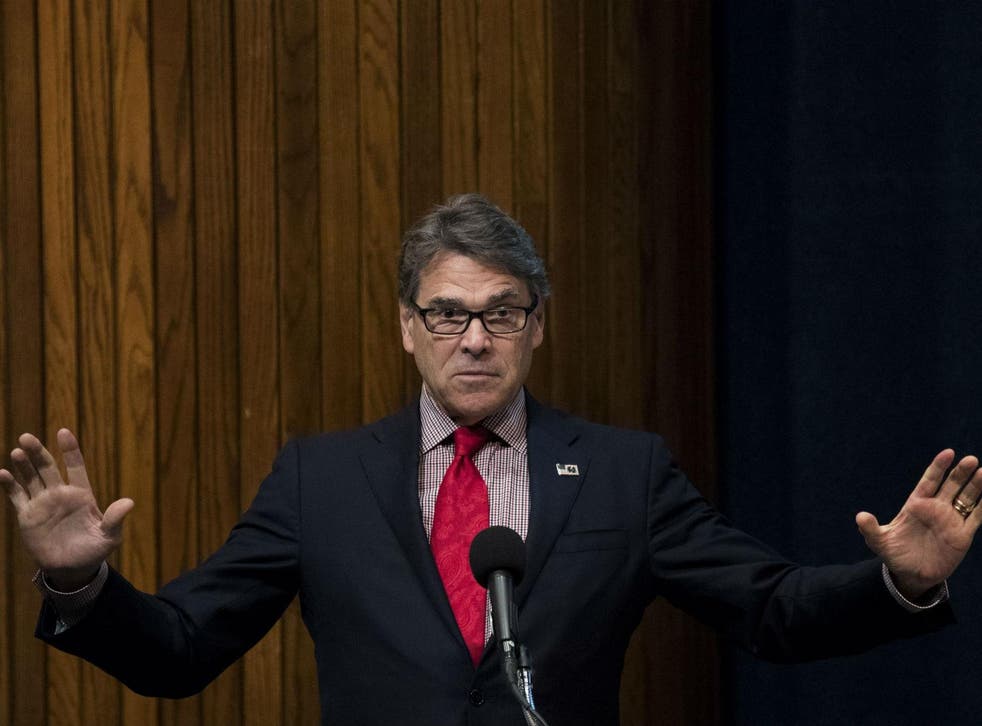 US Energy Secretary Rick Perry has claimed it is "immoral" to shift away from fossil fuels, as doing so would threaten economic developments in poorer nations, he said.
"We are passionate about renewable energy", Mr Perry said at an energy summit in Houston, Texas. "But the world, especially developing economies, will continue to need fossil fuels, as over a billion people on the planet live without access to electricity. Look those people in the eyes that are starving and tell them you can't have electricity. Because as a society we decided fossil fuels were bad. I think that is immoral."
Touting that the US is on the cusp of energy independence, Mr Perry said "we don't have to choose between growing the economy and caring for the environment".
Experts have continued to express concern that a dependence on fossil fuels will exacerbate the effects of climate change. But the Trump administration is filled with climate change sceptics who do not believe in the scientific evidence that supports such a phenomenon.
Since being inaugurated, President Donald Trump has implemented changes that reflect his own sceptiscm of global warming.
Last year, he withdrew America from the Paris climate agreement, saying that partaking in the deal would impose "draconian financial and economic burdens" on the US. The deal, which is aimed at limiting the effects of global warming, calls for a gradual shift to renewable energy by the end of the century.
World news in pictures

Show all 50
The US is the only country that has backed out of the agreement that the Obama administration had helped negotiate.
Mr Trump also signed an executive order to roll back former President Barack Obama's policies that were focused on curbing greenhouse gas emissions.
While Mr Perry blasted renewable fuels champions at the summit, the head of Royal Dutch Shell urged the energy sector to focus on global efforts to cut carbon emissions, Reuters reported.
Shell chief executive Ben van Beurden outlined an ambitious plan to reduce the Anglo-Dutch company's carbon footprint and expand in renewables.
"The energy landscape is changing fast. So we must change, where change is what the world needs," van Beurden said.
Shell and its European peers, including BP, France's Total SA and Norway's Statoil, have become vocal supports of the Paris agreement.
Register for free to continue reading
Registration is a free and easy way to support our truly independent journalism
By registering, you will also enjoy limited access to Premium articles, exclusive newsletters, commenting, and virtual events with our leading journalists
Already have an account? sign in
Register for free to continue reading
Registration is a free and easy way to support our truly independent journalism
By registering, you will also enjoy limited access to Premium articles, exclusive newsletters, commenting, and virtual events with our leading journalists
Already have an account? sign in
Join our new commenting forum
Join thought-provoking conversations, follow other Independent readers and see their replies