RNC 2016: Ivanka and the Trump children emerge as unexpected stars of the Republican convention
Donald Trump's 34-year-old daughter was the inevitable choice to introduce her father as he accepted the Republican nomination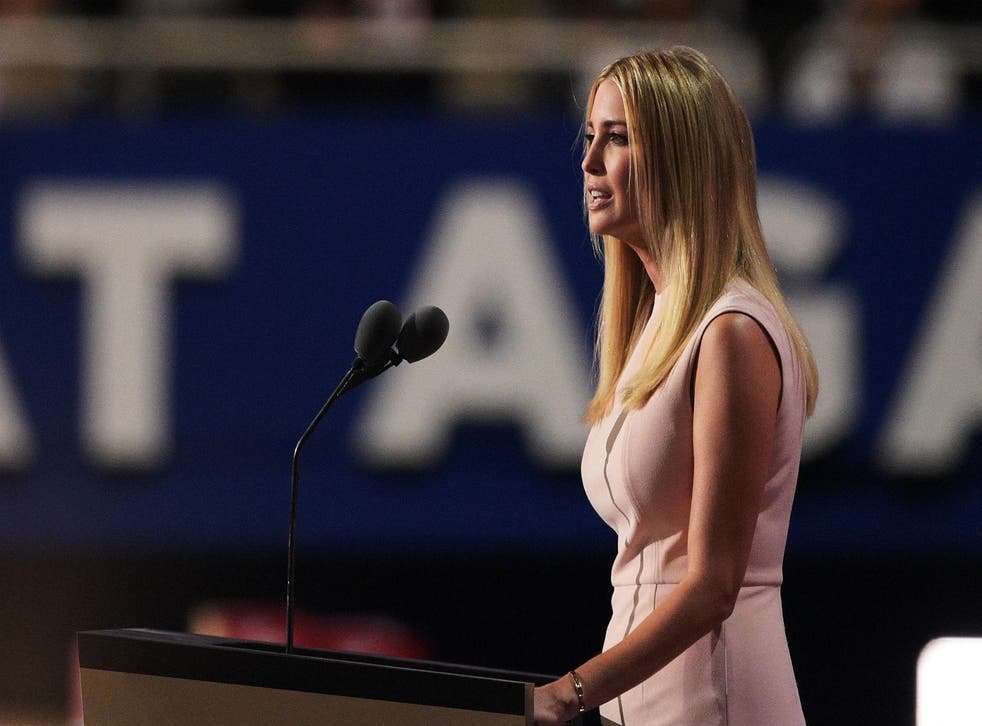 Ivanka Trump, perhaps the most effective weapon in the Trump campaign's electoral arsenal, was the inevitable choice to introduce her father as he accepted the Republican presidential nomination. "For more than a year, Donald Trump has been the people's champion," she told the party's convention in Cleveland on Thursday. "Tonight, he is the people's nominee."
The property mogul's 34-year-old daughter was assigned the unenviable task of humanising her father – and, as far as her audience of Trump loyalists was concerned, she succeeded in spades. Invoking his "compassion" alongside his strength, she recalled building with Lego blocks on his office floor as a child, "while he did the same with concrete, steel and glass."
Depicting Mr Trump as an attentive father who encouraged his children to "think big", she also spoke of his kindness to strangers, claiming she had watched him tear tales of hardship from the newspaper, invite the victims to Trump Tower and find them jobs. "They would leave his office, as so many people do after meeting Donald Trump, feeling that life could be great again," she said.
In a conspicuous appeal to the women and minority voters his campaign has so far failed to impress, Ms Trump described her father's building sites as "meritocracies" and "melting pots", where "all that counts is ability, effort and excellence." Touting Mr Trump's record as an equal opportunities employer and his proposals for improved maternity and childcare provisions, she insisted he was "colour-blind and gender neutral."
Standing out among a cast of speakers comprised largely of Z-list television personalities, obscure businesspeople and championship league GOP politicians, Mr Trump's four adult children have emerged as the unexpected stars of this convention.
Many of the political speakers have been muted or evasive in their support for their controversial nominee, or off-puttingly rabid in their attacks on his Democratic rival, Hillary Clinton. But Trump's own offspring are unconflicted in their adoration of their father, emphasising the strong family bonds that even the property mogul's opponents agree are authentic.
In his acceptance speech on Wednesday, Mr Trump's running mate Mike Pence noted the nominee's "devotion to his family," adding: "You can't fake good kids. How about his amazing children? Aren't they something? These are the true measures of our nominee."
In their own convention speeches, Mr Trump's sons Donald Jr, 38, and Eric, 32, were certainly more coherent than their father, if not quite so naturally compelling.
Donald Jr, who also recited the New York delegation's tally at the Wednesday roll call that saw his father officially claim the nomination, was praised by conservatives for his address, in which he criticised government regulation, immigration and education policy. Eric, meanwhile, won a warm response for his condemnation of the Iran nuclear deal.
Ms Trump, who in the past has donated to Democratic candidates – including to Hillary Clinton's 2008 presidential bid – distanced herself from partisan politics, claiming she did not identify as a Democrat or a Republican. "I vote based on what I believe is right for my family and my country," she said. "Sometimes it is a tough choice, that is not the case this time. Donald Trump is the person to Make America great again."
Along with Ms Trump's husband, Jared Kushner, the three eldest Trump children are said to have taken an active role in their father's campaign organisation, helping in the decision to hire Mr Pence as the VP nominee, and in the decision to fire former campaign manager Corey Lewandowski.
Tiffany, Mr Trump's 22-year-old daughter by his second wife, Marla Maples, lives thousands of miles from her father in California, but managed to muster some personal anecdotes about his attentiveness and small kindnesses, insisting her friends were often surprised by how nice he is.
The positive press for the younger Trumps marks something of a turnaround since 2012, when Donald Jr and Eric Trump were widely condemned for posing with a selection of dead animals they had killed on an African hunting safari. Mr Trump, latterly an enthusiastic champion of the NRA, said at the time: "I am not a believer in hunting and I'm surprised they like it."
The only one of the businessman's five children not to take part in the convention festivities was youngest son Barron, his only child with his third wife, Melania. But Barron is just 10. Maybe next time?
Register for free to continue reading
Registration is a free and easy way to support our truly independent journalism
By registering, you will also enjoy limited access to Premium articles, exclusive newsletters, commenting, and virtual events with our leading journalists
Already have an account? sign in
Register for free to continue reading
Registration is a free and easy way to support our truly independent journalism
By registering, you will also enjoy limited access to Premium articles, exclusive newsletters, commenting, and virtual events with our leading journalists
Already have an account? sign in
Join our new commenting forum
Join thought-provoking conversations, follow other Independent readers and see their replies