Roger Stone: Trump adviser 'straight up lied' to congress, prosecutors say
Prosecutors say onetime associate of president used intermediaries to contact Julian Assange and WikiLeaks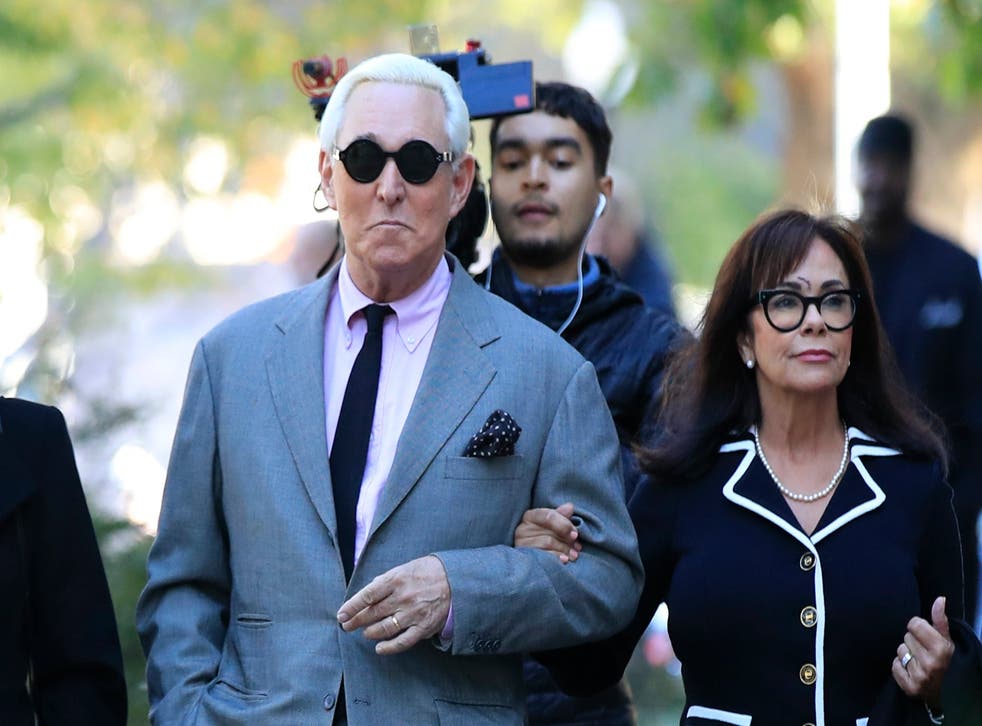 Roger Stone, a onetime close associate of Donald Trump, "straight up lied" to congress about his contacts with Julian Assange, the founder of WikiLeaks, a court has been told.
The hearing in Washington DC was told by prosecutor Andy Zelinsky there was evidence Mr Stone decided not to be straight about his interactions with the whistleblower, currently held by British authorities, because he realised they did not look good.
"The evidence in this case will show that Roger Stone lied to the House intelligence committee because the truth looked bad," Mr Zelinksy said in his opening statement. "The truth looked bad for the Trump campaign, and the truth looked bad for Donald Trump."
According to the prosecution, Mr Stone, 67, used radio host Randy Credico and author Jerome Corsi, as intermediaries to communicate with Mr Assange and WikiLeaks.
Though it is now clear that Russia hacked former secretary of state Hillary Clinton's emails, the prosecution said Mr Stone was in contact with WikiLeaks about obtaining and releasing the emails in a way that would be advantageous to Mr Trump's campaign.
Trump's presidency: US media reacts to Manafort and Cohen convictions

Show all 16
The charges against Mr Stone were brought as part of the Meuller investigation into Russian meddling in the 2016 presidential election. He is one of 34 people indicted in the course of the Russia probe.
Mr Stone is the former business partner of Paul Manafort, who served as Mr Trump's campaign manager, working for free.
Manafort is currently serving more than seven years in prison for facilitating foreign donations to Mr Trump's campaign. Before joining the Trump campaign, Manafort worked closely with former Ukrainian president Viktor Yanukovitch, a pro-Putin leader, as a campaign advisor.
Manafort was in debt to Oleg Deripaska, a Russian oligarch close to Russian president Vladimir Putin, and documents show that Manafort offered to provide Deripaska with briefings from inside the Trump campaign, saying they could "greatly benefit the Putin government". Some investigators believed this was an effort by Manafort to clear his debts with Mr Deripaska.
While working for the Trump campaign, Manafort was also sharing internal polling data with a former associate, Konstantin Kilimnik, who US officials say has ties to Russian intelligence.​
Mr Asange is being held in the UK, after jumping bail in 2012 and taking refuge in Ecuador's London embassy rather than accepting extradition to Sweden to face a rape accusation.
He is wanted in the United States, where he faces charges of conspiracy to hack government computers. Supporters have raised concerns about his health and when he appeared in court in last month, he fought back tears and said he "could not think straight".
Additional reporting by agencies
Join our new commenting forum
Join thought-provoking conversations, follow other Independent readers and see their replies