Roy Moore says Alabama election result could be recounted due to legal technicality
'It's not over, and it's going to take some time'
Andrew Buncombe
Montgomery, Alabama
Wednesday 13 December 2017 05:39 Comments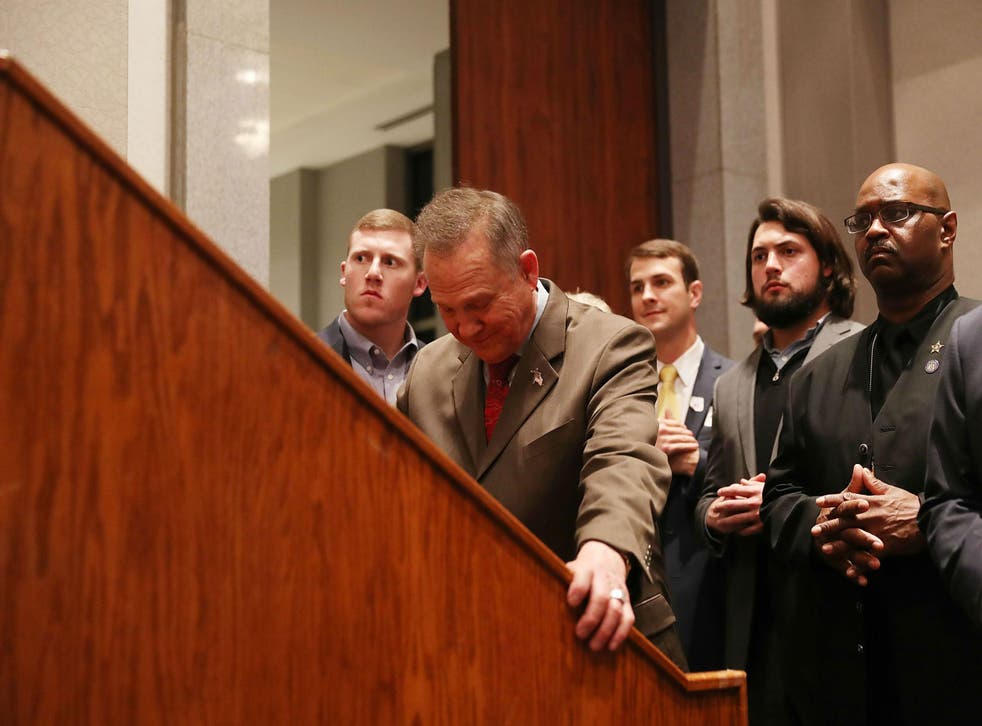 Former judge Roy Moore said he was refusing to concede the Alabama senate race and has said it could be recounted.
In a speech to his supporters in Montgomery, he said the vote must be counted again if there is a 0.5% difference between him and the Democrat Doug Jones after all ballots are recorded. He insisted that votes were still still being counted.
"I really want to ask you tonight that with the vote as close as it is, we have to go by the rules," he said. "We also know that God is in control."
Earlier in the evening, Rich Hobson, a longtime associate of Mr Moore, told a stunned and used crowd at the event that it was too early to recognise Mr Jones victory, even though Donald Trump was among those to offer their praise to the Democrat. "Some people are calling it. We are not calling it," said Mr Hobson.
Senate race sees Roy Moore up against Doug Jones in Alabama in tight race
It was not immediately clear why Mr Moore believes he has the option of a recount. A tally of the votes collated by the New York Times showed Mr Jones had won 671,151 votes to Mr Moore's 650,436, giving the Democrat a 49.9-48.4 victory.
Alabama Senate race: Roy Moore vs Doug Jones

Show all 12
He said that Alabama Secretary of State John Merrill would meet with reporters later in the evening to explain the process of enacting a recount.
"That is what we have to do - wait on God. The votes are still coming in. Let's go and sleep on it." he said.
Yet, Mr Merrill, in a statement to CNN, said: "The people of Alabama have spoken tonight. They've made their voice heard loud and clear."
Alabama Republican Party Chairman Terry Lathan aslo appeared to suggest that Mr Moore should recognise that he had lost.
"While we are deeply disappointed in the extremely close US Senate election results, with our candidate Judge Roy Moore, we respect the voting process given to us by our Founding Fathers," he said in a statement.
"We are grateful to the army of Republican volunteers who sacrificed their time to help during this most important race. We are also thankful to President Trump and RNC Chairwoman Ronna McDaniel for their support. Good conservative government and policies are always worth pursuing."
Register for free to continue reading
Registration is a free and easy way to support our truly independent journalism
By registering, you will also enjoy limited access to Premium articles, exclusive newsletters, commenting, and virtual events with our leading journalists
Already have an account? sign in
Join our new commenting forum
Join thought-provoking conversations, follow other Independent readers and see their replies