Roy Moore helped write a book on politics that said women should not run for office
One of the lectures that Mr Moore worked on advocates for all-male leadership
Clark Mindock
New York
Thursday 30 November 2017 17:20 Comments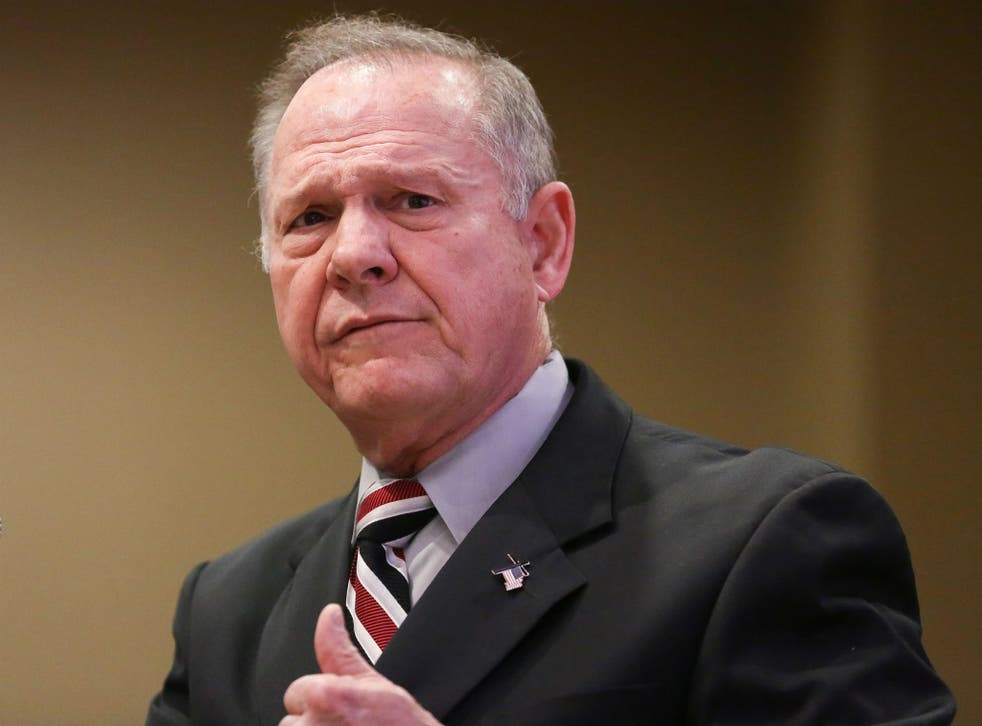 The embattled Republican Senate candidate in Alabama was the co-author of a textbook that said that women shouldn't hold elected office.
Judge Roy Moore, who has been dogged by allegations that he pursued teenagers sexually when he was in his 30s, once held a seat on the faculty of Vision Forum's "Witherspoon School of Law and Public Policy" — which was a four-day course taught by an all-male staff that said the Bible is the source of "law and liberty and the only sure foundation for addressing the challenging ethical questions of the twenty-first century."
One of the lectures in the circuit, which Think Progress reports Mr Moore worked on, relies on an interpretation of the bible that they say prohibits women from holding leadership positions.
"One of the most destructive ideologies of the last 50, hundred years have been the doctrines of feminism, which have transformed our culture and have paved the way for abortion on demand, the homosexual agenda, undermined our church, and subverted the doctrines of the biblical family," a recording of the lecture, which was not delivered by Mr Moore himself, says.
The lecturer continues to call feminism "radical agenda", and to advocate for all-male leadership. He says that women are "the weaker vessel", and describes women as unequal.
Finally, the lecturer notes that determining the sex of a candidate is a pretty easy way of weeding out unqualified candidates, assuming females are unfit to lead.
World news in pictures

Show all 50
"Sometimes we may have a hard time discerning the faith, the character, and the views of a particular candidate. But we can usually discern if the candidate is a man or a woman. And so there is no excuse on that one," the lecturer says. "In conclusion, we've argued that scripture teaches us that it is not God's revealed will for a woman to serve as a civil magistrate and thus to rule over men in the civil sphere."
An email to Mr Moore's campaign requesting comment and clarification on whether the candidate currently holds these beliefs was not immediately returned.
Mr Moore and his campaign have repeatedly denied any wrongdoing with regards to the allegations that he pursued underage girls while he was in his 30s. The allegations have nevertheless thrust the campaign into turmoil, leading to a drop in support for Mr Moore in the polls, although much of the Alabama Republican establishment has stood by his side.
Register for free to continue reading
Registration is a free and easy way to support our truly independent journalism
By registering, you will also enjoy limited access to Premium articles, exclusive newsletters, commenting, and virtual events with our leading journalists
Already have an account? sign in
Join our new commenting forum
Join thought-provoking conversations, follow other Independent readers and see their replies