White House lawyer faces calls to resign after he 'tried to stop Jeff Sessions recusing himself from Russia probe'
The removal calls follow the latest damaging report about Mr Trump's efforts to influence the Department of Justice
Clark Mindock
New York
Friday 05 January 2018 17:19 Comments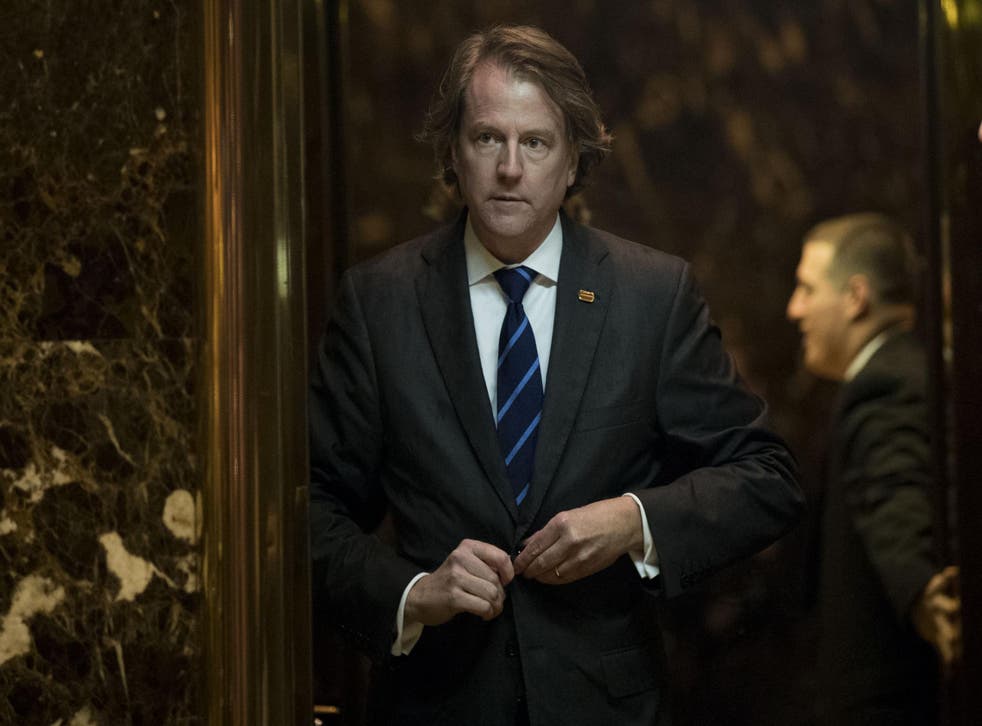 A top House Democrat is calling for the dismissal of the White House counsel Don McGahn over his role in the probe into Russia's meddling in the 2016 election.
Representative Jerrold Nadler called for the dismissal after a report from the New York Times indicated that President Donald Trump ordered Mr McGahn to stop Attorney General Jeff Sessions from recusing himself from the investigation into the meddling.
Mr Nadler, in a statement, said that the order — and Mr McGahn's decision to follow the directive — amounts to an effort to undermine the Justice Department and its investigation. Mr McGahn's role as a government employee, Mr Nadler said, does not allow him to act like Mr Trump's former personal attorney, Roy Cohn.
"Mr. McGahn's actions under Mr. Trump's orders in either case would appear to be yet another incident pointing to an overall effort to obstruct and undermine the Department of Justice," Mr Nadler said. "It is not the duty of the White House Counsel to be the President's Roy Cohn, as Donald Trump would have it, but to protect and defend the Constitution — which Mr. McGahn seems to be failing to do."
The New York Times report indicates that Mr Trump instructed his White House counsel to put pressure on Mr Sessions in March, and that Mr McGahn then lobbied the embattled attorney general to stay involved. When Mr McGahn was unsuccessful, Mr Trump reportedly erupted in anger in front of several White House officials, and said he needed his attorney general to protect him.
The episode is one of several previously unreported instances that special counsel Robert Mueller is said to have learned about in the course of his 2016 probe.
The biggest names involved in the Trump-Russia investigation

Show all 17
Other instances include Mr Trump penning a letter that he intended to deliver to former FBI Director James Comey, who was in charge of the Russia investigation at the time, saying that the investigation was "fabricated and politically motivated". White House aides intervened, and stopped the letter from being sent.
Another revelation has been that former White House Chief of Staff Reince Priebus penned handwritten notes that the President had called Mr Comey to urge him to publicly announce that he wasn't personally a target in the investigation. The special counsel has reportedly received those notes.
And, in the lead up to Mr Comey's firing last year — which ultimately resulted in the appointment of Mr Mueller — Mr Trump's aides reportedly misled him about his ability to fire his FBI director, and one of Mr Sessions' aides went to congressional staff to ask if they had any damaging information on Mr Comey as they sought to undermine the former FBI director.
Register for free to continue reading
Registration is a free and easy way to support our truly independent journalism
By registering, you will also enjoy limited access to Premium articles, exclusive newsletters, commenting, and virtual events with our leading journalists
Already have an account? sign in
Join our new commenting forum
Join thought-provoking conversations, follow other Independent readers and see their replies