Environmental Protection Agency officials 'sidelined after questioning Scott Pruitt'
EPA disputes the veracity of the accusations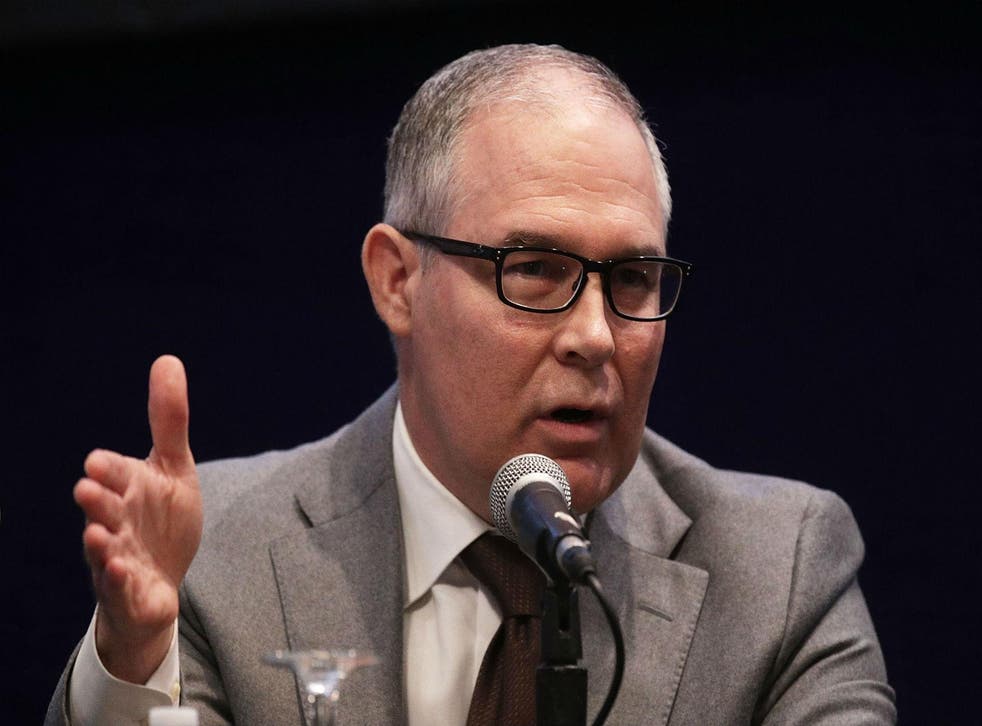 At least five officials at the Environmental Protection Agency were reportedly reassigned or demoted, or requested new jobs in the past year, after they expressed concerns about the spending and management of agency chief Scott Pruitt, a report said.
The officials, four of them said to be high-ranking, were apparently worried about several issues, including unusually large spending on office furniture and first-class travel, as well as certain demands by Mr Pruitt for security coverage, sources who worked for or with the EPA told The New York Times.
Mr Pruitt reportedly was upset when the officials confronted him, the sources said.
One official was placed on administrative leave without pay, the newspaper reported, while two were moved to jobs where they had less say in spending decisions and less interaction with Mr Pruitt.
A third official joined American University as a temporary "executive in residence" after reportedly being told by the EPA to get a new job. And another, who served on the security detail, had his gun and badge taken away after expressing concerns about how Mr Pruitt's security was being handled, the Times said.
Another official close to Mr Pruitt is said to have raised questions about Mr Pruitt's spending. He remains in his job but is thinking about resigning, the Times reported.
None of the officials who reportedly left or were removed after questioning Mr Pruitt - as well as the official said to be considering resigning - would comment when contacted by the newspaper.
Jahan Wilcox, a spokesman for the agency, said the agency disputes the veracity of the accusations.
Mr Pruitt has been under mounting scrutiny for the past couple of weeks.
The White House has said it is aware that reports on Mr Pruitt "raise questions", leading many to still wonder whether his stint as head of the EPA may soon be over.
Mr Trump, meanwhile, said he had confidence in Mr Pruitt.
While speaking to reporters, the president called Mr Pruitt "very courageous" but suggested he was still reviewing the complaints about him.
World news in pictures

Show all 50
When asked if he was bothered by the reports, he said: "I have to look at them. ... I'll make that determination."
"But he's a good man, he's done a terrific job," the president added. "But I'll take a look at it."
Earlier in the day, a top aide and close friend of Mr Pruitt tendered her resignation.
Samantha Dravis, the senior counsel and associate administrator in the EPA's Office of Policy, resigned last week, just days before the news broke about Mr Pruitt paying cheap rent to live in a condo owned by lobbyist who deals with issues overseen by the agency.
Mr Pruitt has spoken with conservative media outlets, protesting against media reports about his regular first-class travel, his use of an obscure administrative provision to increase the salaries of two favoured aides, and his below-market rental agreement with the lobbyist.
The stories, he has suggested, are the handiwork of his critics who are trying to derail his deregulatory and pro-business agenda.
A spokesperson for the EPA has said the lease agreement was in line with federal ethical regulations.
White House spokesman Hogan Gidley said he could not say whether Mr Pruitt would be around several months or several weeks from now.
"If the president has confidence in somebody, then they stay," Mr Gidley told reporters. "We all serve at the pleasure of the President. You guys know that. And when he's not pleased, you'll know it."
Mr Gidley also declined to elaborate on which of Mr Pruitt's specific activities the White House was reviewing.
"I can't get into specificity on what we're looking at," Mr Gidley said. "We see what you guys see. We read what you guys report. And, you know, the president demands the highest levels of ethical standards for his entire staff, and that includes the cabinet."
Register for free to continue reading
Registration is a free and easy way to support our truly independent journalism
By registering, you will also enjoy limited access to Premium articles, exclusive newsletters, commenting, and virtual events with our leading journalists
Already have an account? sign in
Register for free to continue reading
Registration is a free and easy way to support our truly independent journalism
By registering, you will also enjoy limited access to Premium articles, exclusive newsletters, commenting, and virtual events with our leading journalists
Already have an account? sign in
Join our new commenting forum
Join thought-provoking conversations, follow other Independent readers and see their replies