Sean Spicer defends lack of press briefings by accusing 'snarky' reporters of wanting to be 'YouTube stars'
Mr Spicer says off-camera press gaggles helps create 'more substantive discussions'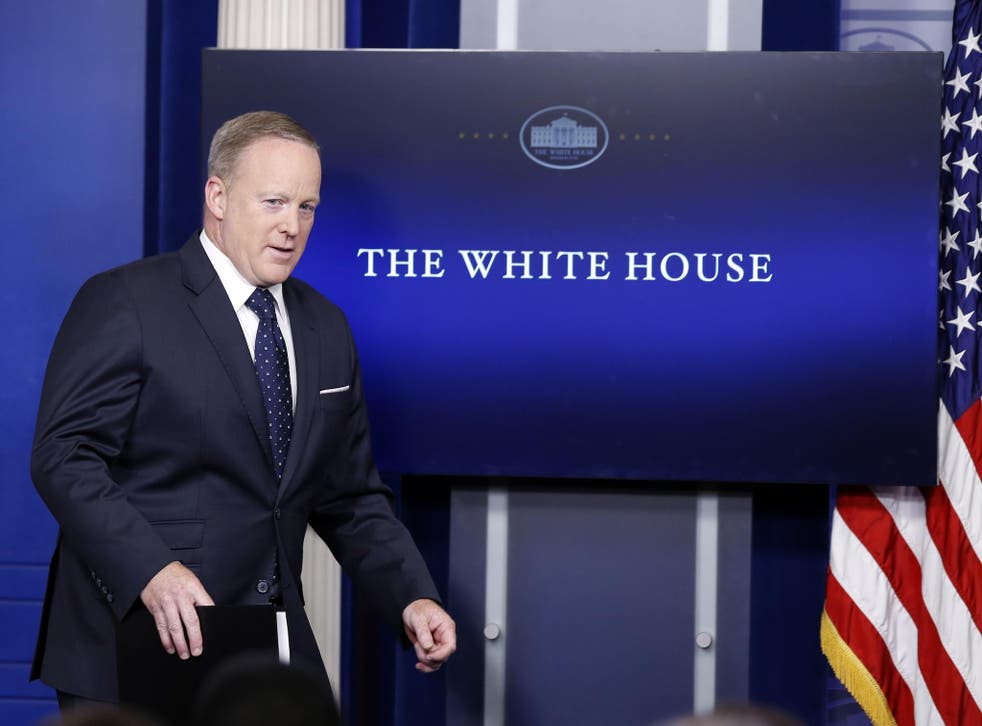 Donald Trump's press secretary Sean Spicer has pushed back against accusations that the White House is displaying a "lack of transparency" by holding fewer on-camera briefings, saying that reporters who ask "snarky questions" just "want to become YouTube stars".
Over the duration of Mr Trump's first six months as president, Mr Spicer has more routinely favoured off-camera press gaggles, which tend to shorter and more informal, over traditional on-camera briefings. In some recent cases, news outlets have also been instructed not to record or broadcast the audio of the gaggles.
But Mr Spicer has insisted on the conservative "The Laura Ingraham Show" that he isn't holding "fewer briefings," and the "reality is that we follow the same practice as past administrations."
He also noted that Mr Trump was elected to bring "change" to Washington, DC.
"We made that clear, from the beginning, that in a variety of ways we are going to look to do things differently, to do things better," Mr Spicer said. "And this is one area that we've done that. And we talked about it literally from the beginning."
"We've allowed more access to a lot of folks who haven't had it," he added. "And the bottom line is that I think the mainstream media, who has had a stranglehold on deciding what information the American people got to see, is upset that more people, more voices are getting an opportunity to get involved in having their questions answered, to participate in our democracy."
As the number of off-camera briefings has increased, so have certain reporters' assertions that the White House "should have the backbone" to answer questions during on-camera proceedings.
Thousands march against Donald Trump in LGBT rights parade

Show all 8
Mr Spicer said the White House's contentious relationship with the press is because a lot of reporters are "more focused about getting their clip on air than they are of actually taking the time to understand an issue."
"There's a lot of them that want to become YouTube stars and ask some snarky question that's been asked eight times," Mr Spicer said, adding that it is their right to do that.
"The issue was is that I think that we had ... several outlets violate the press guidance a couple times," Mr Spicer said. "The nice thing about turning the cameras off sometimes, and I find this, is that it is not 'performance art,' as you call it, that you end up having, I think sometimes, a more substantive discussion about actual issues because they're not trying to get their clip. They're not trying to figure out, 'How do I get on TV? How do I ask some snarky question?' You can actually focus on the substance of the issues."
However, it appears that reporters feel differently.
Jim Acosta of CNN questioned why the network covered the White House's Monday press gaggle, which could not be filmed or broadcasted with audio.
"I don't know why we covered that gaggle today, quite honestly Brooke, if they cant' give us the answers to the questions on camera or where we can record the audio," Mr Acosta said. "They're basically pointless at this point".
Join our new commenting forum
Join thought-provoking conversations, follow other Independent readers and see their replies