'America's toughest sheriff' tied himself to Trump – now it could be his undoing
Joe Arpaio was fostering anti-immigrant sentiment long before Donald Trump rose to political prominence. But the property mogul's unpopularity – and a rumbling racial profiling case – means his days in office may be numbered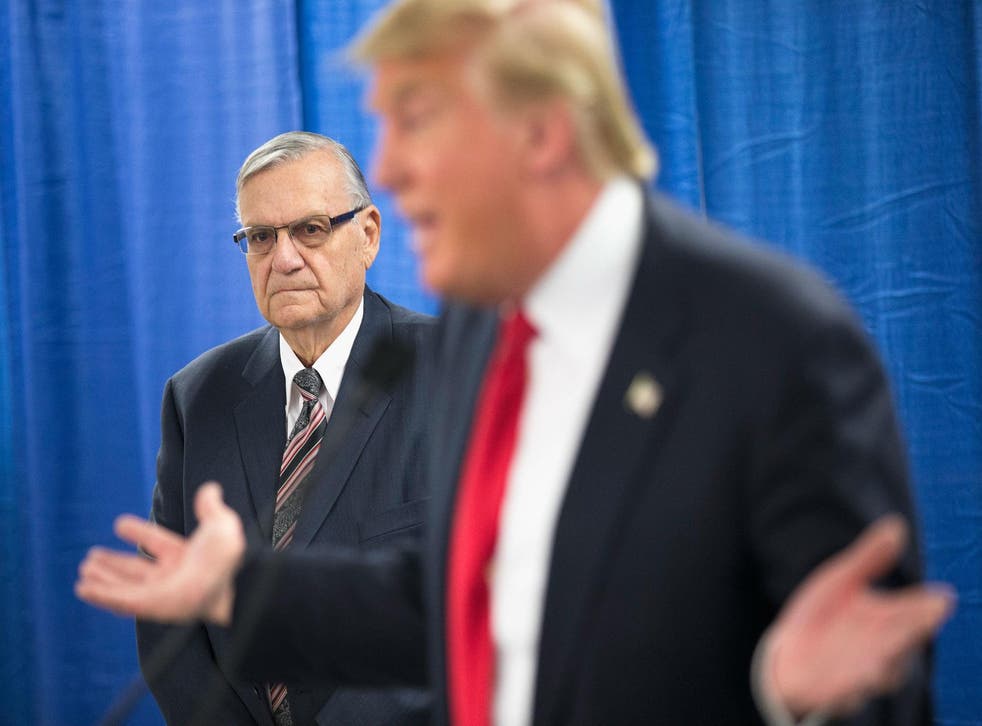 He raised racially-charged questions about President Obama's origins, he never saw a TV camera he wouldn't talk at, and he built a national political profile on a platform of anti-immigrant sentiment. So it's hardly surprising that Joe Arpaio, the long-time sheriff of Arizona's Maricopa County, was an early and enthusiastic supporter of Donald Trump's presidential bid.
Arpaio, who styles himself "America's toughest sheriff", has introduced the Republican nominee several times on the stump and joined the motley roster of speakers at the Republican convention in July. But to those who have followed his career closely, the controversial lawman is more than simply Trump's opening act – he's an inspiration.
"When Donald Trump started campaigning I said, 'He's taken a page from Arpaio's book,'" says Julie Erfle, an immigration reform campaigner from Phoenix. "I don't know whether Joe Arpaio even believes everything he says, but he does what he does because it brings him fame and publicity, and it boosts his ego."
Just like Trump, however, the sheriff is embroiled in his own legal difficulties. Last Friday, a federal judge recommended prosecutors bring criminal contempt charges against Arpaio and three of his aides, who are accused of wilfully violating a court order banning sheriff's deputies from detaining drivers based solely on the suspicion that they were in the US illegally.
The case goes back to a 2007 lawsuit filed on behalf of Latino motorists, who claimed they were racially profiled by the Maricopa County Sheriff's Office (MCSO) for traffic stops and immigration checks. The judge found that the practice had gone on for a further 18 months after the 2011 injunction.
Now 84, Arpaio is running for his seventh term in office at this November's election, but the judge's referral may hasten the end of his political career. Trump's name at the top of the ticket is expected to turn out Latino voters in historic numbers to oppose him – which also spells nothing but bad news for Sheriff Joe.
Arpaio was first elected in 1993, when looking tough on crime was smart politics for candidates of either party. He earned his reputation by dabbling in forms of prisoner abuse that many voters found more colourful than concerning. Most famously, he tackled overcrowding by erecting an open-air jail from old Army tents, rather than build a costly new facility.
Inmates at "Tent City" on the outskirts of Phoenix were forced to sleep outside even in the desert summer. They were once fed bread and water for a week for allegedly desecrating American flags. After claiming prisoners were smuggling out their standard issue white boxer shorts – costing MCSO tens of thousands of dollars a year – Arpaio made them wear pink undies instead.
Writer Len Sherman worked on two books with Arpaio, first laying out his worldview in the 1996 tome America's Toughest Sheriff – the lawman's equivalent to Trump's The Art of the Deal, if you will. Back in the 1990s, Sherman says, Arpaio "was funny and outgoing and brought a lot of attention to Arizona. He was seen as a colourful cop, not a partisan figure. But once immigration became an issue, everything changed. It became ugly very quickly, and all the funny stuff suddenly rang hollow."
In the 2000s, convinced that the US government was doing too little to combat illegal immigration, Arpaio directed his deputies to begin conducting the so-called "saturation patrols" described in the lawsuit, whereby drivers of Latino descent were routinely stopped and their immigration papers checked. He also ordered workplace raids in which hundreds of undocumented workers were arrested and threatened with deportation.
Erfle's husband was a Phoenix police officer, shot dead on duty by an undocumented immigrant in 2007. But rather than rally to Arpaio's cause, she became one of his strongest critics. "Our city police departments do a phenomenal job and believe very much in community policing," she says. "But when you have someone like Sheriff Joe Arpaio as the face of policing in Arizona, you're creating more problems, not solving them."
In 2010, Arizona's Republican-controlled legislature passed the controversial Senate Bill 1070 (SB1070), the harshest set of anti-immigration measures anywhere in the US. Victimised by the new law and the old lawman, Latinos have steadily awakened as a major political force in Arizona, and this year are expected to make up around 20 per cent of the state's electorate.
When Arpaio's campaign signs appeared in the windows of several branches of the Arizona-based Discount Tire Company earlier this month, immigrant rights campaigners called for a boycott. Emboldened Latino activists believe 2016 could be the year that they finally unseat the sheriff, says Roberto Reveles, founding president of Somos America, which helped organise the boycott and acted as a plaintiff organisation in the racial profiling lawsuit.
"It's a combination of the court case, Trump going over the top with his racism on a national stage, and the idea that we as a Latino voting community can make a significant difference this year as never before," says Reveles. "Arizona is on the verge of change."
Trump and Arpaio first became acquainted as participants in the so-called "birther" controversy of Obama's first term, when the sheriff sent investigators to Hawaii to track down evidence that the president was born not in the Aloha State, but in Kenya. Naturally, they found none, but Trump nonetheless wrote to Arpaio in 2012, urging him to "keep up the good fight."
After the property mogul launched his presidential campaign last summer with a speech describing Mexican immigrants as rapists and drug traffickers, Arpaio was one of the first prominent political figures to offer his endorsement. Speaking at the GOP convention last month, the sheriff drew raucous applause when he declared: "Donald Trump will build the wall!"
In fact, says Sherman, Arpaio is a relatively recent convert to the concept of a Mexican border wall. "In the book, he said he didn't believe in walls. He said, 'If they build a wall, I'm going into the shovel-and-ladder business.' He only started believing in walls because of Trump. When the Sheriff started with the birther stuff, it was just politics. When he started with the immigration stuff, it was just politics. But over time he adopted it as his belief, and I think Trump does the same thing: they'll believe anything that works for them at that moment."
In spite of his legal woes, Arpaio is expected to coast through his Republican primary this month, but the general election in November will likely be his toughest race to date. His rival is veteran Phoenix police officer Paul Penzone, whom he defeated by six points in 2012. A poll released by Arizona's Lincoln Strategy Group in July found Penzone three points ahead.
Chad Willems, a consultant to the Arpaio campaign, disputes the results of the Lincoln poll and doubts claims that the court case will prove terminal. The judge's referral "is not a guilty verdict," Willems says. "Some of our opponents have this fantasy that Joe Arpaio is going to be led off in shackles and a striped jail suit. That's just simply not the case."
Arpaio has reportedly raised a campaign war-chest of more than $10m (£7.6m) from his army of donors, three-quarters of whom come from beyond Maricopa County. Like Trump, he has attracted fans across the US with his regular appearances on Fox News. But Sherman – a self-described liberal Democrat – says cash may not be enough this time.
"All the money in the world won't help if you're indicted, if you've lost the trust of the people," he says. "Arpaio has no reason to be re-elected beyond personal gratification. He doesn't talk about the future, about how the county is changing and MCSO will change with it. It's the same with Trump: there's emotion and fearmongering, but there's no coherent vision whatsoever."
Register for free to continue reading
Registration is a free and easy way to support our truly independent journalism
By registering, you will also enjoy limited access to Premium articles, exclusive newsletters, commenting, and virtual events with our leading journalists
Already have an account? sign in
Register for free to continue reading
Registration is a free and easy way to support our truly independent journalism
By registering, you will also enjoy limited access to Premium articles, exclusive newsletters, commenting, and virtual events with our leading journalists
Already have an account? sign in
Join our new commenting forum
Join thought-provoking conversations, follow other Independent readers and see their replies