As it happened
ended
1531194292
Supreme Court pick LIVE: Judge Brett Kavanaugh chosen as Trump's new Supreme Court justice
Act of picking new justice seen as one of most significant a president can make during term
Chris Stevenson
New York
,
Andrew Buncombe
Tuesday 10 July 2018 02:21 Comments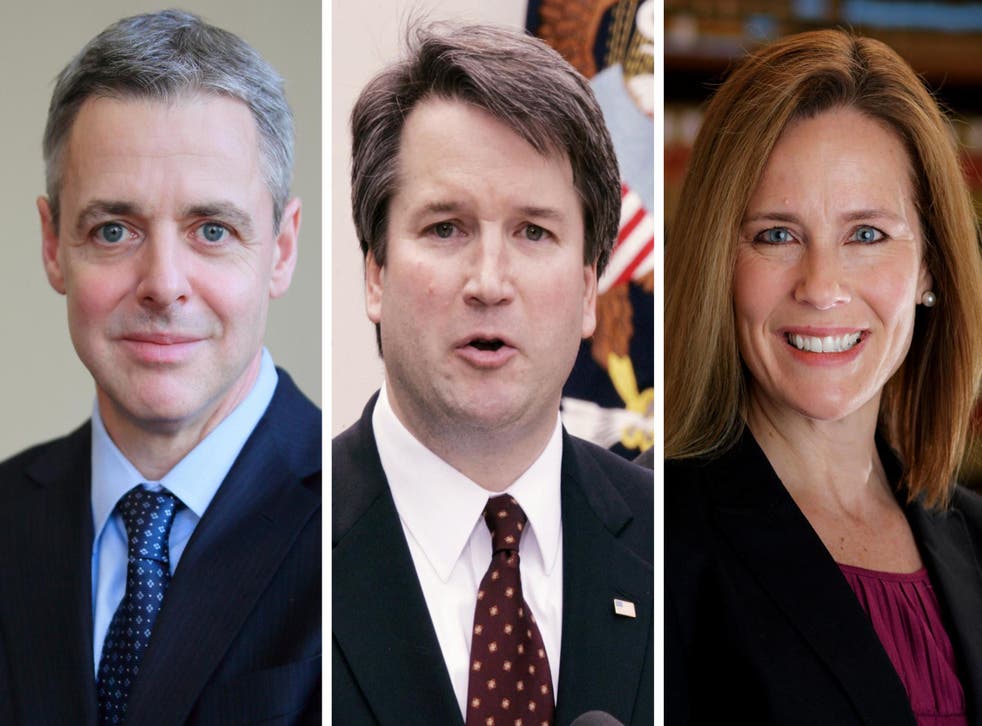 Amid mounting speculation, Donald Trump has made what he described as one of "the most important" decisions of his presidency - a replacement for retiring Supreme Court Justice Anthony Kennedy.
The president had said with any of his final four options "you can't go wrong", and on Monday evening he announced he had opted for the federal appeals judge Brett Kavanaugh.
Mr Kavanaugh's selection was a reward for evangelical Christians and other religious conservatives who have supported his presidency, and creates a significant conservative majority on the panel of the highest court in the land. Here's how it happened.
Mr Trump said earlier on Monday, before announcing his move: "I'm very close to making a final decision. And I believe this person will do a great job," Mr Trump said. Asked by reporters how many people were being considered, the president said: "Let's say it's the four people ... they're excellent, every one."
While Trump did not name the four, top contenders were considered to be Mr Kavanaugh himself, Raymond Kethledge, Amy Coney Barrett and Thomas Hardiman. The White House has been preparing information materials on all four, who were part of a longer list of 25 names vetted by conservative groups.
Mr Trump tweeted later on Sunday that he was looking forward to the announcement and said an "exceptional person will be chosen!" He is hoping to replicate his successful announcement of Justice Neil Gorsuch last year.
The president has spent the days leading up to the decision mulling the pros and cons of the various options with aides and allies. He expressed renewed interest in Mr Hardiman — the runner-up when Mr Trump nominated Justice Gorsuch, but his thinking is said to remain fluid.
Donald Trump's first year: in pictures

Show all 29
Mr Hardiman has a personal connection to the president, having served with Mr Trump's sister on the 3rd US Circuit Court of Appeals in Philadelphia. He also has a compelling personal story: He went to the University of Notre Dame as the first person in his family to go to college. He financed his law degree at the Georgetown University Law Center by driving a taxi.
Associated Press contributed to this report
1531146907
Hello and welcome to our coverage of Donald Trump's announcement of his new Supreme Court Justice, with Justice Anthony Kennedy retiring.
Steve Anderson
9 July 2018 15:35
1531146929
The announcement will be made at 9pm ET (2am BST) from the White House.
Steve Anderson
9 July 2018 15:35
1531146999
Ever the showman, Mr Trump has sought to play-up the decision in a number of tweets - including one this morning.
Steve Anderson
9 July 2018 15:36
1531147150
In reality, there is no need for the president to talk-up the choice given that Democrats have labelled it the most important choice in a generation.
Having had two chances at nominating judges in less than two years, Mr Trump is in a unique position to shape the ideological leanings of the court for decades.
Steve Anderson
9 July 2018 15:39
1531147639
A number of activist groups have warned that a number of rights could be under threat when Mr Trump puts another conservative on the court.
Steve Anderson
9 July 2018 15:47
1531150081
The conservative Judicial Crisis Network is set to launch a $1.4 million (£1.1m) ad buy on behalf of President Donald Trump's Supreme Court nominee. 
When the announcement is made later tonight, the campaign will kick off. It will feature cable and digital advertising - offering biographical information - in states including Alabama, Indiana, North Dakota and West Virginia. 
The group started advertising after Justice Anthony Kennedy announced his retirement. The new advert brings their total investment to $2.4 million. They will also launch a website with information on the nominee 
Steve Anderson
9 July 2018 16:28
1531151366
Republican Senate candidate Josh Hawley is warning Missouri voters that "our way of life is at risk" in a new television ad that seizes on the Supreme Court vacancy to attack his Democratic opponent, Senator Claire McCaskill. 
Mr Hawley began running the ad Monday, the same day President Donald Trump is scheduled to unveil his pick to replace retiring Supreme Court Justice Anthony Kennedy. The nomination is subject to Senate confirmation. 
The Supreme Court vacancy is expected to energise Republican voters across the nation in this fall's midterm elections. The 38-year-old Mr Hawley, Missouri's attorney general, has a special connection to the court: He clerked for Chief Justice John Roberts. 
The advert says: "The eyes of the nation are on Missouri. We decide which values control the Senate, and the Supreme Court." 
Steve Anderson
9 July 2018 16:49
1531153020
Republican Senators Lindsey Graham of South Carolina and Roy Blunt of Missouri said that they believe any of the top four contenders could get confirmed by the GOP-majority Senate. 
"They're good judges," Mr Blunt said on NBC's "Meet the Press." He added: "I think they'd be fine justices of the Supreme Court. I do think the president has to think about who is the easiest to get confirmed here. And I expect we will do that on sort of a normal timetable, a couple of months." 
Outside adviser Leonard Leo, currently on leave from the Federalist Society, said on ABC's "This Week" that this kind of jockeying is standard, noting that "every potential nominee before announcement gets concerns expressed about them by people who might ultimately support them." 
Steve Anderson
9 July 2018 17:17
1531154280
The new Supreme Court appointment will not change the ideological breakdown of a court that already has a 5-4 conservative majority, but nevertheless could move the court to the right. Retiring Justice AnthonyKennedy sometimes joined the liberal justices on key rulings on divisive social issues like abortion and gay rights, a practice his replacement may not duplicate.
President Donald Trump's selection will set up a confirmation showdown in the Senate, where his fellow Republicans hold a slim 51-49 majority, though with ailing Senator John McCain at home in Arizona as he faces cancer treatment they currently can muster only 50 votes. Without Republican defections, however, Senate rules leave Democrats with scant options to block confirmation of Mr Trump's nominee.
Steve Anderson
9 July 2018 17:38
Register for free to continue reading
Registration is a free and easy way to support our truly independent journalism
By registering, you will also enjoy limited access to Premium articles, exclusive newsletters, commenting, and virtual events with our leading journalists
Already have an account? sign in
Join our new commenting forum
Join thought-provoking conversations, follow other Independent readers and see their replies