Apple CEO Tim Cook attacks Donald Trump's incendiary comments on Charlottesville violence
Tech boss emails all employees as President disbands industry advice councils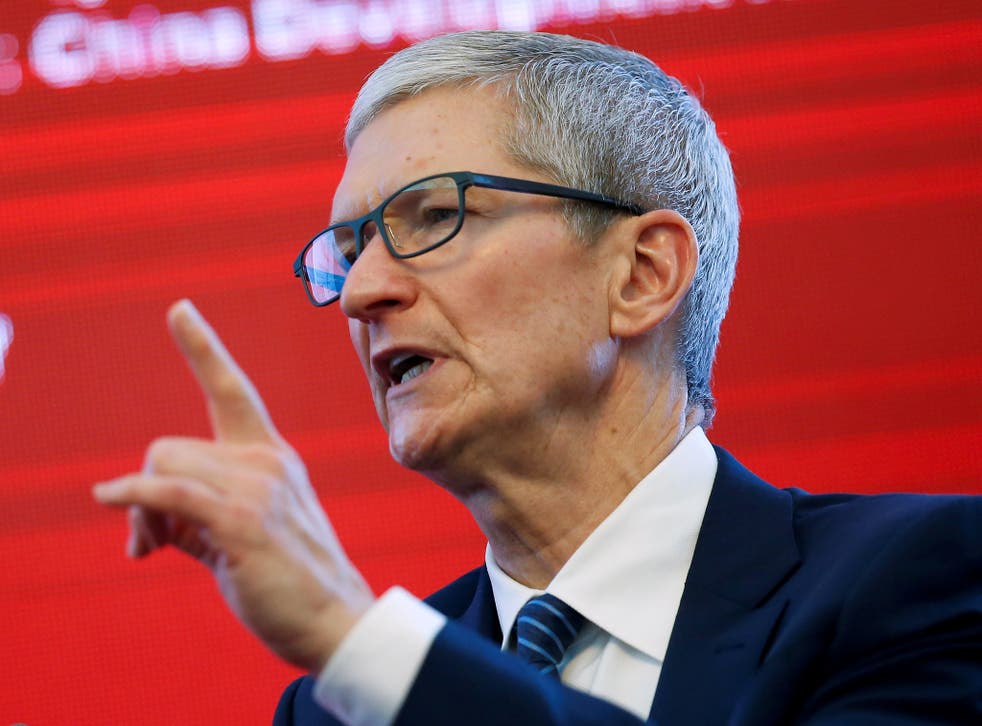 Apple's Tim Cook has become the latest top CEO to criticise Donald Trump's response to the violent white nationalist rally in Charlottesville, Virginia.
In an email to staff the tech boss said he "disagree[d] with the president and others who believe that there is a moral equivalence" between racists and people who oppose them.
It comes after a number of business leaders quit Mr Trump's advisory panels, leading the President to declare on Twitter on Wednesday: "Rather than putting pressure on the businesspeople of the Manufacturing Council & Strategy & Policy Forum, I am ending both. Thank you all!"
The departures by the chief executives of Intel, Merck, Under Armour, 3M and Campbell Soup followed Mr Trump's equivocal response to the racism and violence displayed in Charlottesville at the weekend.
Mr Trump faced widespread criticism after repeating his belief that blame for the clashes should lie with "both sides", including from within his own party from senior figures like Paul Ryan and Senator John McCain.
Not everyone protesting against the removal of Charlottesville's statue of Confederate general Robert E Lee was a neo-Nazi, Mr Trump said, and while "you had some very bad people in that group", there were also "some very fine people on both sides".
Mr Cook wrote: "Hate is a cancer, and left unchecked it destroys everything in its path. Its scars last generations. History has taught us this time and time again, both in the United States and countries around the world.
"We must not witness or permit such hate and bigotry in our country, and we must be unequivocal about it. This is not about the left or the right, conservative or liberal. It is about human decency and morality.
"I disagree with the president and others who believe that there is a moral equivalence between white supremacists and Nazis, and those who oppose them by standing up for human rights. Equating the two runs counter to our ideals as Americans."
He said he had spoken with "many people at Apple who are saddened, outraged or confused" by the weekend's events, in which one woman was killed and many others injured when a car ploughed into counter-demonstrators.
A man, 20-year-old James Fields, has been charged with murder.
Violence on the streets of Charlottesville

Show all 9
While Mr Trump did issue a statement condemning white supremacists and neo-Nazis two days after the riot, and did so again in a later press conference, his insistence that what he called the "alt-left" was also to blame led to condemnation from Republican colleagues.
Mr McCain said: "There's no moral equivalency between racists & Americans standing up to defy hate& bigotry. The President of the United States should say so".
And Mr Ryan, the House majority leader, said: "We must be clear. White supremacy is repulsive. This bigotry is counter to all this country stands for. There can be no moral ambiguity."
Jeff Sessions: The Charlottesville car attack could be a "hate crime"
Both white supremacists and counter-demonstrators from so-called antifa groups used fists, batons and pepper spray during clashes in Charlottesville.
Footage appeared to show the racist groups had arrived more heavily armed, however, and they were accompanied by militia bearing AR-15 assault rifles and other tactical gear.
Apple will donate $2m (£1.5m) to the Southern Poverty Law Center and Anti-Defamation League anti-hate groups, Mr Cook said.
Join our new commenting forum
Join thought-provoking conversations, follow other Independent readers and see their replies