Joe Biden most likely to beat Donald Trump in 2020 if he runs, poll finds
Sanders, Warren, and Booker also beat Trump in hypothetical 2020 matchups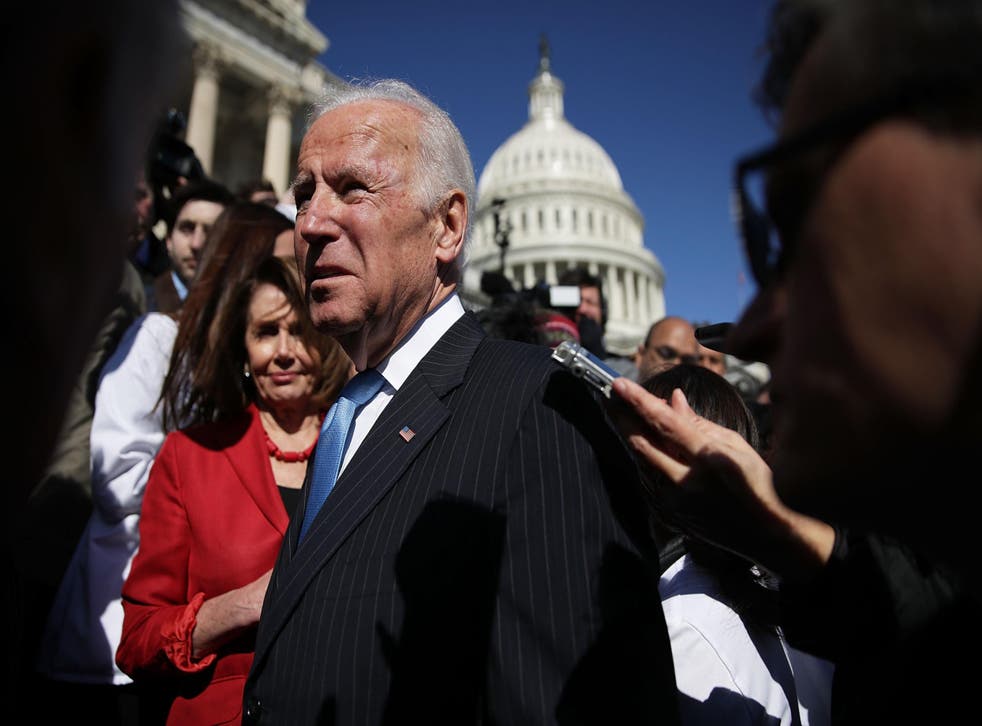 Former Vice President Joe Biden would beat President Donald Trump in a hypothetical 2020 presidential race, a new poll from the Democratic firm Public Policy Polling says.
Mr Biden — who was active on the 2016 campaign trail supporting former Secretary of State Hillary Clinton — would blow Mr Trump out of the water, beating him by 14 points in a hypothetical head-to-head race, the poll shows.
He's not the only one, either. Senator Bernie Sanders, who ran a strong campaign against Ms Clinton for the Democratic nomination, would be the President by 13 points. Senators Elizabeth Warren, Al Franken, and Cory Booker would also beat Mr Trump in hypothetical matchups, according to the poll.
The former vice president has been somewhat coy on the potential for a 2020 run since leaving office, but he has already paid a visit to the key primary state New Hampshire. That move — visiting the state that will kick off the 2020 primaries — fueled rumors that he was feeling out the possibility of one last run for the White House.
Mr Biden has already made it clear why he thinks Mr Trump was able to pull off his upset victory in November. Democrats, he has said, failed to tell and convince Americans that they understand the hopelessness that is plaguing disadvantaged parts of the country.
"Trump was pretty smart. He made it all personal," Mr Biden said when he visited New Hampshire. Ms Clinton could have won, but too many Democrats weren't enthused and stayed home, he said.
"I'm positive they wanted to be with us. But we have to prove again we understand that hopelessness," he continued.
The biggest names involved in the Trump-Russia investigation

Show all 17
Mr Biden has insisted he's not running (he told the audience in New Hampshire, "Guys, I'm not running!") but his long tenure in public office has been praised and his particular narrative could help him with voters in rural areas that ditched Democrats in 2016. Mr Biden, who grew up in Scranton, Pennsylvania - a working class industrial town that has come on hard times - was frequently dispatched on the 2016 campaign trail to talk to those types of voters. His brand — an authentic guy with working class roots — has led many to speculate that he would be a good choice to take on Mr Trump in 2020.
Join our new commenting forum
Join thought-provoking conversations, follow other Independent readers and see their replies