Carrier factory where Trump promised to save jobs lays off hundreds of staff on President's 6-month anniversary
The President previously claimed to have saved 1,000 jobs at the Indianapolis, Indiana plant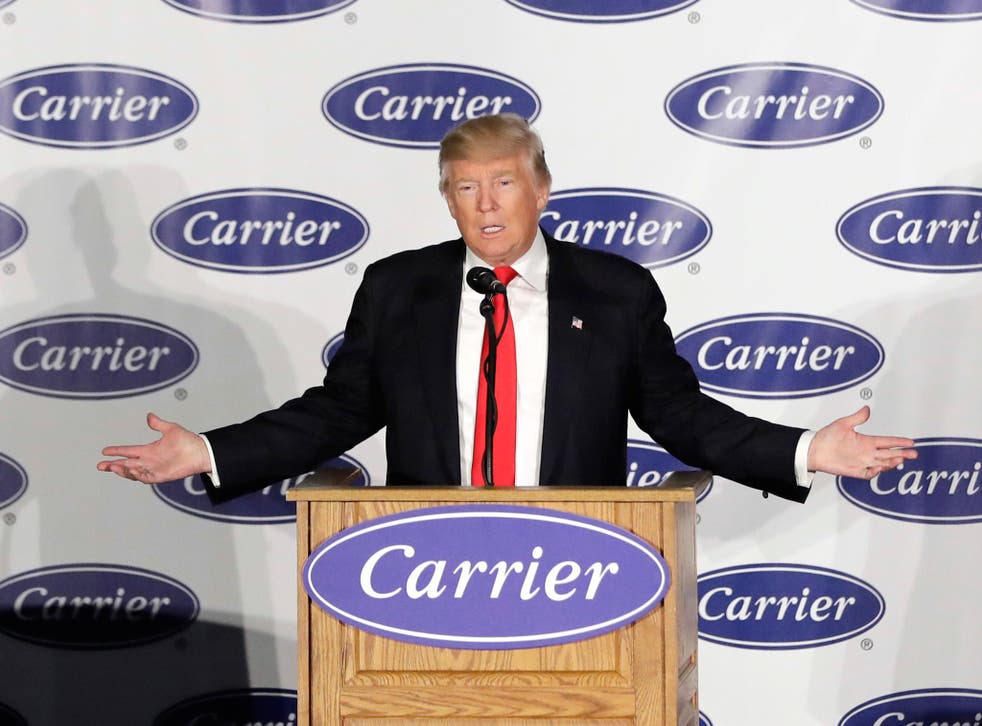 Carrier Corp, the company where Donald Trump claimed to have saved 1,000 jobs, is laying off 338 people on the six-month anniversary of the President's inauguration.
The terminations mark the first round in a previously-announced slate of of layoffs, in which about 630 people are projected to lose their jobs.
News of the layoffs coincides with the President's six-month anniversary in office, and with the White House's "Made in America" Week, which was intended to celebrate the "vital contributions of American workers and job creators to our Nation's prosperity and strength".
Carrier first drew the ire of Mr Trump in April of last year, when the company announced plans to shut down its Indianapolis, Indiana factory. the shut-down would result in layoffs of approximately 2,100 people.
Then-candidate Trump singled out Carrier in a speech where he threatened to "tax the hell" out of companies that outsourced jobs.
Shortly after his inauguration, Mr Trump brokered a deal with the air conditioner manufacturer to keep their Indianapolis plant open for another 10 years. In exchange, he arranged for $7m in conditional state tax incentives and training grants. The state has yet to finalise approval for this deal.
Donald Trump's first 100 days: in cartoons

Show all 33
The then-President-Elect bragged at the time that he had saved 1,000 jobs at the plant.
"These companies aren't going to be leaving any more," he said. "They're not going to be taking people's hearts out. They're not going to be announcing, like they did at Carrier, that they're closing up and they're moving to Mexico."
Shortly thereafter, Carrier announced it would still be moving part of its operation – the fan coil construction – to Mexico, resulting in more than 600 layoffs at the Indianapolis plant. The upcoming layoffs with be the first of these dismissals.
Carrier said in a statement to the Indy Star that it "continues to honour its 2016 commitment to employ approximately 1,100 associates in Indianapolis". The company did not respond to questions from The Independent about the timing of its layoffs.
Robert James, the president of the union that represents Carrier workers, said many of the Carrier workers do not believe that the plant will stay in Indianapolis for the full 10 years.
"There's just too much uncertainty," Mr James told the Indy Star.
Mohan Tatikonda, an operations management professor for the Indiana University Kelley School of Business, echoed these sentiments.
"The Carrier factory stayed active in Indianapolis for years longer than we should have expected it to," he said.
Carrier said that all employees who are laid off will receive one week of severance pay for every year they spent with Carrier, plus six months of insurance.
Join our new commenting forum
Join thought-provoking conversations, follow other Independent readers and see their replies