Donald Trump seems to turn on China after day of praising country
'From this day forward we will compete on a fair and equal basis,' the President said in Vietnam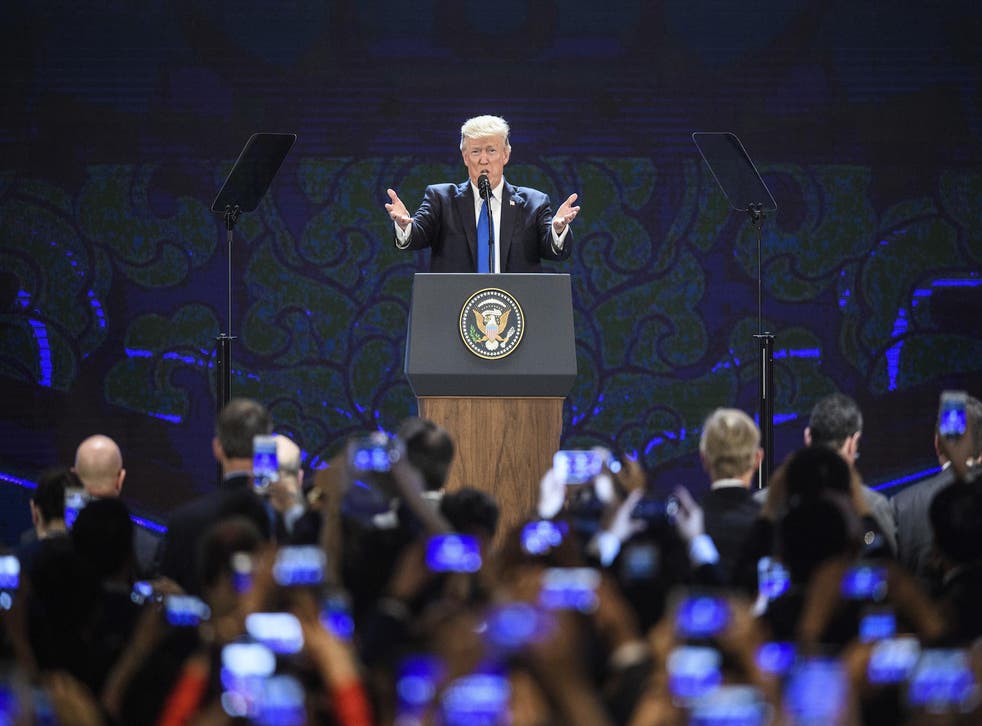 Donald Trump has again promised to put "America first", denouncing multinational trade agreements and appearing to rebuke China – a day after he had praised the country.
"From this day forward we will compete on a fair and equal basis," Mr Trump told a gathering of company executives on the sidelines of the annual Asia-Pacific Economic Cooperation (Apec) summit in Vietnam.
During his remarks, he railed against trade practices he says have put Americans out of work.
"We are not going to let the United States be taken advantage of anymore. I am always going to put America first," Mr Trump declared.
While the US did lose about 5.6m manufacturing jobs between 2000 and 2010, 85 per cent of these jobs losses are attributable to technological change – largely automation – rather than international trade, according to a study by the Centre for Business and Economic Research at Ball State University.
Mr Trump had strikingly changed his tone from the previous day, in Beijing, where the President had said he didn't blame China for trade practices he once compared to theft. Instead, he praised the country and its "powerful" leader, President Xi Jinping, for smartly exploiting the US to benefit his own citizens.
In Da Nang, he offered far less flattery.
Without singling out China by name, Mr Trump asserted that the US had adhered to World Trade Organization principles, only to be taken advantage of by counties that had ignored the rules and engaged in harmful practices such as product dumping, currency manipulation and government subsidising of goods.
"We can no longer tolerate these chronic trade abuses and we will not tolerate them," Mr Trump said.
He said he had spoken "openly and directly" with Mr Xi during his visit to Beijing "about China's unfair trade practices and the enormous trade deficits they have produced with the United States".
Donald Trump's international Presidential trips

Show all 22
Mr Trump said China's trade surplus, which stood at about $223bn (£170bn) for the first 10 months of 2017, was unacceptable. He also repeated his language from Thursday when he said he did "not blame China" or any other nation "for taking advantage of the United States on trade".
But Mr Trump went on to say that the US would "no longer turn a blind eye to violations, cheating or economic aggression".
"We will no longer tolerate the audacious theft of intellectual property. We will confront the destructive practices of forcing businesses to surrender their technology to the state and forcing them into joint ventures in exchange for market access. We will address the massive subsidising of industries through colossal state-owned enterprises that put private competitors out of business, all the time," he said.
All are allegations that the US has made against China.
Mr Trump also told the executives that he was happy to enter into bilateral trading agreements with any of the nations in the Indo-Pacific region – but only if they are reciprocal and fair.
"What we will no longer do is enter into large agreements that tie our hands, surrender our sovereignty, and make meaningful enforcement practically impossible," Mr Trump said.
As for Mr Xi Jinping, he told the conference that nations need to stay committed to economic openness or risk being left behind, in comments that contrasted sharply with those of Mr Trump.
The Chinese President drew loud applause when he urged support for the "multilateral trading regime" and progress toward a free-trade zone in the Asia-Pacific.
"We should continue to foster an open economy that benefits all. Openness brings progress while self-seclusion leaves one behind. We, the Asia-Pacific economies, know this only too well from our own development experience," Mr Xi said.
"We should support the multilateral trading regime and practice open regionalism to allow developing members to benefit more from international trade and investment," the Chinese President added.
China's own recent ascent as the world's second-largest economy came only after it launched reforms that opened its economy to more trade and foreign investment after decades of isolation following its 1949 communist revolution.
As one of his first acts as President, Trump rejected the far-reaching Pacific Rim trade pact known as the Trans-Pacific Partnership (TPP) – which China is not involved in – disappointing many nations in the region, including the summit's host, Vietnam. His administration is also currently renegotiating the North Atlantic Free Trade Agreement between the US, Canada and Mexico, which he has repeatedly declared as "the worst trade deal" because it is "very, very bad for our companies and for our workers".
Leaders of the 11 remaining TPP members – who represent roughly 13.5 per cent of the global economy – were scheduled to meet on the sidelines of the Apec summit to try to make an agreement in principle that would not require US involvement. But it is still uncertain whether striking a deal will be possible.
Join our new commenting forum
Join thought-provoking conversations, follow other Independent readers and see their replies