LaVar Ball refuses to thank Donald Trump for helping free his son from Chinese jail
'I'm not just saying thank you to anybody for nothing,' Mr Ball says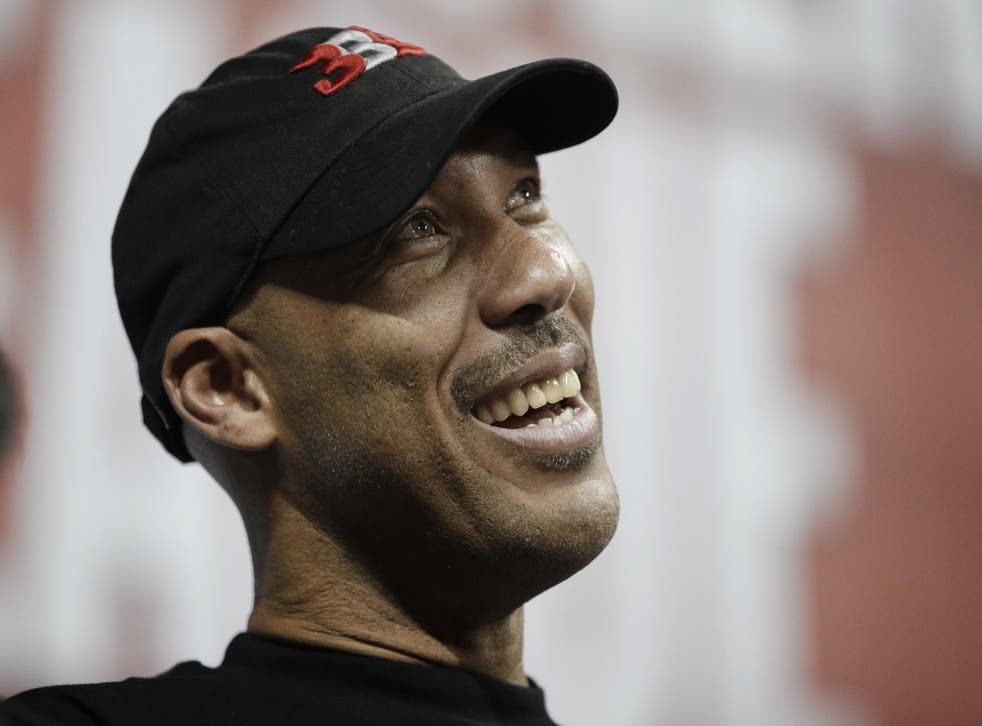 The father of a basketball player recently released from jail in China has refused to thank Donald Trump for his role in securing the release, despite the President's repeated attacks on Twitter.
UCLA basketball player LiAngelo Ball and two teammates were arrested in China earlier this month, after shoplifting from stores in Shanghai before the team's season opener. The three men were released after admitting to their crimes, according to school officials.
Mr Trump later claimed that he, too, had a hand in securing the boy's release, saying he personally asked Chinese President Xi Jinping to look into the issue.
But Mr Ball's father, LaVar, isn't buying it.
"Did [Mr Trump] help the boys get out? I don't know," he told CNN's Chris Cuomo. He added that if he was going to thank anyone, it would be Mr Xi.
"It wasn't like [Mr Trump] was in the US and said, 'OK, there's three kids in China. I need to go over and get them.' That wasn't the thought process," he said.
Protest in Manila against Donald Trump's visit to the Philippines

Show all 14
Mr Trump tweeted repeatedly about the basketball players in the days following their release, first asking if they would thank him; then tweeting, "You're welcome," when they did. The elder Mr Ball, however, made it clear that he did not feel indebted to Mr Trump in an interview with ESPN.
"What was he over there for?" he asked of the President's trip to China. "Don't tell me nothing. Everybody wants to make it seem like he helped me out."
Mr Trump responded on Twitter, accusing the elder Mr Ball of being "unaccepting of what I did for his son," and suggesting that he should have left the players in jail.
Trump says he 'should have left American basketball players arrested in China in jail'
On Monday, Mr Ball questioned why the President was dedicating so much time to the issue.
"That's on your mind, that a father didn't say 'Thank you'? And you're the head of the US?" Mr Ball asked. "Come on. There's a lot of other things that's going on. Let him do his political affairs and let me handle my son, and let's just stay in our lane."
Mr Ball has become a well-known figure in sports circles, largely because of his over-the-top statements about his kids. He has made several appearances on television in recent years to discuss his children and promote his brand. His CNN appearance on Monday lasted more than 20 minutes.
At one point, Mr Ball seemed to suggest that he had personally played a role in his son's release.
"I'm not just saying thank you to anybody for nothing," he said. "I'm just saying I had some things done, I had some people who did some other things."
He declined to clarify the comment.
Register for free to continue reading
Registration is a free and easy way to support our truly independent journalism
By registering, you will also enjoy limited access to Premium articles, exclusive newsletters, commenting, and virtual events with our leading journalists
Already have an account? sign in
Register for free to continue reading
Registration is a free and easy way to support our truly independent journalism
By registering, you will also enjoy limited access to Premium articles, exclusive newsletters, commenting, and virtual events with our leading journalists
Already have an account? sign in
Join our new commenting forum
Join thought-provoking conversations, follow other Independent readers and see their replies