Trump not holding China to account over 'attempt to wipe out separate identity' of Muslims, cross-party lawmakers say
President urged to 'demonstrate to strongmen globally that the world will hold them accountable for their actions'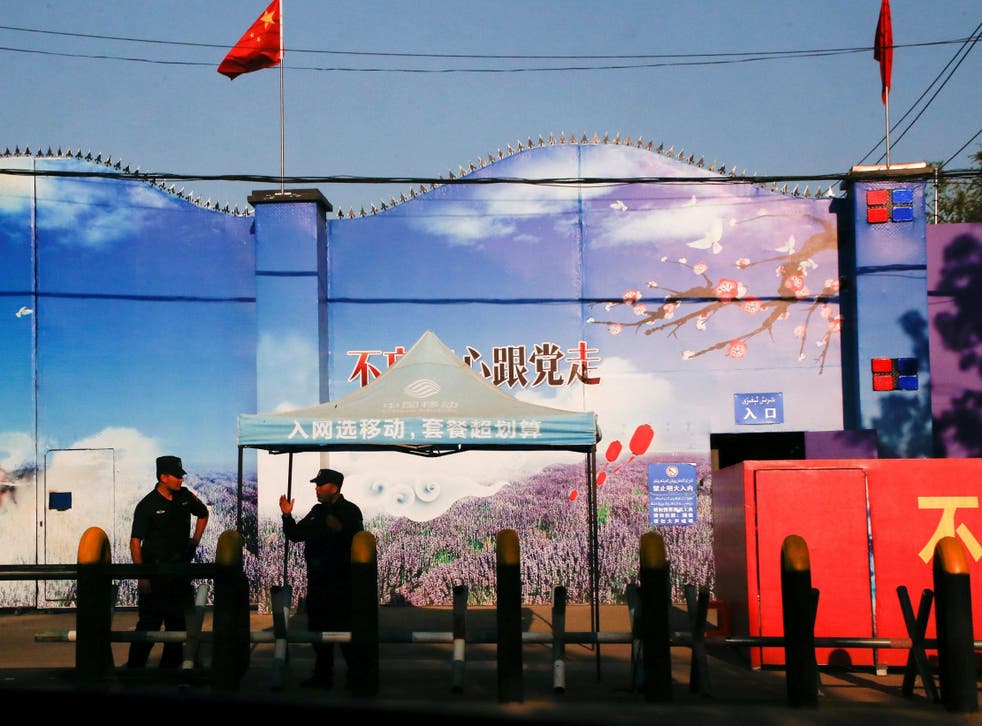 Donald Trump has been accused of failing to take "meaningful action" on China's repressive policies towards the Uighur Muslim people of Xinjiang province.
A bipartisan group of politicians wrote a letter to the secretary of state Mike Pompeo saying that the Trump administration appeared to have done nothing months after it first called for sanctions on Beijing over its "attempt to wipe out [Uighurs'] separate identity, language, and history".
Washington should "stand up for the oppressed" and demonstrate "to strongmen globally that the world will hold them accountable for their actions", the group urged.
The group was led by Eliot Engel, a Democrat who chairs the House foreign affairs committee, and first called for action last August. Fellow Democrat Brad Sherman and Republicans Ted Yoho and Chris Smith also signed the letter.
Up to 1 million Uighur Muslims are thought to have been detained in so-called re-education camps in Xinjiang while a widespread surveillance network monitors the region's Muslim population.
They have been forced to recite Communist Party propaganda and denounce their faith, previous reports alleged, while some have allegedly been made to eat pork. China has denied these allegations.
World news in pictures

Show all 50
Beijing has also tried to "sinicise" Islam and make it "more compatible with socialism", the letter added.
Pompeo wrote to the committee on Sept. 28 saying his department was looking into a request for sanctions on those responsible for abuses and for controls on exports of technology that facilitates mass detentions and surveillance of ethnic minorities in the Xinjiang region, the letter said.
The politicians wrote: "More than four months later, it appears that the administration has taken no meaningful action in response to the situation in [Xinjiang], and we write today with a renewed sense of urgency on this serious matter.
"Of particular concern are reports of US companies that may be contributing to Beijing's persecution of Uighurs through their support or commercial ties to Hikvision and Dahua – two Chinese tech giants that have profited from the surge of security spending in Xinjiang.
"Congress has demonstrated bicameral, bipartisan support for spotlighting the abhorrent situation in Xinjiang and China's surveillance tactics and has urged President Trump to condemn these abuses committed by Chinese authorities. Rhetoric without action will only embolden Beijing."
The US ambassador for international religious freedom, Sam Brownback, told reporters that the issue was "being discussed thoroughly", but he did not announce new action.
Support free-thinking journalism and attend Independent events
A State Department spokeswoman said it remained "deeply disturbed that since April 2017, the Chinese government has detained more than one million Uighurs, ethnic Kazakhs, Kyrgyz, and other Muslims in internment camps".
"We will continue to call on China to end these counterproductive policies, free all those arbitrarily detained, and cease efforts to coerce members of its Muslim minority groups residing abroad to return to China to face an uncertain fate," she said.
US officials said last year the administration was considering sanctions against companies and officials linked to China's crackdown, but Beijing's Washington ambassador has previously warned of retaliation if they are imposed, amid a trade war between the two countries.
Additional reporting by Reuters
Join our new commenting forum
Join thought-provoking conversations, follow other Independent readers and see their replies