Trump tells Xi Jinping he doesn't blame China for 'unfair trade practices' he railed against in past
'Who can blame a country for being able to take advantage of another country for the benefit of its citizens?,' President says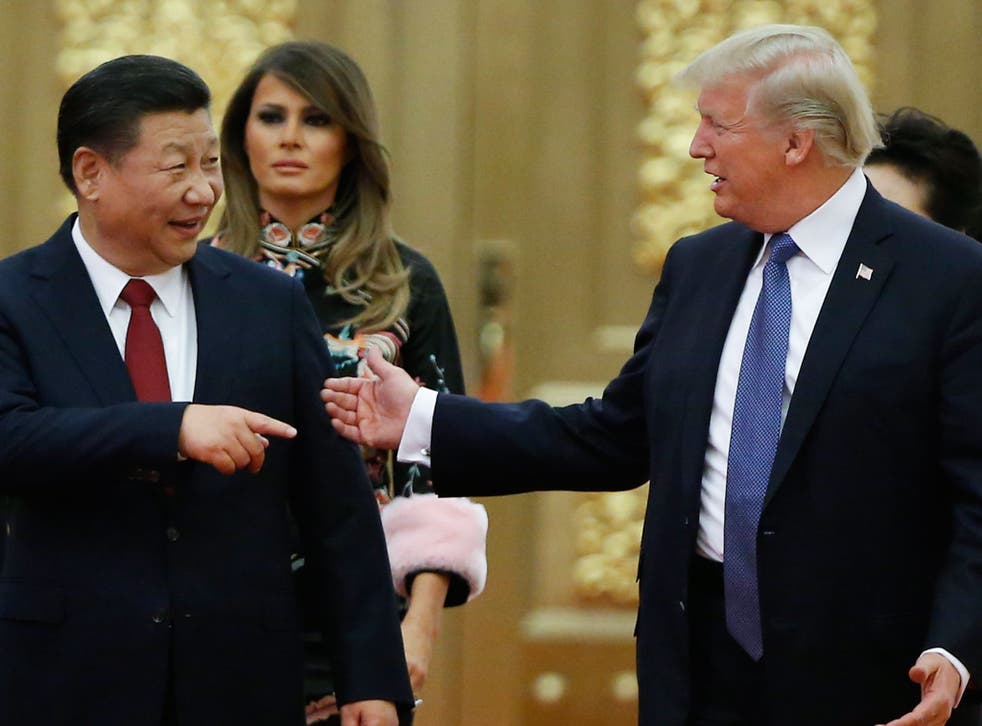 As he was gearing up to leave Beijing on Thursday night, President Donald Trump called his Chinese counterpart Xi Jinping "a highly respected and powerful representative of his people". Hours earlier he tweeted that he was looking forward to building a stronger relationship with China in the "months and years to come".
While some had been expecting a number of tense meetings over the issue of North Korea's nuclear ambitions and trade between the US and China, superficially at least Mr Trump and Mr Xi put up a united front, with the US President calling his meetings "productive" and Mr Xi saying that the relationship between Beijing and Washington are at "a new historical starting point".
Mr Trump had criticised the "very one-sided and unfair" trade relationship between the two nations, but stopped short of castigating by saying he doesn't blame the country for taking advantage of the US.
Speaking after the announcement of new business deals between US and Chinese companies, worth about $250bn (£190bn), Mr Trump said the US and China "must immediately address the unfair trade practices that drive" the trade deficit, along with barriers to market success, forced technology transfers and intellectual property theft.
"But I don't blame China," he said. "After all, who can blame a country for being able to take advantage of another country for the benefit of its citizens?" He later added in a tweet that he "would have done the same".
For his part, Mr Xi promised a more open environment for foreign companies and reaffirmed China's commitment to the denuclearisation of the Korean Peninsula.
Trump administration officials had been relying on the personal relationship between the two leaders to smooth over any bumps in regard to the subject matter of the talks. But the mutual love-in may have gone too far, with US Secretary of State Rex Tillerson having to inject some reality into proceedings.
Mr Tillerson offered a blunter assessment of China's trade surplus with the United States. The total surplus with the US for the first 10 months of the year was $223bn.
"I think the best way to characterise it is that while we appreciate the long hours and the effort that our Chinese counterparts have put into those trade discussions, quite frankly in the grand scheme of a $300 to $500bn trade deficit, the things that have been achieved are pretty small," Mr Tillerson told reporters in Beijing.
He said that "in terms of really getting at some of the fundamental elements of why this imbalance exists, there is still a lot more work to do".
Others have suggested that the $250bn of new contracts, a number of which are non-binding, do not represent much progress for US businesses, while a former White House Press Secretary for Barack Obama – Jay Carney – called it "embarrassing" that Mr Trump did not take questions during a news conference with Mr Xi – seemingly at the behest of the hosts. Mr Obama did not take questions during his own first visit, but did on later trips, while Bill Clinton and George W Bush also made a point of taking them.
When it came to North Korea, Mr Tillerson was slightly less abrasive. He acknowledged that there were differences in the "tactics and the timing and how far to go with pressure" on North Korea. But he insisted that the two countries were on the same page.
"There is no disagreement on North Korea," he said.
Donald Trump says he doesn't blame China for 'taking advantage of America'
Heading for Vietnam for the Asia Pacific Economic Cooperation (Apec) summit, Mr Trump potentially faces another key player in the North Korea situation, Russia.
Mr Trump and Kremlin officials have been dancing around the idea of a meeting between the President and Vladimir Putin during the forum, with the prospects shifting from possible to probable and then back again. The expectation is that it will happen in some form, with plenty to talk about. Not just North Korea, but also the situation in Syria and a number of other diplomatic spats, including election meddling.
The Kremlin says it has been trying to set up a meeting and Trump told Fox News before his Asia tour that he might meet Mr Putin in Vietnam to talk about Syria, Ukraine and North Korea.
Kremlin aide Yuri Ushakov told Russian news agencies on Thursday that such a meeting would happen on Friday, but Dmitry Peskov, a Putin spokesman, later rowed back on that suggestion.
Mr Tillerson also seemed to pour some cold water on the speculation. "There's never been an agreement, certainly not to a full [bilateral meeting]," Mr Tillerson said, but added it would not be unusual however if the two men had a spontaneous "pull-aside meeting" chat if they bumped into each other.
"The question is whether we've got sufficient substance [for a formal meeting]," the Secretary of State said, adding: "We're in contact with them and the view is that the two leaders are going to meet if there's something sufficiently substantive to talk about that would warrant a formal meeting."
Asked about Mr Tillerson's comments, Mr Peskov said that a possible meeting was still being discussed before predicting that the two men would cross paths "one way or another".
In whatever form the meeting comes, the reaction to it is likely to be less effusive by Mr Trump then a Beijing visit he will "never forget".
Join our new commenting forum
Join thought-provoking conversations, follow other Independent readers and see their replies