Donald Trump says 'we are now under siege' amid Comey drama
'We know how to fight and we will never give up' the president tells supporters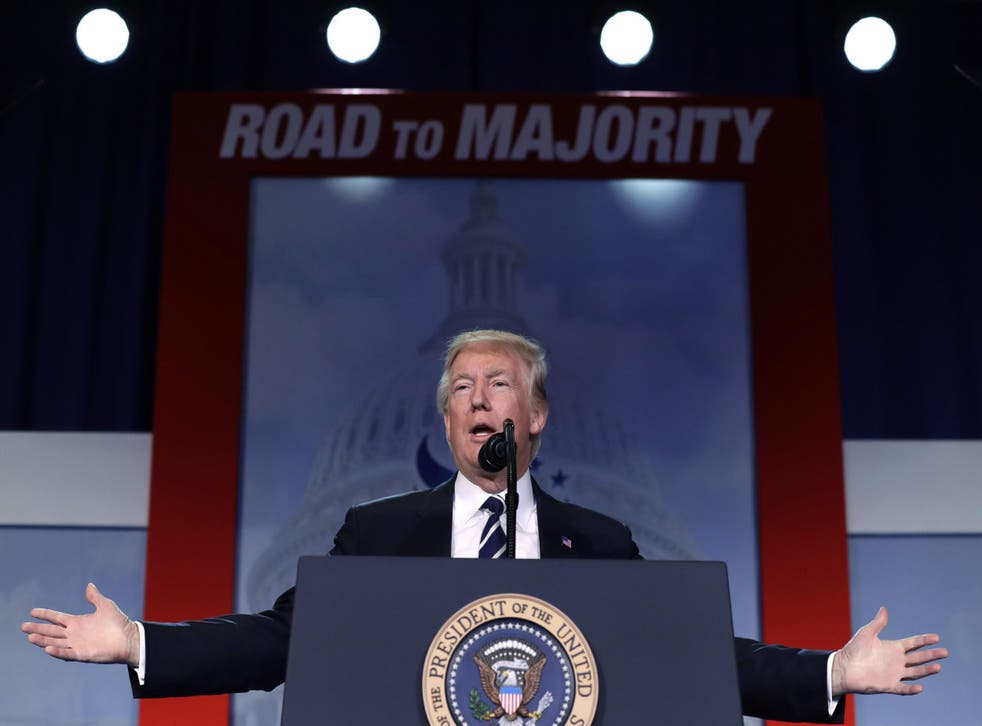 As his former FBI director dropped damning information on him at a highly publicised Senate hearing, President Donald Trump told his supporters they were under attack.
"We are now under siege," Mr Trump told the audience at the Faith & Freedom Coalition's annual forum. "But we will come out bigger and better and stronger than ever."
It was the president's first public statement since former FBI Director James Comey told senators that the White House had defamed him, lied about him, and ordered him to drop an investigation. If Democrats have their way, the revelations could prove obstruction of justice by the president.
The White House strongly defended the president earlier in the day, saying decisively: "The president is not a liar".
"It's frankly insulting that that question would be asked," Deputy White House Press Secretary Sarah Huckabee Sanders said.
Mr Trump, addressing the conservative Christian convention on in Washington on Thursday afternoon, vowed to fight against resistance to his administration.
"We will not back down from doing what is right ... We know how to fight and we will never give up," he said.
The biggest names involved in the Trump-Russia investigation

Show all 17
Despite his ominous statements, Mr Trump brought good news to the conference, telling them how he had reinstated the Mexico City policy, pulled out of the Paris climate accord, and vowed to repeal the Johnson Amendment. All three policies are popular with his evangelical base.
The president also returned to some of his favourite talking points, condemning "radical Islamic terror" and claiming Obamacare is in a "death spiral". He assured attendees the Republicans were "working hard" on a healthcare alternative.
"You picked a winner," he told the crowd.
This was the fifth visit to the conference for Mr Trump, who regularly infuses religious messages in his speeches but has rarely attended church as president.
"As long as our country remains true to its values, loyal to its citizens, and devoted to its creator, then our best days are yet to come," he said. "Because we will make America great again."
The coalition expects more than 1,500 attendees at their annual convention. Vice President Mike Pence, House Speaker Paul Ryan, Senate Majority Leader Mitch McConnell, and House Majority Leader Kevin McCarthy will also speak.
Register for free to continue reading
Registration is a free and easy way to support our truly independent journalism
By registering, you will also enjoy limited access to Premium articles, exclusive newsletters, commenting, and virtual events with our leading journalists
Already have an account? sign in
Register for free to continue reading
Registration is a free and easy way to support our truly independent journalism
By registering, you will also enjoy limited access to Premium articles, exclusive newsletters, commenting, and virtual events with our leading journalists
Already have an account? sign in
Join our new commenting forum
Join thought-provoking conversations, follow other Independent readers and see their replies