Trump should be scared, says James Comey's friend
'This is a guy with a story to tell,' says Benjamin Wittes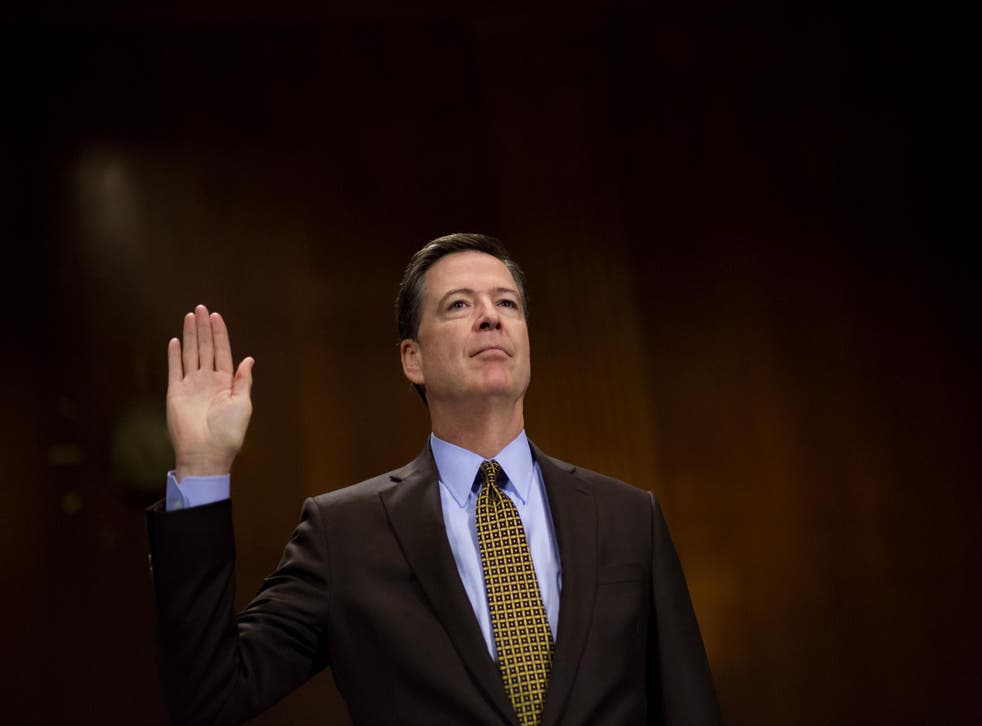 Donald Trump should be worried about James Comey, a friend of the former FBI director has claimed.
"I thought it was interesting and very telling that he declined an opportunity to tell his story in private," Benjamin Wittes, a self-proclaimed confidant of the ex-FBI director, said. "I think that's a reflection of the fact that this is a guy with a story to tell."
"I think if I were Donald Trump that would scare me a lot," he added.
Mr Comey, who was overseeing an investigation into the Trump campaign's possible campaign ties to Russia before he was fired, has agreed to testify before the Senate Intelligence Committee in an open session.
"He's going to be fine. He's not somebody who spends time feeling sorry for himself," Mr Wittes told CNN of his friend's firing.
Mr Wittes is the editor in chief of the Lawfare website and a Senior Fellow in Governance Studies at the Brookings Institution. He previously told reporters about Mr Comey's alleged efforts to distance himself from the president, who he believed was trying to forge too close of a relationship.
According to Mr Wittes, the former FBI director – who famously refused to play basketball with President Barack Obama to avoid the appearance of familiarity – avoided meetings at the White House and handshakes with the president.
In one instance, Mr Wittes said, Mr Comey tried to blend into the White House drapes to avoid being singled out by Mr Trump during a White House meeting. The effort failed.
"Trump pulled him into an embrace and Comey didn't reciprocate," Mr Wittes previously told The New York Times. "If you look at the video, it's one person shaking hands and another hugging."
Mr Wittes said he was motivated to speak out when reports surfaced that Mr Trump had asked Mr Comey to drop the investigation into his former national security adviser, Mike Flynn. The revelation caused him to see the two men's interactions in a "more menacing an upsetting light," Mr Wittes told CNN.
"I have no doubt that [Mr Comey] regarded the group of people around the president as dishonourable," he said.
The biggest names involved in the Trump-Russia investigation

Show all 17
Mr Trump has been accused of calling Mr Comey "crazy" and "a real nut job" in conversations with Russian officials after his firing.
"I faced great pressure because of Russia. That's taken off," Mr Trump allegedly told the Russians, adding "I'm not under investigation".
Speaker of the House Paul Ryan, however, disagreed with Mr Trump's assessment on Wednesday.
"Yeah, I don't agree with that," Mr Ryan said when asked about Mr Trump's "nut job" comment. "And he's not."
"I like Jim Comey," the speaker said later.
Register for free to continue reading
Registration is a free and easy way to support our truly independent journalism
By registering, you will also enjoy limited access to Premium articles, exclusive newsletters, commenting, and virtual events with our leading journalists
Already have an account? sign in
Register for free to continue reading
Registration is a free and easy way to support our truly independent journalism
By registering, you will also enjoy limited access to Premium articles, exclusive newsletters, commenting, and virtual events with our leading journalists
Already have an account? sign in
Join our new commenting forum
Join thought-provoking conversations, follow other Independent readers and see their replies