Pictures show 'lethargic' president return to White House as he's said to have 'mild symptoms'
White House official confirms president experiencing mild symptoms after testing positive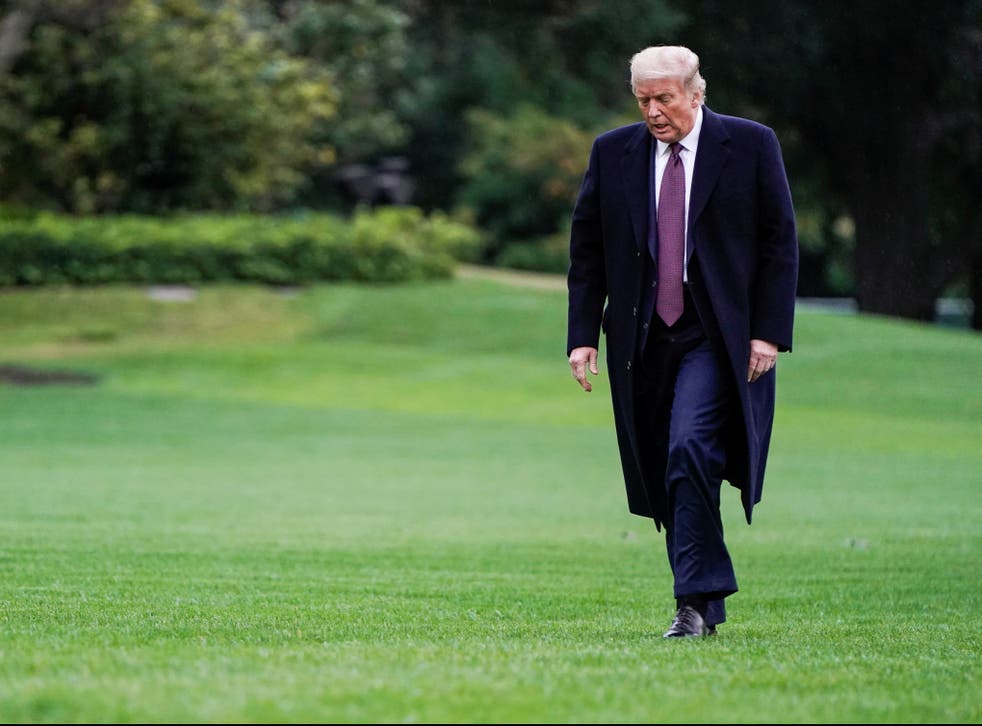 A "lethargic" Donald Trump was captured returning to the White House on Thursday in the last pictures taken of the president hours before he announced he had tested positive for coronavirus.
The photographs show Mr Trump walking away from Marine One as he returned from New Jersey on the South Lawn of the White House on Thursday, only hours before he announced he had tested positive for the coronavirus on Twitter.
In the photos the president looks downcast, mostly looking at the floor in between offering a half hearted wave and thumbs up to onlookers.
Early on Friday morning the president announced he and his wife, Melania Trump, had contracted the virus saying: "Tonight, @FLOTUS and I tested positive for Covid-19. We will begin our quarantine and recovery process immediately. We will get through this TOGETHER!"
As of Friday afternoon the president has been experiencing mild cold-like symptoms associated with the virus, according to a White House official.
At 74-years-old and overweight, the president could be considered in a number of "high risk" coronavirus categories. According to reports, he also has a poor diet and does not exercise.
On Thursday the president was returning from his golf club in Bedminster, New Jersey, where he had hosted a campaign fundraiser. Gov Phil Murphy has urged those who attended the event to quarantine and receive a test.
The New York Times reported that one attendee at the event in Bedminster said the president came in contact with about 100 people and that he was said to have seemed "lethargic".
People at the White House on Thursday also reportedly noticed that the president's voice sounded "raspy", although it has been speculated this could also be a result of a campaign rally in Minnesota the previous night.
The newspaper also reported that a person briefed on the matter said that Mr Trump fell asleep at one point on the flight back from the Minnesota rally.
In the wake of the shocking news other White House aides who have been in close proximity to the president have been rushed to be tested.
Mike Pence, who could be called upon to step in at the White House should Mr Trump be incapacitated by sickness, tested negative for the virus on Friday morning.
Ivanka Trump and Jared Kusher have also tested negative for the virus. It is not known where or when the president contracted the virus but close adviser Hope Hicks tested positive for the coronavirus after showing symptoms on Wednesday.
Ms Hicks had travelled with various administration staff, including Mr Kushner and Ms Trump, to a presidential campaign rally in Minnesota.
Additional reporting by the Associated Press
Join our new commenting forum
Join thought-provoking conversations, follow other Independent readers and see their replies