Donald Trump claims Dreamer immigrants have been 'abandoned' by Democrats, despite having axed DACA scheme himself
'Republicans are still working hard', the President says 
Alexandra Wilts
Washington DC
Friday 16 February 2018 15:59 Comments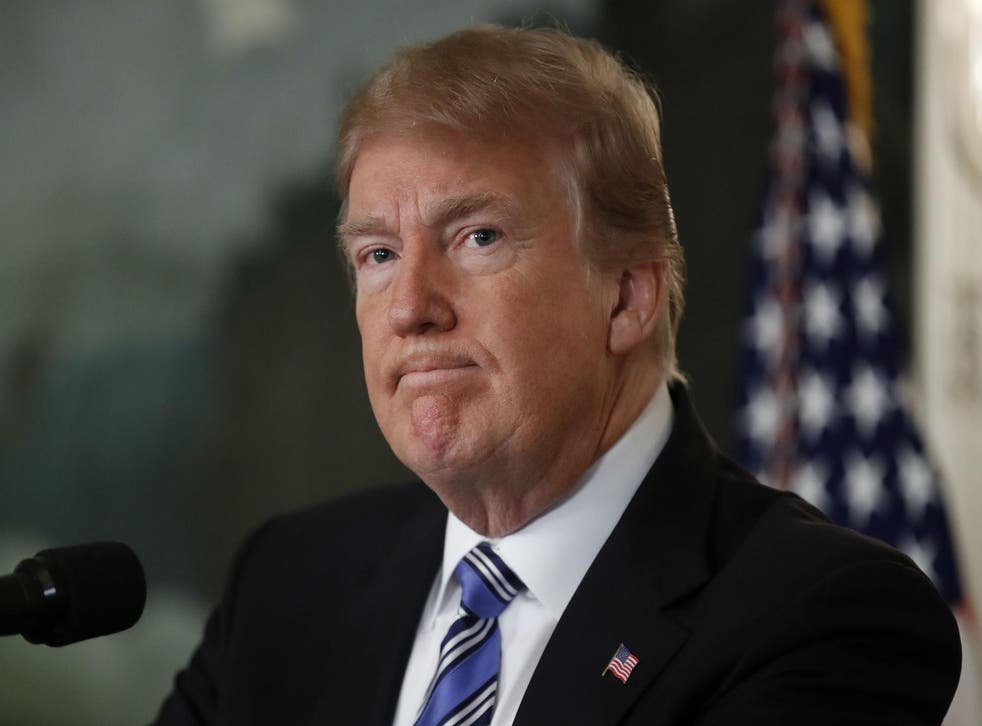 President Donald Trump has claimed young undocumented immigrants – so-called dreamers – have been abandoned by Democrats, even though he himself rescinded the programme granting them protection from deportation.
"Cannot believe how BADLY DACA recipients have been treated by the Democrats...totally abandoned! Republicans are still working hard," the President tweeted.
Both Republicans and Democrats on Thursday rebuked Mr Trump's "four pillar" plan to resolve the fate of dreamers, reshape the US immigration system and fund his border wall. Only 39 senators in the 100-member Senate voted in favour of Mr Trump's proposal.
But senators also turned away two other bipartisan proposals, ultimately leaving Congress with no clear path to protect dreamers.
"The next step," White House Press Secretary Sarah Huckabee Sanders said in a statement, "will be for the House to continue advancing the proposal from Chairman Goodlatte and Chairman McCaul." But it is unlikely that plan would be approved in the House or make it out of the Senate.
The rejection of Mr Trump's plan – reflected in a measure introduced by Republican Senator Chuck Grassley – would have bolstered border security, restricted family-based immigration and ended a visa lottery. It would also have provided $25bn for the border wall and offered a chance of citizenship for up to 1.8m dreamers.
Mr Trump essentially forced Congress to address US immigration policy, a big talking point during his presidential campaign, when he rescinded the Deferred Action for Childhood Arrivals programme in September. The Obama-era policy lets young immigrants who were brought to the US illegally as minors, the dreamers, live and work in the US without fear of deportation.
About 700,000 undocumented immigrants are currently protected under the programme. An additional 1.1m dreamers were eligible for the program, but they did not apply.
Donald Trump's first year: in pictures

Show all 29
Mr Trump had given Congress until March 5 to come up with a legislative fix, but US courts have ordered the Trump administration to extend DACA, making the president's deadline less firm, according to the Washington Post.
Senators have scrambled over the past week to come up with bipartisan proposals that could have a chance of clearing the chamber. Each plan needed at least 60 votes to advance.
But leading up to the votes on Thursday, the White House worked to torpedo several plans.
"The Schumer-Rounds-Collins immigration bill would be a total catastrophe," Mr Trump wrote on Twitter. The deal, crafted by a group of centrist lawmakers, would have protected dreamers in exchange for roughly $25bn for border security.
Senate Democratic leader Chuck Schumer on the Senate floor said the President, "since he created the problem by terminating DACA last August, has stood in the way of every single proposal that has had a chance of becoming law."
He had urged his colleagues to vote for the bipartisan package, acknowledging that both parties would find things they support and oppose in the bill.
Register for free to continue reading
Registration is a free and easy way to support our truly independent journalism
By registering, you will also enjoy limited access to Premium articles, exclusive newsletters, commenting, and virtual events with our leading journalists
Already have an account? sign in
Join our new commenting forum
Join thought-provoking conversations, follow other Independent readers and see their replies