Donald Trump tries to explain economics to 'The Economist'
The US president says that if his tax plan does not increase the budget deficit, 'you're never going to bring your taxes down'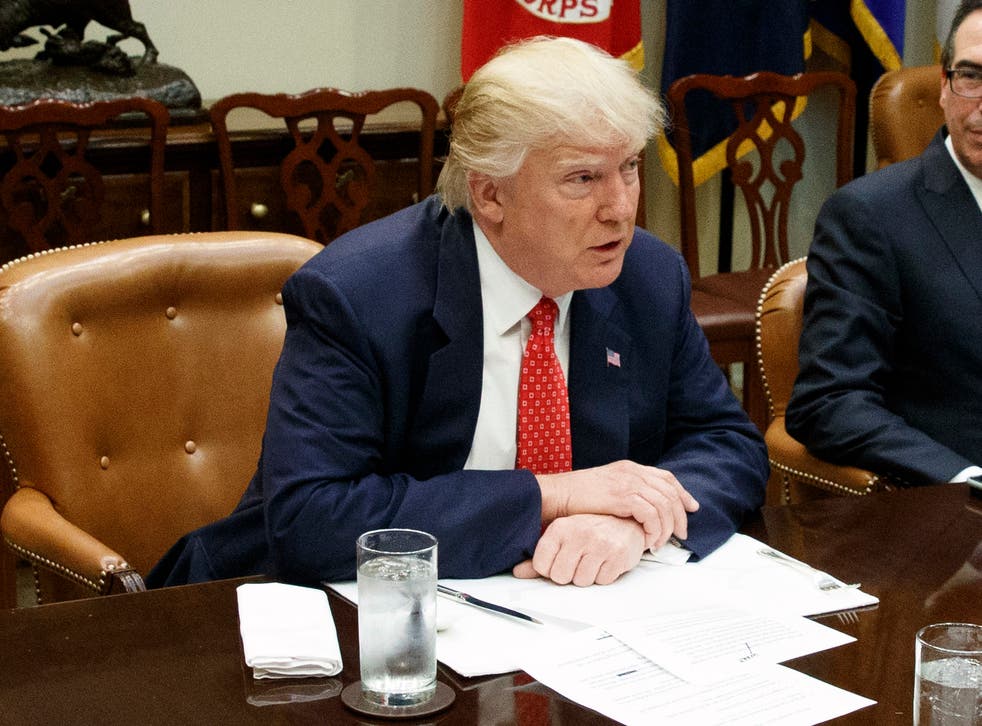 President Donald Trump attempted to explain economics to The Economist, saying that if his tax plan doesn't increase the budget deficit, "you're never going to bring your taxes down".
Mr Trump called the proposal "priming the pump", which he described as "having to put something in before you can get something out."
The phrase "priming the pump" dates back to the early 19th century, according to the Merriam-Webster dictionary, and has been used to refer to government expenditure programmes.
Also speaking to The Economist, US Treasury Secretary Steven Mnuchin elaborated that economic growth under the Trump administration could "increase revenues as much as $2trn over the ten-year period of time."
"So priming the pump in the short term leads to growth," Mr Mnuchin said.
Editors from The Economist asked: "So you would have a bigger deficit, a stimulus, to prime the pump that would lead to faster growth?"
Mr Trump responded that he happens to think three-per cent economic growth is low. "But you can't do it if your companies are leaving the country because taxes are too high," he said.
Donald Trump's first 100 days: in cartoons

Show all 33
The Trump administration introduced a plan in April to cut the income tax rate for America's top earners by close to five per cent. According to the White House, the proposal would also reduce the number of US tax brackets from seven to three; double the standard deduction Americans are able to claim on their tax returns; and includes a "massive tax cut" for businesses, with rates being slashed to 15 per cent.
The conservative-leaning Tax Foundation estimates the bracket reduction and business tax cut alone would cost the Treasury up to $6 trillion over the next 10 years.
Mr Trump called it the "biggest tax cut in the history of the country."
The president also added that if he gets his healthcare bill through Congress, the government will be saving "anywhere from $400bn to $900bn".
"That all goes into tax reduction," Mr Trump said. "Tremendous savings."
House Minority Leader Nancy Pelosi lambasted Trump's proposed healthcare law as being "Robin Hood in reverse" – claiming it is similar to the Republicans' bill for tax reform.
The House of Representatives narrowly passed Mr Trump's bill to repeal and replace Obamacare – legislation that Ms Pelosi said steals $600bn from working families and gives it to the rich.
"That is the goal of their tax bill, and they need this money from your healthcare in order to do that," Ms Pelosi said after the House's vote.
The Economist asserted that the biggest winners from Mr Trump's tax cut appear to be the very wealthiest Americans.
"Well, I don't believe that," Mr Trump responded. "Because they're losing all of their deductions, I can tell you."
Register for free to continue reading
Registration is a free and easy way to support our truly independent journalism
By registering, you will also enjoy limited access to Premium articles, exclusive newsletters, commenting, and virtual events with our leading journalists
Already have an account? sign in
Register for free to continue reading
Registration is a free and easy way to support our truly independent journalism
By registering, you will also enjoy limited access to Premium articles, exclusive newsletters, commenting, and virtual events with our leading journalists
Already have an account? sign in
Join our new commenting forum
Join thought-provoking conversations, follow other Independent readers and see their replies