Trump mocks Elizabeth Warren and #MeToo movement - and her response struck a chord
'Maybe you should focus on fixing the lives you're destroying,' Ms Warren tells the president
Kimberley Richards
New York
Tuesday 10 July 2018 14:34 Comments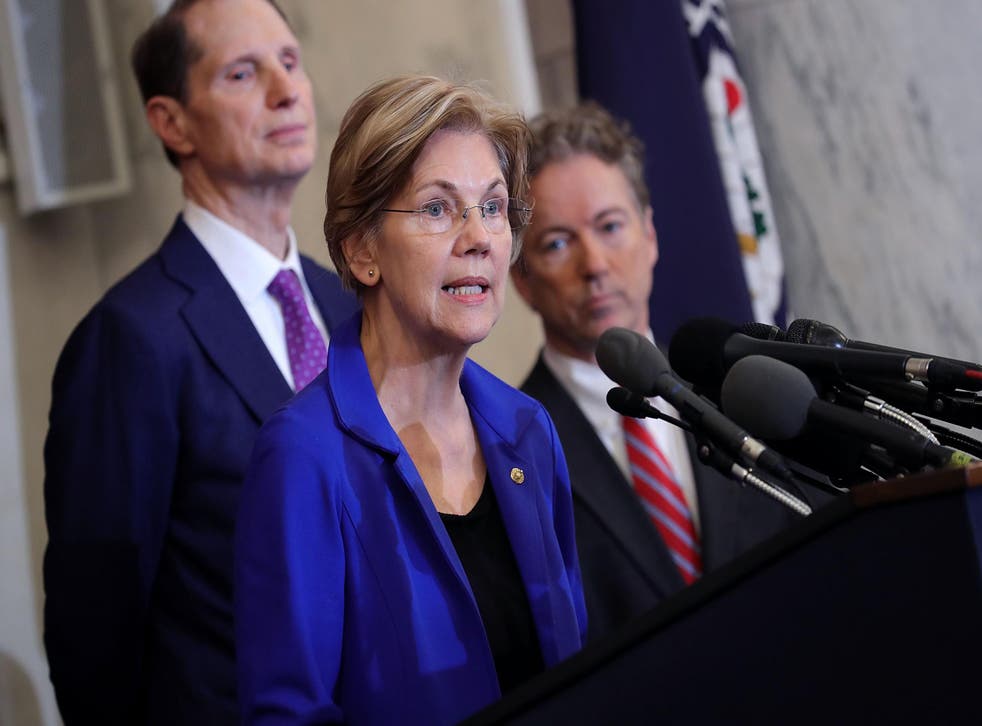 Senator Elizabeth Warren has hit back at Donald Trump for mocking her heritage and the #MeToo movement, contrasting his call for her to take a DNA test with the DNA testing faced by children separated by the president's border policy.
President Trump repeatedly insulted Ms Warren for her claims of Native American ancestry, with the Massachusetts senator saying she was "very proud" of her roots.
"Pocahontas, they always want me to apologise for saying it," Mr Trump said during a rally in Montana.. "And I hereby… oh no I want to apologise and I'll use tonight. Pocahontas I apologise to you, I apologise, to you I apologise. To the fake Pocahontas, I won't apologise."
Mr Trump shared his plans to offer Ms Warren $1 million to her favourite charity to take a DNA test. As the crowd booed Ms Warren, he said the DNA test would be similar to DNA-related television advertisements like "those little kits they sell on television for $2."
Responding via Twitter, Ms Warren suggested the president focus on reuniting children and their families separated at the US border by a "zero tolerance" approach to illegal entry into the US. After an international outcry and a domestic backlash led by Democrats, Mr Trump signed an executive order last month aimed at ending the separations.
A federal judge later issued an order giving Mr Trump's administration until the end of this month reunite all children separated from their parents. The judge ordered for children under the age of five to be back with their guardians by Tuesday 10 July, and all minors by 26 July.
World news in pictures

Show all 50
"Hey [Donald Trump] While you obsess over my genes, your Admin is conducting DNA tests on little kids because you ripped them from their mamas & you are too incompetent to reunite them in time to meet a court order," she wrote. "Maybe you should focus on fixing the lives you're destroying."
Department of Health and Human Services Secretary Alex Azar said that his agency must reunite nearly 3,000 children with their parents, with the use of DNA tests aimed to speed up the process. The separations have occurred thanks to the policy that all adults crossing the border illegally are to be sent for prosecution, meaning children with those parents are take into government care while cases of processed.
Meanwhile, at the Montana rally, Mr Trump continued his criticism of Ms Warren by mocking the #MeToo movement. Mr Trump said he would have to "gently" toss a DNA test her way so as not to hurt her in light of the movement, which was founded to help survivors of sexual violence – particularly for young women of colour.
"We will take that little kit and say – but we have to do it gently because we're in the MeToo generation so we have to be very gentle," Mr Trump said, taking the mocking tone that has become synonymous with how he speaks to Ms Warren.
Register for free to continue reading
Registration is a free and easy way to support our truly independent journalism
By registering, you will also enjoy limited access to Premium articles, exclusive newsletters, commenting, and virtual events with our leading journalists
Already have an account? sign in
Join our new commenting forum
Join thought-provoking conversations, follow other Independent readers and see their replies