Trump administration considering family separation policy for asylum seekers
The policy could have devastating effects on children, immigrant groups say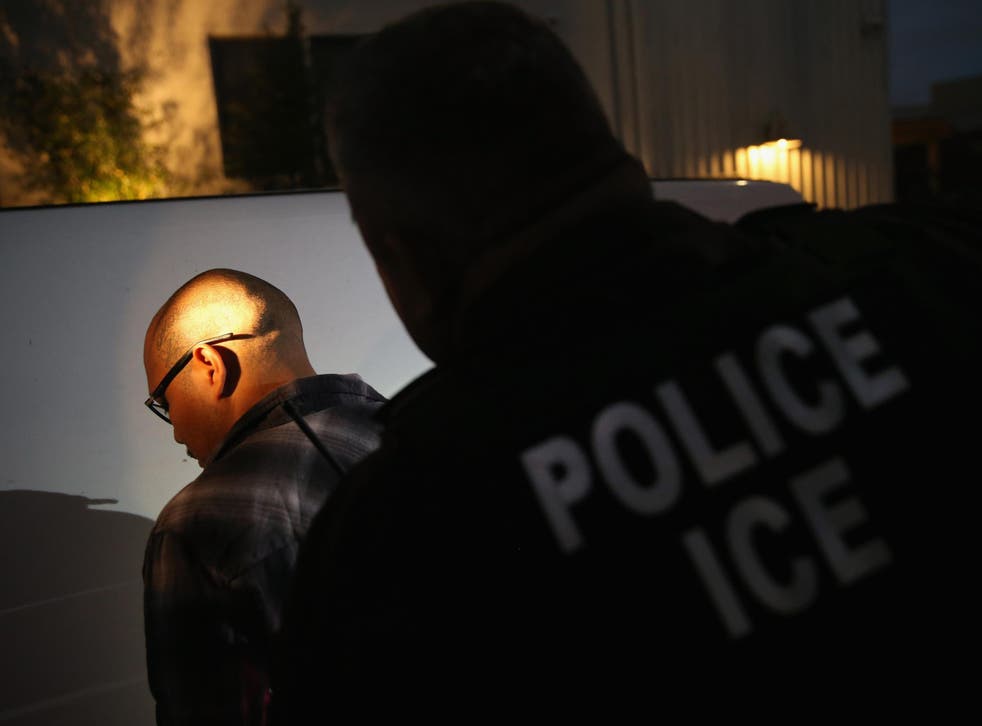 The Trump administration is considering a plan that would separate families entering the United States illegally or seeking asylum, a policy that immigrant groups say is a dangerous and inhumane step that could threaten lives and lead to extreme distress for children.
The proposed policy, which has not yet been made public, would alter the current standard, which attempts to keep families in tact while asylum or deportation issues are concerned. And, some immigration groups say that the Trump administration has already been separating families on occasion, and the effects of a widespread policy can already be illustrated.
"We've seen several toddlers in recent months who were separated from their fathers, their mothers," Jessica Jones, the policy counsel for the Lutheran Immigration and Refugee Services, told The Independent.
Ms Jones said that children, especially those who are under five, experience a range of response when separated from their parents, including inconsolable crying, having trouble eating, and anxiety tics.
"To us, that's incredibly concerning, just from a child welfare perspective, because it's so traumatic for traumatic for these kids," she continued.
The US has seen a slight up-tick in border crossings in recent months, as people continue to flee dangerous situations in Central America, where high crime and gang activity have led to some of the most dangerous living conditions in the world.
World news in pictures

Show all 50
That recent up-tick is contrast to a drop that occurred just after President Donald Trump took office, which was a sign that fewer people were crossing the border. Just 11,677 people were apprehended at the border in April, making for the lowest rate in 17 years, according to statistics from Customs and Border Protection.
But, that number reached 29,086 in November, the highest rate sense January, and signalled cause for some concern that it may represent a trend. That month some 7,000 "family units" and 4,000 "unaccompanied minors" were apprehended attempting to cross the border.
The Department of Homeland Security (DHS), in a statement, didn't comment on the proposed rule to separate families, but said that it is cruel and dangerous for families to attempt to illegally cross the border.
"It's cruel for parents to place the lives of their children in the hands of transnational criminal organisations and smugglers who have zero respect for human life and often abuse or abandon children," Tyler Houlton, the acting press secretary for DHS, said. "The dangerous illegal journey north is no place for young children, and we need to explore all possible measures to protect them."
Immigrant groups argue that cutting asylum admittance and separating families seeking asylum — who generally arrive at points of entry with their refugee claims — only serves to push children and immigrants into the hands of those smugglers and other criminals. Without legal avenues, people are still going to make risky decisions if the alternative is death in their home country, they say.
"A order-wide policy of family separation will drive vulnerable asylum-seekers, and other border crossers, into the hands of unscrupulous smugglers. Such a policy would have a tremendous emotional impact on these children and their parents, and also present numerous additional obstacles to accessing the legal process," Katie Shepherd, the national advocacy counsel for the American Immigration Council, told The Independent.
Several immigrant advocate groups filed a complaint earlier this month saying they had documented at least 150 cases in which immigrant families arriving at the border had been separated.
Those cases include the story of José Fuentes, who presented himself to agents at the border alongside his 1-year-old son in November. He and his family had fled El Salvador, where murder rates have soared recently, and were attempting to make it into the United States. But, according to reports in the New York Times, he and his child were separated four days later, when Mr Fuentes was transferred to a detention facility 1,000 miles away from his son.
"Can you imagine?" Olivia Acevedo, Mr Funtes' wife, who is in Mexico, told the New York Times during a recent phone interview. "It's inhumane to take a baby away from its parents."
Other complaints provided to The Independent tell similar stories of immigrants being separated from their families, often involving young children and large distances.
Immigration and Customs Enforcement officials said in a statement that the separation was done because agents weren't able to verify that Mr Fuentes was the actual father of the child, and that the case is awaiting further proof.
"Historically, some criminal smuggling organisations have paired non-relative children and adults with each other to minimize the chance of being detained if caught being smuggled across the border. In view of these criminal tactics, and for the safety of the children involved, ICE must require documentation of these family relationships. ICE was unable to verify Mr. Fuentes' relationship to the child during the custody review."
Immigrant groups say that they're waiting to see if DHS goes through with an actual policy change, but that they will review any decision and take any relevant legal action from there. In addition to the concerns that the policy would be inhumane, it may also violate state and international laws, and could interfere with due process rights considering one individual may be in possession of relevant documents for a family member separated far away.
"I think they're really walking a fine line in terms of what is legal. We already have court cases establishing that it is not legal to detain people in order to… deter some future person from seeking safety," Michelle Brané, the director of the Migrant Rights and Justice program with the Women's Refugee Commission, told The Independent. "I think the same principle applies to punishing through separation. If this is being done to deter people form seeking protection, we will be looking into legal measures to stop it."
Register for free to continue reading
Registration is a free and easy way to support our truly independent journalism
By registering, you will also enjoy limited access to Premium articles, exclusive newsletters, commenting, and virtual events with our leading journalists
Already have an account? sign in
Register for free to continue reading
Registration is a free and easy way to support our truly independent journalism
By registering, you will also enjoy limited access to Premium articles, exclusive newsletters, commenting, and virtual events with our leading journalists
Already have an account? sign in
Join our new commenting forum
Join thought-provoking conversations, follow other Independent readers and see their replies