Donald Trump takes huge step toward repealing Obamacare as House passes new healthcare bill
The vote is a significant victory for the President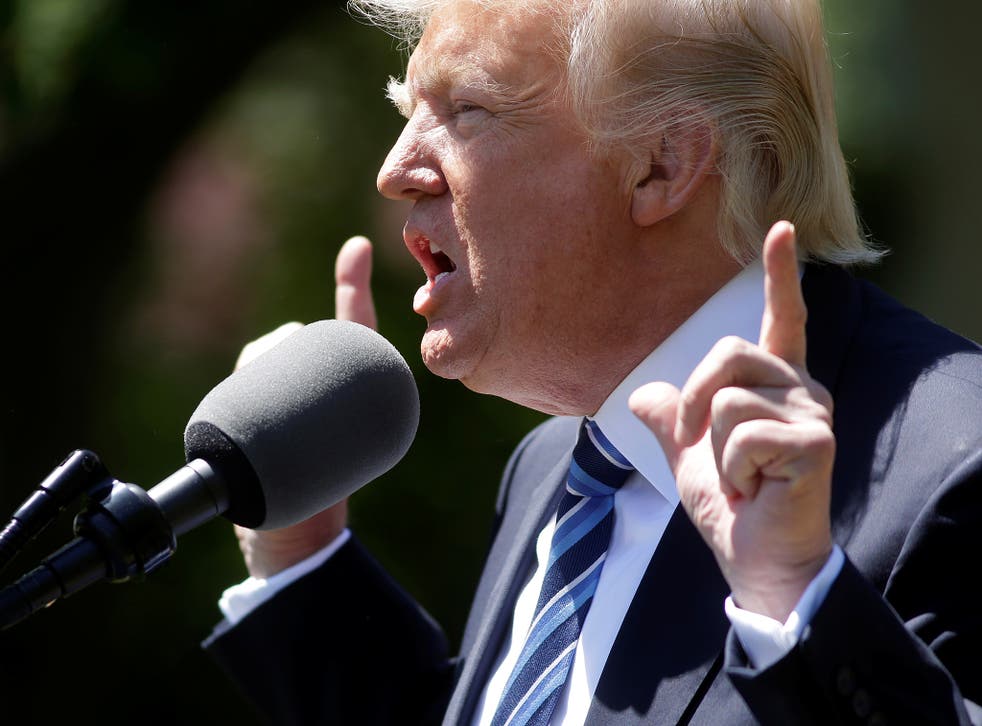 Donald Trump is one huge step closer to repealing Obamacare, after the House of Representatives narrowly passed a healthcare bill aimed at undoing one of his predecessor's biggest accomplishments.
The 217-213 vote is a significant triumph for Mr Trump, who repeatedly promised during his campaign to repeal and replace former President Barack Obama's healthcare law. Mr Trump suffered a major setback in March after a vote on an earlier version of the American Health Care Act (AHCA) was dramatically cancelled at the last minute when it failed to gain enough Republican support.
Twenty Republicans voted against the legislation, which was fully rejected by Democrats.
The AHCA now faces an uphill battle in the Senate, but Mr Trump feels confident about the result. "It's going to an unbelievable victory when we get it through the Senate," Mr Trump said at a press conference following the House vote.
Mr Trump saluted the bill as "a great plan and [one that] will get even better", saying more than once: "Make no mistake: this is a repeal and replace of Obamacare". Obamacare, he added, was "essentially dead".
The US leader also vowed that premiums and deductibles would come down. "People are suffering so badly with the ravages of Obamacare," said Mr Trump, whose West Wing staff were eager for the appearances of a victory after a turbulent first 100 days in office.
A joyous Mr Trump at one point even turned to the representatives lined up behind him and, suggesting the victory was especially impressive for a novice politician, exclaimed "Hey, I'm President! I'm President! Can you believe it?"
Senate Republican leader Mitch McConnell has repeatedly said the upper chamber would work on a healthcare bill if the House passed one, but that it would be difficult.
Donald Trump's first 100 days: in cartoons

Show all 33
While Republican senator Bob Corker said the Senate hasn't been focused on a healthcare bill just yet, House Freedom Caucus chairman Mark Meadows told CNN he has spent the last four or five weeks speaking with Senators about the legislation.
"I do believe we can make it better by using some of their ideas to improve it," Mr Meadows said. There is uncertainty over whether the Senate will take up the House's bill or write its own.
While not fully repealing the Affordable Care Act, the latest version of Mr Trump's AHCA would make it possible for states to opt out of having to provide certain health services. It would also eliminate fines imposed on people who don't buy insurance.
A previous version of the bill – which is opposed by the American Medical Association, the AARP, and other medical groups – would have bumped an estimated 24 million people off of insurance by 2026, according to an analysis by the Congressional Budget Office.
The House voted on the legislation without an updated analysis of how much it would cost, or how many it would affect, a sign that leadership was trying to rush the bill through the lower chamber, AHCA critics say.
House minority leader Democrat Nancy Pelosi said: "Republicans are clearly terrified of their members and the American people seeing the full consequences of their plan to gut critical protections for Americans with pre-existing conditions."
An eleventh-hour deal made between two Republicans and Mr Trump himself is slated to provide $8bn over five years to help people with pre-existing illnesses, such as asthma or heart disease, afford coverage.
Speaking on the House floor before the vote, Ms Pelosi cited a study from Karen Pollitz, a healthcare expert at the Kaiser Family Foundation, who found that the $8bn would only cover the cost of one per cent of those who purchase insurance on the exchanges created by Obamacare.
Ms Pelosi has also said that the healthcare bill will provide a great civics lesson for America.
"Let's face it, as important as we think we are when we're in Congress, most people don't even know who their Congress person is in many places, and now they'll find out," Ms Pelosi said. "They'll find out that their Congress person voted to take away their healthcare."
Republicans are adamant that the AHCA will provide Americans with more choices for where to receive health insurance coverage, as insurers continue to stop selling individual plans in certain states. Insurers have cited market uncertainty and instability as reasons for exiting the exchanges.
House Speaker Paul Ryan asked, "What protection is Obamacare if there is no healthcare plan to purchase in your state?"
Mr Ryan said at a press conference that the passing of the bill is "just one step in this process" of repealing Obamacare. "We still have a lot of work to do to get this signed into law," he said.
Join our new commenting forum
Join thought-provoking conversations, follow other Independent readers and see their replies