Trump's Washington DC hotel turns $2m profit amid ethics concerns
The President has said he will not fully divest from his businesses while serving in the White House 
Alexandra Wilts
Washington DC
Friday 11 August 2017 21:32 Comments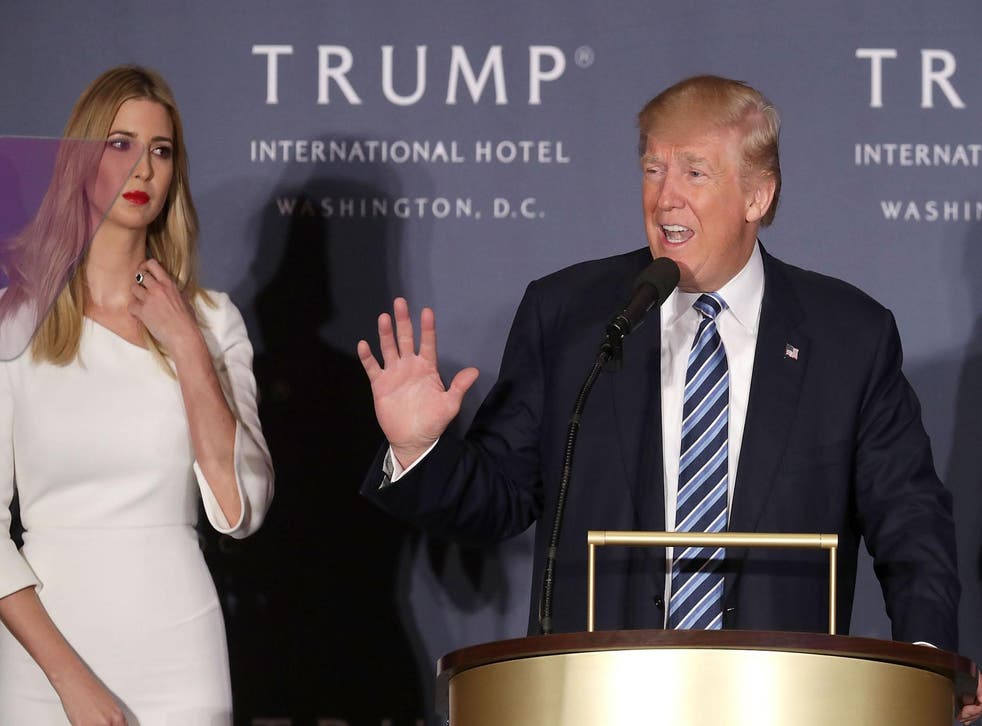 Donald Trump's company is said to have taken home nearly $2m in profits this year at its extravagant hotel in Washington, DC – amid ethics concerns stemming from the President's refusal to fully divest from his businesses while he is in office.
Because Mr Trump has retained ownership of his real estate empire while serving in the White House, he can still financially benefit from his business interests. Ethics experts have also asserted that several of Mr Trump's businesses present ways by which foreign governments could seek to influence the President by, for example, booking stays at one of his hotels.
The Trump Organization had predicted that the Trump International Hotel – located just blocks from the White House – would lose $2.1m during the first quarter of 2017, according to the Washington Post. Instead, the company turned a 1.97m profit during that period at the property.
The hotel's $660.28 average nightly rate – much higher than the average rates of comparable hotels in the area, according to the Huffington Post – likely contributed to the property's profitability. The Wall Street Journal reported that the hotel also received a higher-than-normal part of its revenue from food and beverages.
Members of Mr Trump's inner circle and other Republican leaders have often been spotted in the hotel's bar and restaurant.
The hotel, which opened last fall, is in the Old Post Office building on Pennsylvania Avenue, the same road on which the White House is located. The Trump Organization rents the property from the federal government.
Government ethics experts and congressional Democrats have admonished the government's lease, with Representative Peter DeFazio calling it a "highly unethical arrangement".
In January, before being inaugurated into office, Mr Trump said he would maintain ownership of his global business empire but hand off control to his two oldest sons while president.
Ethics experts have said the arrangement would not prevent conflicts of interest in the White House, and the attorneys general of Maryland and DC sued Mr Trump in June, saying he has committed "unprecedented constitutional violations" by failing to appropriately disentangle his public responsibilities as president from his private interests as a businessman.
Donald Trump's international Presidential trips

Show all 22
Unlike other US government officials, the president is not required by law to steer clear of conflicts of interest.
"I could actually run my business and run government at the same time. I don't like the way that looks, but I would be able to do that if I wanted to," Mr Trump said in January.
In June, lobbying records showed that the Trump International Hotel received nearly $270,000 from Saudi Arabia, which had been trying to convince the US to overturn an anti-terrorism law. Mr Trump eventually said he would donate the Saudi payments to the Treasury.
Register for free to continue reading
Registration is a free and easy way to support our truly independent journalism
By registering, you will also enjoy limited access to Premium articles, exclusive newsletters, commenting, and virtual events with our leading journalists
Already have an account? sign in
Join our new commenting forum
Join thought-provoking conversations, follow other Independent readers and see their replies