Donald Trump doesn't realise Ivanka 'isn't that impressive to people', says political analyst
He thinks 'Ivanka's sort of his prized possession and that everybody is going to be so blown away because she shows up', CNN's Kirsten Powers said 
Alexandra Wilts
Washington DC
Thursday 07 September 2017 16:38 Comments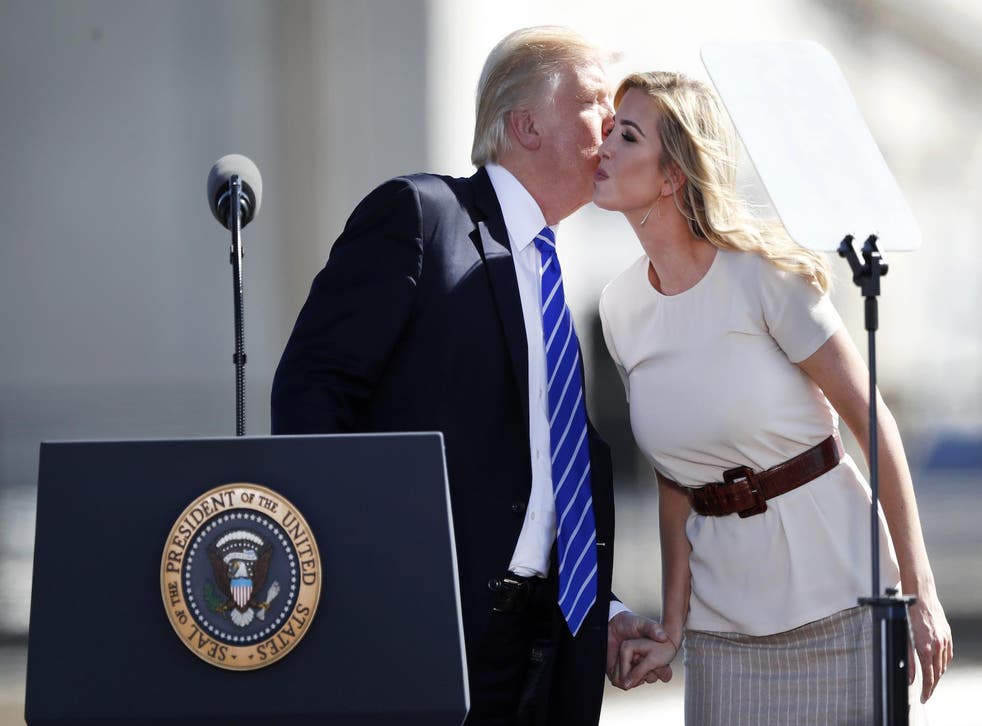 CNN political analyst Kirsten Powers has said Donald Trump doesn't realise his daughter and White House adviser Ivanka Trump "isn't that impressive to people".
"I think he thinks Ivanka's sort of his prized possession and that everybody is going to be so blown away because she shows up, but nobody cares," she said on the network.
"She's been this kind of prop and instrument for him most of her life," anchor Anderson Cooper said, adding that he thinks Republicans wouldn't think it was normal if Chelsea Clinton attended meetings with Hillary Clinton if she had won the White House.
"Well I don't think it is normal," Ms Powers, a former Fox News contributor, responded.
On Wednesday, congressional leaders were reportedly "visibly annoyed" when Ms Trump dropped by their Oval Office meeting with the President to "say hello". According to reporters who spoke with an aide, the meeting "careened off topic" when Ms Trump entered the room.
"This is the president of the United States," Ms Powers, also a columnist for USA Today, said on Wednesday. "They don't need the daughter coming in in the middle of the meeting."
At the time, the President had just sided with Democrats and agreed to support a deal that would provide aid to Hurricane Harvey victims as well as increase the debt ceiling and fund the government until 15 December, a senior Republican source told CNN.
AshLee Strong, a spokeswoman for House Speaker Paul Ryan, refuted the characterisation that leaders were annoyed by Ms Trump's presence saying, "That's not true," according to CNN.
Many observers have been baffled by Ms Trump's habit of dropping by her father's high-profile meetings.
While Mr Trump was speaking to The New York Times in July, Ms Trump and her daughter Arabella Kushner came in to say "hello" as he was answering a question about fired FBI Director James Comey's testimony on Capitol Hill.
Donald Trump's international Presidential trips

Show all 22
"His testimony is loaded up with lies, OK? But people didn't – we had a couple people that said – 'Hi baby, how are you?'" Mr Trump said as his granddaughter entered the room.
"Just wanted to come say 'hi,'" Ms Trump said as she stood in the doorway, according to a transcript of the interview.
Later that month, the President's eldest daughter also dropped by her father's interview with The Wall Street Journal.
"I heard you were here. I wanted to come by and say 'hi,'" Ms Trump said to the newspaper's editor-in-chief Gerard Baker, according to a transcript obtained by Politico.
"It was nice to see you out in Southampton a couple weeks ago," Mr Baker told the first daughter.
"Thanks, honey," the President told Ms Trump, adding, "Stay around if you want."
Along with stopping by at his meetings, Ms Trump has frequently accompanied her father to events.
During his speech on tax reform in North Dakota, the President beckoned his daughter onto the stage in the middle of his remarks.
"By the way, Ivanka Trump? Everybody loves Ivanka," he said. "Come up, honey. Should I bring Ivanka up? Come up. Sometimes they'll say, 'You know, he can't be that bad a guy.' Look at Ivanka."
Mr Trump added that his daughter had asked to join him on the trip.
"She said, 'Dad, can I go with you?' She actually said, 'Daddy, can I go with you?' I like that, right? Daddy, can I go with you? I said, yes, you can."
Ms Trump gave brief comments to the crowd, saying "it's always a pleasure" to be in North Dakota.
"We love this state," she said.
Register for free to continue reading
Registration is a free and easy way to support our truly independent journalism
By registering, you will also enjoy limited access to Premium articles, exclusive newsletters, commenting, and virtual events with our leading journalists
Already have an account? sign in
Join our new commenting forum
Join thought-provoking conversations, follow other Independent readers and see their replies