Donald Trump calls Republican senator 'toast' after he says 'bad things about your favourite President'
Mr Flake has repeatedly denounced Mr Trump 
Alexandra Wilts
Monday 20 November 2017 22:23 Comments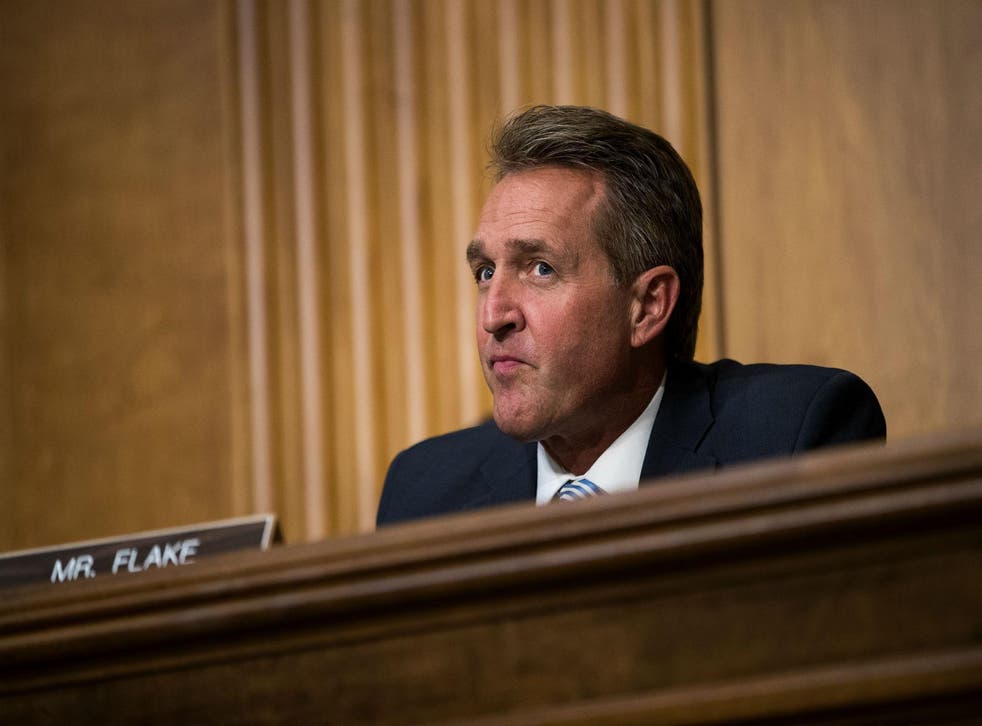 The feud between Donald Trump and Senator Jeff Flake has hit new heights, with the President calling the Republican's political career "toast".
Mr Flake was heard over a live microphone saying the Republican Party would be "toast" if it became the party of Mr Trump and scandal-ridden Senate candidate Roy Moore.
"No news here," Mr Flake tweeted on Saturday after his comments to the mayor of a Phoenix suburb began to attract media attention. "I've been saying this to anyone who will listen."
Mr Trump, not one to miss an opportunity to say the last word, tweeted: "Sen. Jeff Flake(y), who is unelectable in the Great State of Arizona (quit race, anemic polls) was caught (purposely) on "mike" saying bad things about your favourite President. He'll be a NO on tax cuts because his political career anyway is 'toast.'"
While Mr Trump has been quick to hit back against Republicans who criticise him, he has been notably silent on the controversies surrounding Mr Moore.
After several women came forward with sexual misconduct allegations against the former judge, Mr Flake said he would "run to the polling place" to support Democrat Doug Jones if he was an Alabama voter.
Mr Flake also said he would vote to expel Mr Moore from the Senate if the candidate wins the special election next month.
Mr Moore has vigorously denied the allegations – declaring at a campaign stop in Alabama earlier this month that the accusations against him were part of a conspiracy between Democrats, the Republican establishment and the media.
Along with figuring out what to do about Mr Moore - Senate Majority Leader Mitch McConnell has called on him to step aside - Senate Republicans are working to pass a sweeping tax measure and hand Mr trump his first major legislative win.
Donald Trump's least presidential moments so far...

Show all 30
As for how the spat will affect policy - in response to the President's tweet, Mr Flake's office declared that the Arizona Republican "is still reviewing the #TaxReform bill on its merits," spokesman Jason Samuels said on Twitter. Mr Flake has expressed concerns about how much the Republican tax bill will raise the federal deficit over 10 years.
"How he votes on it will have nothing to do with the President," Mr Samuels added.
In October, when announcing that he would not run for re-election in 2018, Mr Flake delivered a strong rebuke to his own party for letting Mr Trump get away with "reckless, outrageous and undignified behaviour".
In a passionate speech on the Senate floor, Mr Flake declared: "I rise today to say: Enough. We must dedicate ourselves to making sure that the anomalous never becomes normal."
Mr Flake first made his plans to retire known to the Arizona Republic, telling the newspaper: "There may not be a place for a Republican like me in the current Republican climate or the current Republican Party."
The junior senator has long been critical of Mr Trump and has frequently clashed with the President on issues such as immigration and international trade.
Mr Flake is among the Senate's Republican advocates for comprehensive immigration reform, and he is a faithful defender of the North American Free Trade Agreement, which the President has threatened to withdraw from unless Canada and Mexico agree to significant alterations of the accord. Mr Flake also denounced Mr Trump throughout the presidential campaign.
Register for free to continue reading
Registration is a free and easy way to support our truly independent journalism
By registering, you will also enjoy limited access to Premium articles, exclusive newsletters, commenting, and virtual events with our leading journalists
Already have an account? sign in
Join our new commenting forum
Join thought-provoking conversations, follow other Independent readers and see their replies