Donald Trump 'living in alternate reality', says John Kerry – but Americans are fighting back
Former secretary of state says US president has no capacity to 'tell the truth, or face it, to lead'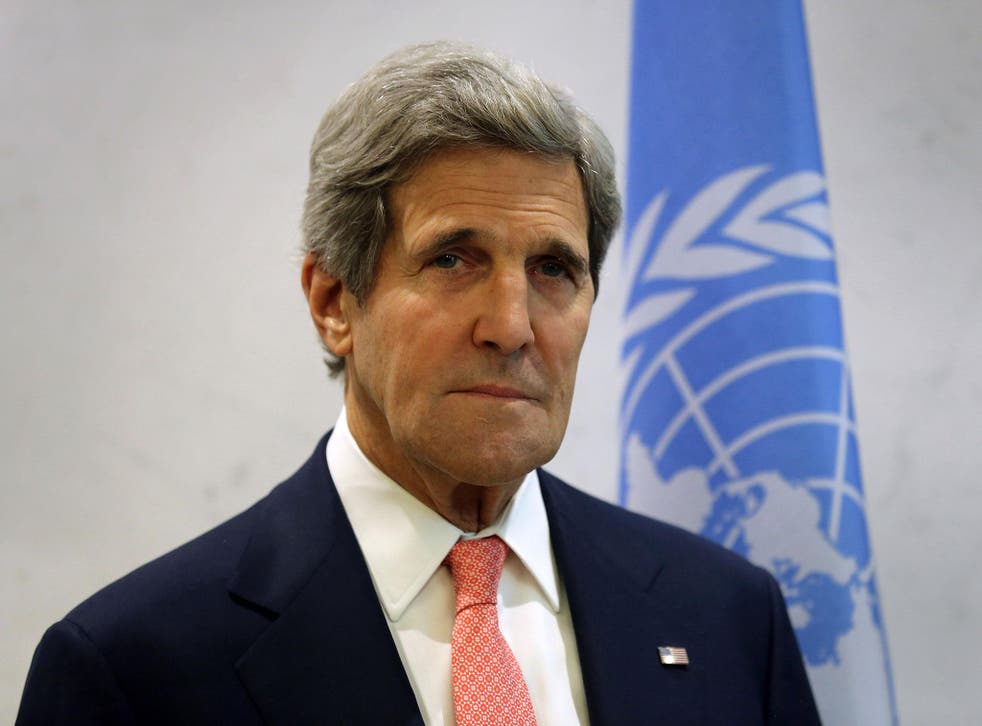 Two of the most senior figures in US diplomacy in recent times have accused Donald Trump of an abject failure of leadership which has led to dire responses to the coronavirus pandemic and the protests sweeping across the country.
In their withering assessment, John Kerry, the former secretary of state, and Samantha Power, former ambassador to the UN, charged the president with peddling fantasies and sacrificing national interest for his own political agenda.
Mr Trump was also accused of abdicating US leadership in the wider international arena. As a result of this, they said, China is seeking to step into the vacuum – with some success.
Speaking at the Global Leadership Summit, CogX, Mr Kerry said: "The odds were against us from the beginning ... You have the United States with a leader who has no ability to tell the truth, or face it, or to lead.
"And so the result was that you had our president attacking the World Health Organisation almost from the beginning. He wanted to dismiss the notion of really knowing how many the numbers were because he knew it would affect his politics."
Mr Kerry continued: "Everybody needs to understand one of the greatest lessons – this was a denial of science. It was a denial of experts. It was a denial of facts and evidence, by procrastinators, by deniers, by people who want to live with an alternative reality."
It is not just the US, Mr Kerry wanted to point out, who is suffering because of Mr Trump. "We have been empowered ever since World War Two, to be able to summon other nations to a set of values and principles around which we've organised the world", Mr Kerry stated.
But that has changed. "We have the only president in the world, who constructed his own reality and created his own facts ... We're living in a very different place as a result of that. The United States has reneged on its role as leader of the free world and today, frankly, there is no leader of the free world at this particular moment," said Mr Kerry.
Americans are however, the former secretary of state held, fighting back. They are "really angry and absolutely should be, and are going to refuse to accept the notion that we have to be the prisoners of people who deny science, deny facts, deny evidence and create their own reality. I think I'm hopeful as a result of what has happened on Covid, and most recently on the demonstrations, that we're going to move in a new direction", he said.
Colin Powell says he will not be voting for Donald Trump
Ms Power, who served at the United Nations in the Obama presidency, said that "seeing dysfunction in our democracy is not a great advert for a democratic system, and China has taken advantage of that in their propaganda. To pull funding from the WHO during an pandemic ... Seems like something you would do if trying to destroy your standing in the world, and also create a big vacuum that China is stepping into.
"It's going to take a lot of digging out, but the way forward will require global cooperation and we do need catalytic leadership – and I'm hoping that with humility we can together carve out the path for the 21st century."
Tony Blair told the CogX conference that the fear of people in Britain over the easing of Coronavirus lockdown on schools was understandable but: "We must explain to people concerned about their children going back to schools that yes, they are scared but the risk of not getting an education is much worse for socially deprived children."
Register for free to continue reading
Registration is a free and easy way to support our truly independent journalism
By registering, you will also enjoy limited access to Premium articles, exclusive newsletters, commenting, and virtual events with our leading journalists
Already have an account? sign in
Register for free to continue reading
Registration is a free and easy way to support our truly independent journalism
By registering, you will also enjoy limited access to Premium articles, exclusive newsletters, commenting, and virtual events with our leading journalists
Already have an account? sign in
Join our new commenting forum
Join thought-provoking conversations, follow other Independent readers and see their replies